Top Chef Colorado Recap
By Jason Lee
February 26, 2018
BoxOfficeProphets.com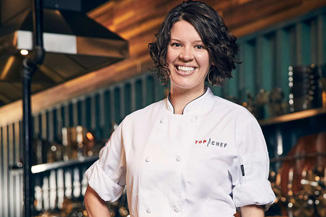 ---
Four chefs left fighting for three spots in the Top Chef finale in Aspen. That's what today's episode is going to come down to.

But first things first. Joined by the two Voltaggio brothers—Michael, the winner of Top Chef Las Vegas, and Brian, finalist in Top Chef Las Vegas and Top Chef Masters—Padma is challenging the four remaining chefs to make a scrumptious dish using one of Colorado's classic ingredients: the Rocky Mountain oyster, aka prairie oysters in Canada.

In case you're unfamiliar with this ingredient, they're cattle testicles. Huge ones. And our chefs will have to utilize two different preparations in their dish. The winner gets a big advantage in the all-important Elimination Challenge.

Moustache Joe puts together a cornflake-breaded oyster with white bean purée alongside a brown butter braised oyster. He's not sure what these things taste like but assumes that a sweetbread preparation will work.

Adrienne incorporates a Korean preparation that they use for testicles with a Rocky Mountain dashi with chili oil and fried Rocky Mountain oysters.

Carrie specifically practiced dishes with these oysters in preparation for the show. She knows that it's the texture of the ingredient that's typically off-putting, so she's changed the texture by grinding the oyster into a pâté and then breading and frying strips of the oyster like a clam strip.

Finally, Joe has made fried and puréed Rocky Mountain oysters with white beans, but they've come out really tough—Padma makes a disgusted face as she bites into his dish.

Joe thus unsurprisingly ends up on the bottom for having "hammered" his protein, as Brian Voltaggio puts it, along with Carrie, whose pâté had too much iron flavor and needed more balance in her vegetable accompaniments.

As for the winner, although Adrienne developed an amazing amount of flavor in her dashi broth and brought up a nice aspect of the oyster, Moustache Joe's well-executed dish and white bean purée means that he picks up his first Quickfire win of the season.

Sigh. As much as I dislike his pompous personality, I can't deny that he's been on fire these last couple of episodes. Regardless of what his "big advantage" is, Moustache Joe looks like a safe bet to make it to the finale.

The chefs eagerly await details about their Elimination Challenge, but are given tantalizing hints that they'll learn more after exploring a remote cabin in the woods up in the Telluride mountains. After a long drive, they arrive at the cabin and enter it to find their loved ones waiting. Moustache Joe's dad, Joe's grandmother, Adrienne's mom, and Carrie's mom. It's a beautiful, heartwarming scene.

And those relatives haven't just been sitting around. Joined by Padma and the Voltaggios, each relative has made a dish steeped in their family's history. Joe's grandmother made rigatoni and meatballs, Carrie's mom made beef stroganoff, Adrienne's mom made gumbo, and Moustache Joe's dad made lasagna with pigs feet. That last dish is an emotional one—Moustache Joe's mom passed away when he was 20 and this dish clearly brings back very strong memories of sharing this dish when she was with them.

Which makes this challenge quite hard for him. The chefs are to take inspiration from their family member's dish and make their own version of it, taking it to the next level in a way that shows where they came from and where they are now. In doing so, they're given a meager 90 minutes to make their dish to serve to the judges and their family members. Well, everyone except Moustache Joe, who gets an extra half hour—a big advantage indeed.

With three pasta-based dishes—lasagna, beef stroganoff, and rigatoni—three of the chefs are simply doing different pasta-based versions of the their original dishes, in a way that can be accomplished in 90/120 minutes. Meanwhile, Adrienne works furiously to try and take a gumbo that should be slowly simmered over 12-14 hours and make a quick-cooking version.

Query which chef has the harder task—the one dealing with memories of his beloved mother or the one who's mother created an almost impossible culinary task.

Joe is up first doing a pig's feet rotolo with braised chicken, mushrooms, and swiss chard. He had a bit of a hard time getting the top of his pasta crusty in order to mimic the crunchy part of the lasagna (the "best part" of any lasagna, as he describes it), and so he used a blow torch to try and crisp things up. Apart from slightly drying out the pasta as a result, his dish is a success. Graham Elliot, back as a judge after a long hiatus, says Moustache Joe captured the challenge by keeping the original inspiration while making the dish more artsy. Tom agrees—Moustache Joe made it modern but didn't lose the soul of the original dish.

Carrie is next and serve beef stroganoff in the form of a raviolo with buffalo sausage, mushroom duxelle, herbed crème fraîche, and carmelized onions. Graham loves the dish, noting that he has a signature version of beef stroganoff in his restaurant but has never seen the dish made this way. Brian loves her use of egg yolk, which calls the egg noodle-basis of the original dish to mind.

Adrienne has tried to keep the flavor of her mother's gumbo the same, while enhancing each individual ingredient by cooking them separately. What she presents is southern-inspired fine dining cuisine, which she says is "her" food identity. I'm glad she's finally found her voice as a chef. It's elicited from her a butter poached crab leg with shrimp, fried andouille chips, and rice. Tom finds it incredibly well-seasoned, well-executed, and bursting with flavor. There's no doubt that Adrienne has punched her ticket to the finale.

Finally, Joe has spun his grandmother's meatballs with rigatoni into a pork and veal agnolotti with pomodoro paste, a parmesan crsip, and basil. Like everyone else, Tom likes that Joe didn't stray far from the flavors of the original, even as he took numerous invisible steps in the cooking process to elevate the dish into something more modern.

It's made abundantly clear at Judges Table that, for the second straight episode, someone is going to be going home today for a very good dish. Each chef stayed true to their original family dish, while breathing new life into them by reimagining the dish in some way. In fact, Padma declares that this was the most delicious food she'd had from the chefs all season.

Still, one dish stood above all the rest, and that was Adrienne's. She had a perfect balance of heat, acid, and seasoning, and she made amazing gravy, while elevating the individual proteins.

And with that, we have two "first-time" winners in this episode—Moustache Joe with his first Quickfire win, and Adrienne with her first Elimination win.

Adrienne steps aside as Padma addresses the remaining chefs. There are no "bottom two" dishes this week, as all of the dishes were great. Moustache Joe delved (again) into his bag of culinary tricks but didn't sacrifice the soul of his mother's dish, even if he dried out his pasta a little bit. Carrie put everything that's delicious about beef stroganoff into her raviolo, but could have mixed some of the braising liquid with her crème fraîche to take her sauce to a higher level. Joe was able to utilize his culintary know-how to create a sauce that stayed emulsified, whereas any such attempt by a home-cook would have resulted in a broken sauce, even though his parmesan crisp was a bit thick and chewy instead of thin and crisp.

But it is Carrie who's being eliminated, one step short of the finale—not for any error on her part, Tom makes clear, but for having missed an opportunity to tie the dish together in her sauce. Carrie clearly bummed but, her spunky, sunny spirit allows her to take the loss in stride—or as much in stride as a humanly possibly can in such a circumstance. This experience has shown her that she's stronger than she thought, and she's determined not to leave the show feeling sad.

And that's a win by all accounts.