Weekend Wrap-Up
By Tim Briody
February 25, 2018
BoxOfficeProphets.com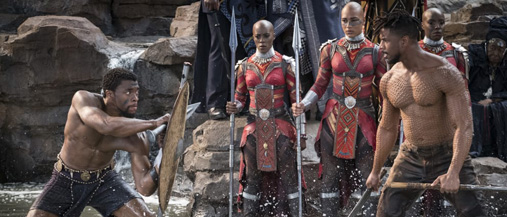 ---
Black Panther continues to make history in weekend two and while it's still early, we're looking at a top ten all-time grossing film that's going to make a serious run at the top five. Meanwhile, three new openers all disappoint to varying degrees.

The main question going into this weekend was how much would Black Panther drop from its mammoth opening weekend. In its favor were the decently underestimated weekend (Sunday morning was estimated at $192 million, the actual came in at $202 million) and very strong mid-week earnings (it earned $40.1 million on Monday!), but against it was the fact it was a holiday weekend and that there was a very large fanboy contingent that had to see it opening weekend. We knew a large Friday-to-Friday decline was coming, which is because Thursday night shows opening weekend are rolled into the Friday box office. That gave Black Panther a Friday-to-Friday drop of 62%, but the rest of the weekend held up and Black Panther earned an estimated $108 million (a 47% decline for the weekend), giving it an even $400 million after just two weekends.

That's only the fourth film in history to earn over $100 million in its second weekend, ahead of Jurassic World ($106.5 million) and The Avengers ($103 million) and behind the clubhouse leader for probably all-time, Star Wars: The Force Awakens ($149.2 million). That the wheels did not come flying off now mean it's a legit contender for the all-time list. It's going to spend this week working its way up through the teens, and come next weekend it will be knocking on the door of Finding Dory's $486.2 million for 10th all time. It's ahead of The Avengers at this point (that had $373 million after two weekends) and right now $600 million is still in the conversation, which would place it seventh all time, and definitely looking at Avengers $623.3 million domestic total for fifth.

Black Panther doesn't have much in the way of direct competition coming in March, with only A Wrinkle In Time and the Tomb Raider reboot among the films expected to perform strongly. A month from now there is Ready Player One, so there's pretty smooth sailing for Black Panther, especially since it turned in a sub-50% drop coming off a $200 million holiday weekend opening. Wakanda forever.

Game Night is the first of our new releases this weekend and the very funny looking comedy managed an okay $16.6 million on the weekend. It's a small disappointment for Warner Bros. which was probably hoping the Jason Bateman/Rachel McAdams comedy would crack $20 million. It's still the top and basically only comedy option in theaters, though it seems most of those viewers still opted for Black Panther. Solidly reviewed, there's a slight chance it holds well next weekend.

Peter Rabbit places third with $12.5 million, down just 28% from last weekend, giving it a solid $71.2 million after three weekends. Fun fact: this is the first time in 2018 that the smallest decline in the top ten did not belong to Jumanji or The Greatest Showman. The family film is a win for Sony, costing them just $50 million.

Annihilation places fourth with just $11 million on the weekend. The female led sci-fi thriller starring Natalie Portman, Jennifer Jason Leigh, Tessa Thompson and Gina Rodriguez, Annihilation earned excellent reviews (87% Fresh at Rotten Tomatoes) but it was apparently too high concept for most audiences. Of note is while Paramount has released the film domestically, Netflix will release the film internationally. So there will be very minimal international grosses here, which will make the reported $40 million budget tough to earn back.

Fifty Shades Freed continues to crater, dipping another 60% to $6.9 million and $89.5 million after three weekends. At this same point, Fifty Shades of Grey had earned $147.3 million, while Fifty Shades Darker had $103.7 million. It's inching closer to the $100 million mark, and it's close enough now that it will probably do so, but just barely.

The party that is Jumanji: Welcome to the Jungle is just about running out of steam, but not before it drops only 29% once again to $5.6 million and $387.2 million after, um, ten weekends. Still hanging onto over 2,000 screens, the thing to watch is if it can cross $400 million. It's going to be super close, but next weekend it'll be March and we'll still be mentioning films that opened over Christmas, so anything's possible.

Clint Eastwood's The 15:17 to Paris drops 53% to $3.6 million and $32.2 million after three weekends. A disappointing box office for Eastwood's film, it's headed to about $40 million total.

The Greatest Showman also continues its remarkable run, dropping just 32% in its tenth weekend. The only film up for an Academy Award (for Best Song) remaining in the top ten, the musical has earned $160.7 million in ten weekends. One of the leggiest films in history, it's a performance nobody saw coming a few months ago.

Our last new release places ninth as teen drama Every Day lands with just $3.1 million. Completely lost in the shuffle and in just 1,667 theaters, Orion didn't have much faith in this release, and the box office shows it. It'll be a distant memory after this weekend.

Aardman Studios' Early Man drops to tenth place with $1.7 million, down 47% from last weekend and $6.7 million after two weeks. A disappointment even internationally (all other theatrical releases by Aardman crossed $100 million worldwide, Early Man has only $23 million to date), the stop-motion animation film will have to find an audience on Netflix.

Fueled by Black Panther, the top 12 films this weekend earned $174.9 million, handily beating last year's $111.1 million when Get Out opened to $33.3 million. The first weekend of March brings us Jennifer Lawrence in Red Sparrow and a remake of Death Wish from Eli Roth, starring Bruce Willis.