Top Chef Colorado Recap
By Jason Lee
February 19, 2018
BoxOfficeProphets.com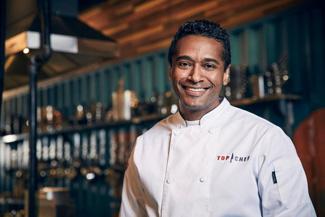 ---
Two burning questions will be answered this pen-penultimate episode: Which four chefs will make it to the finale? And which chef will return from Last Chance Kitchen?

Well, one question will get answered far more quickly than the first. The chefs have arrived in Telluride and unpacked their things in the requisite (absolutely gorgeous) resort suite. The next morning, they head over to the legendary New Sheradon bar, which played hosts to many infamous incidents in Telluride's frontier-town past. In that spirit, the four chefs will have to make a gastropub dish highlighting sarsaparilla. They draw knives to select the order in which they get to pick ingredients—one protein, one fruit, one sweetener, and one vegetable.

After they make their selections, we get our first twist. The chef coming back from Last Chance Kitchen is not Brother Luck, but Joe (thank goodness). And because he has no ingredients, he gets to pick one each from each chef. With no hesitation or consideration for Carrie's feelings, he takes her pork loin, leaving her with honey, lemons, onions, and no protein.

Their ingredients in hand (or lack thereof, as the case may be), the chefs bolt outside where their cooking stations are set up in the middle of the street like a shoot out from the OK Telluride Corral. When time expires, Chris offers up a potato-crusted chicken fried steak with sarsaparilla gravy and a fennel salad. Padma likes the pairing.

Moustache Joe has a cold crudo with a sarsaparilla and fennel soup. Padma finds it light and refreshing.

Next is Joe's (stolen) pork loin porterhouse with sarsaparilla pickled carrots and a sarsaparilla berry sauce. The judges make unpleasant faces when eating his pork.

Poor Carrie has put together her few ingredients into a bruschetta . . . or rather, the "best part of French onion soup" (namely, the top crouton) that has onions and beef stock that's been deglazed with sarsaparilla.

"She can't win twice with f#$&ing tartines," grouses Moustache Joe.

Finally, Adrienne serves a sarsaparilla-glazed grilled chicken with crispy sarsaparilla chicken skin and a garlic tomato compote. Her chicken is nicely cooked.

The judges declare the dishes to have been tasty, even if not all that creative (can I just mention that every episode seems to include some suggestion from the judges that this crop of chefs is simply not up to par as compared to past seasons). Two dishes are immediately put on the bottom—Adrienne's dish lacked sarsaparilla flavor and her tomatoes got lost, and Joe's pork was quite dry and also lacked sarsaparilla flavor.

On top are the three remaining dishes. Chris's chicken fried steak had great flavor, Joe's dish was nice and cold with a clever infusion of coconut, and Carrie's French onion topper was "super tasty" and let the sarsaparilla shine through.

And the winner of the Quickfire, as well as a $10,000 bounty, is . . . Carrie, to the total disgust of Mosutache Joe. "TOAST?!?" he exclaims in exasperation to the camera. "She won with TOAST?!?" He is such a condescending person. Unless he adjudges a chef to have a level of creativity on par with his own, his every comment about that chef just drips with disdain.

The main event is next. The chefs will have to cook a high-concept, high-end dish to serve in the highest restaurant in North America, Alpino Vino, which sits 12,000 feet above sea level, making cookery all the more difficult. And to increase the degree of difficulty, each chef will be required to include a baked element on the plate. Their guest judge will be Paul Liebrandt, one of the most famous chefs in all of England and a master at cooking and baking at altitude. Knowing the tall task the cheftestants have in front of them, the judges encourage them to take the rest of the day to experiment at their resort suite (which sits a mere 9,000 miles above sea level).

The cheftestants take the hint and busy themselves in the kitchen. Before they know it, Tom walks in with Paul and Wylie Dufresne, doling out tips as they survey the baking experiments. Moustache Joe needs more egg whites in his profiterole, Chris needs to make sure he fries his quail a little longer, Carrie needs to make sure she gets her beef wellington (a classic British dish to be served to an amazing British chef) perfectly right . . .

The next morning, Carrie has some clarity: no way in hell she's doing beef wellington. She's gonna do spring veggies with a spiced ribeye instead, and she feels good about serving up simple, elegant foods.

Meanwhile, Moustache Joe makes a snide comment about Chris and Carrie "taking it safe" by making cornbread as their baked element. He's a bigger fan of his savory profiteroles, which are teeny tiny little puffs, barely bigger than Hershey's kisses, which have been flavored with kombucha and cherry. They're served alongside roasted duck with spring peas. Though I'm rooting hard for him to fail, his duck is cooked perfectly and Gail declares that, other than the (teeny tiny) puffs, it's one of her favorite dishes all season.

Dammit.

Non-moustache Joe has a buttermilk braised pork loin (yes, after his dried out pork loin from the Quickfire, he's back at it) with a pea sorrel puree, pepper jam, and torn shreds of a buttermilk, goat cheese drop biscuit. Paul likes the flavor of the biscuit and Tom appreciates the variety of textures at play in the dish.

Carrie has her reworked dish next, with a wagyu ribeye with foie gras, spring vegetables, and a honey cornbread. Padma and Wylie fault the dish as lacking a point of view and being comprised of a number of different elements that are't really integrated into each other. Tom notes, though, that it's a delicious dish and Paul says that the cornbread is executed extremely well.

Adrienne is thrilled with her dish—her favorite of all the dishes she's made this season—as she seems to have finally started to find out who she is as a chef. She serves a butter-poached lobster with "mountain" bread—her take on a challah loaf—with champagne beurre blacn sauce and caviar. Padma adores the dish and Paul praises the way she tweaked her bread recipe to accommodate for the elevation. Tom finds the dish to be a confident, well-executed one, though not all that exciting.

Last up is Chris with his crispy black pepper quail, corn budding, butternut squash, and a maple bacon cornbread. The cornbread is delicious but the quail is overcooked. Tom notes that he's nitpicking, but is not really sure that this dish qualifies as high-end fine dining.

As seems clear from the judges' comments, Tom declares this to have been the chefs' best food all season and notes his happiness at seeing them finally cook up to their potential. He also notes ominously that it's going to be tough to send someone home for making a good dish.

The three safe chefs are Moustache Joe, non-Moustache Joe, and Adrienne. Non-moustache Joe did a great job, filling his plate with delicious food, including his deconstructed biscuit. Moustache Joe cooked his duck perfectly and was extremely clever at incorporating different flavor combinations all throughout the dish. Adrienne also did a great job combining flavors, "like bringing old friends together in new ways," Wylie says. It's been a while since Gail has eaten Adrienne's food, and she says that it seems like Adrienne has undergone a transformation during that time.

And the winner for the second week in a row is Moustache Joe. He's certainly headed into the finale with a ton of momentum.

Sigh.

This means that the one remaining spot will either go to Carrie or Chris. Everything on Carrie's plate was delicious—with her meat very well cooked, her dish well-seasoned, and her cornbread great—but it came off a bit like a plate of distinct, disparate components. Paul Liebrandt, though, says that he would be happy to eat that plate again anytime. As for Chris, Wylie adored his corn pudding and Paul liked his flavors. Gail found his cornbread fantastic but notes that the dish needed more refinement for the challenge.

This is gonna be a tough decision. After the chefs leave, Padma notes that for the first time this season, the judges had to nitpick just to be able to offer up reasons for why the dishes in the bottom were on the bottom. Gail notes that every part of Carrie's dish was well-executed, and Tom notes that even if Chris's cornbread was better than hers, his quail was overcooked. Padma agrees that Chris's dish was a bit clunky but appreciates that he was willing to take risks with his dish, where as Carrie played it more safe.

Yep, this is gonna be a tough one.

In the end, Chris is asked to pack his knives and go. Tom tells him that his food was really, really flavorful, but that he just made a few more technical mistakes. Chris says that it's a bittersweet experience, but one that he appreciates. He'd applied five times to be on Top Chef, and in the end, he made it all the way to the final five. The final four would have been better, but he's had a great journey nonetheless.