Top Chef Colorado Recap
By Jason Lee
February 13, 2018
BoxOfficeProphets.com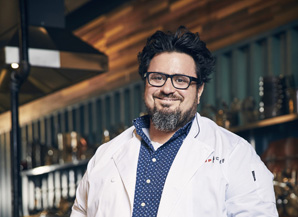 ---
With Joe and Fatima departing last week, the current crop of five chefs only need to survive two challenges in order to make it to the coveted Top Chef finals. They're each dealing with the increasing pressure in different ways. Moustache Joe is taking to heart what Tom said last week—they need to step up their game, and he plans on doing so. Bruce knows he's the most experienced of the remaining five chefs, but instead of imbuing him with confidence, he's concerned that he's not doing better in the competition. As for Adrienne, she's been keeping a notebook with all the critiques she's gotten this season. Hopefully past isn't prologue.

The chefs head off to the Top Chef Kitchen . . . wait, scratch that. They quickly notice that their SUVs aren't headed in the normal direction. Within minutes, it's clear—they're headed to the Stanley Hotel, infamous for the fast that Stephen King had a nightmare while staying in the hotel that inspired The Shining.

Which is what the chefs will be asked to do. Met by Padma, the chefs are tasked with making a dessert (scary in and of itself) that represents their worst nightmare. Some chefs are better at channeling their imagination than others, though none seem to actually hew to the challenge. Instead of mining their own fears, each chefs seems to simply come up with some sort of generically scary scene and then try to bring it to life on their plate. One (Bruce) simply concocts a fake childhood fear in order to have some measure of personal connection to the dish he makes.

Moustache Joe is up first and he present an egg yolk ice cream with pistachio, a cocoa crumble, and a yuzu meringue, which is supposed to represent each chef's fear of cracking an egg and finding a chicken fetus inside (I'll never crack eggs the same way again after hearing of this prospect). Padma likes the combo but wants more pistachio.

Bruce's dessert is a comedy of errors, as opposed to horrors. Because his panna cotta won't set, he describes it as a passion fruit semifreddo instead, paired with buttermilk, and pomegranate, which is supposed to embody his fake childhood fear of seeds. Padma questions why the dessert is served warm.

Chris has a chocolate buttermilk cake representing a man who's been pushed off a cliff onto rocks, as portrayed by a marzipan dead ban with sour cream and black salt. Padma digs the morbidness of the plating.

Adrienne's meringues won't set, so she breaks them into meringue crisps that she serves with cocoa blood ice cream with saffron grand marnier. It's a take on a scary trip into the woods.

Finally, Carrie's dessert is an utter disaster, as she totally loses track of time and doesn't manage to get the majority of her dish on the plate (black sesame, cayenne ice cream, sugar cook, champagne granita, etc.). All she is able to offer is a tahini panna cotta (which is WAY too firm) with a raspberry sauce.

As is apparent, most of the chefs completely blew it on this challenge. They're lucky this wasn't a sudden death quickfire like last episode. It's no surprise that Carrie and Bruce are on the bottom, while Joe, Chris, and Adrienne are on the top. Chris ends up taking home first place honors for his fabulous, moist cake that brought his gruesome scene to life. For his efforts, he's getting $5,000 courtesy of Craftsy.

But the important stuff is all ahead of the chefs. Because after this challenge the remaining four chefs will be head to Telluride, the chefs are asked to take one last trip down memory lane before leaving Denver. They're assigned to make a dish that tells the story of their journey on Top Chef—the type of challenge that chefs like Shirley and Katsuji excelled at last season, but which the current crop seems destined to struggle with.

Moustache Joe and Adrienne realize the pitfall in front of them. They each take to heart the criticisms they've received so far—Joe being unable to edit, and Adrienne relying too much on dishes she's made at restaurants she's worked at—and decide that their final dish will show that they recognize and will overcome these foibles. Other chefs, like Bruce and Chris, simply want to show that they're more than one-trick ponies. Bruce vows not to make pasta, as he's done innumerable times on the show, and Chris decides to make pasta, which he's not at all familiar with.

But before they get started, Tom meets them in the Top Chef Kitchen to deliver an ultimatum. The message sent at last episode's Judge's Table was harsh, but the food hasn't delivered. The chefs either don't understand what's at stake, or aren't able to deliver. Whatever the reason, the food has been consistently better on Last Chance Kitchen. And thus, if there isn't a big improvement this episode, Tom is going to let two chefs back into the competition from Last Chance Kitchen. The message is clear: step up your game or pack up your knives and go.

The actual dinner will be served in the Governor's residence in Denver, where the décor is gorgeous but the kitchen is damn small. Moustache Joe is up first and he serves a lamb agnolotti with beets, hazelnuts, and cacio pecora cheese. He wins praise all around for a dish that shows restraint and editing. His pasta is great and the flavors are awesome. "It's the kind of food we've been begging for all season," Tom notes.

Punch one ticket to Telluride.

Adrienne feels like something has clicked for her during this challenge, as her dish of roasted monkfish with venison jus, green peppercorn jam, and cauliflower puree is more focused and honed int. Tom finds it tasty, and other diners compliment the seasoning. Though Adrienne has been all over the map this season, she's starting to figure out her own voice as a chef.

Carrie has been the unexpected (and wonderfully enjoyable) surprise this season, and she's taking all the confidence she's gained from all her wins and channeling it into a wacky but delicious dish of Colorado elk, roasted cauliflower, shishito peppers, blueberry poblano sauce, and Shepherd's halo cheese. Padma declares it to be the most intensely flavored and delicious plate of food so far this season. Others agree that the dish is great, though not to the heights as Padma does.

Things go downhill from here. Bruce has struggled all day and that simply continues with the cooking of his barley, which is not nearly tender enough. He serves it with roasted duck and corn, but the diners point out a bevy of mistakes on the plate. Things are not much better for Chris's lamb ravioli with trout and roasted cauliflower puree. The trout skin is not crispy and the ravioli is marred by unpleasant texture and dry lamb filling.

The top three are clear in this challenge—Carrie, Adrienne, and Joe are headed to Telluride, with Joe taking home the win for his perfect pasta. The final spot is a toss up between Bruce and Chris. Tom ticks off the errors in Bruce's dish—the barley was undercooked, it was way too salty, and the duck was overrested. As for Chris, the ravioli was a big miss, and he would have been better off simply by serving just his fish, citrus relish, and a few cauliflower florets.

Conception, execution, and technical skill—Tom recites the all-too-familiar criteria for judging success in reviewing the two dishes up for elimination. There were multiple mistakes on both plates, with clear problems of conception in Chris's ravioli, which was too large in size and too dry in filling. As for execution, Bruce's barley was far too salty. In terms of technical skill, both chefs are clearly capable, but tonight, Bruce is the one who's going home.

"Just too many mistakes today," Tom tells him, and Bruce knows it's the truth. But as is the case so often on Top Chef, failure breeds determination, and elimination breeds resolve. As much as Bruce would love to go home and meet his newborn son, he didn't come to Top Chef to lose, and he's going to give Lack Chance Kitchen all he's got. It should be a doozy.