Weekend Forecast for February 9-11, 2018
By Reagen Sulewski
February 8, 2018
BoxOfficeProphets.com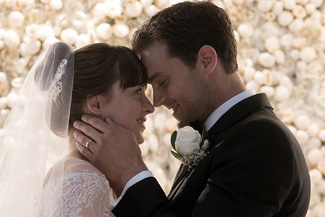 ---
Yet another "literary" franchise limps home to its conclusion this weekend, one that arrived with, well, not a lot of promise really, but hype at least, and one which people are rightly wondering what we were thinking in the first place on this. Let's just vow to forget this ever happened, OK?

Fifty Shades Freed wraps a pretty crimson silk bow around the soft-core "romance" trilogy that morphed from Twilight fan-fiction into an inexplicable best-seller and introduced the world to vanilla S&M. After arriving with much fanfare, the first Fifty Shades film quickly filled people with regret, no less a person than its male lead, Jamie Dornan, who showed about as much chemistry with Dakota Johnson, supposedly his most desirable woman ever, as polyvinyl chloride and acetic acid (that's for all my millions of science fans out there).

So now we're deep into the weeds here and the point at which the writer realized that three books full of soft-core scenes weren't going to cut it, so she came up with some "plot" involving the publishing business, the leads' impending marriage and a stalker, cause everybody has to get a piece of these two for whatever bizarre reasons that's between them and their creator. And besides, everyone knows the real kink is domesticity and kids, right? *wink wink* But at least these are finally over and done with.

That's probably the attitude of most of its fans as well, who abandoned the second film in significant numbers, or at the very least, saw the morbidly curious jump ship after getting one taste of the hamhanded plotting, impossibly cornball dialogue and "enh" sex scenes. The first opened up to a then absurd $85 million, but didn't even clear twice that in the final numbers. That opening weekend was nearly halved for Fifty Shades Darker and could conceivably drop that much again. Although it's targeting (I hope!) a much different demographic, The Maze Runner series is kind of instructive for what happens when the wheels fall off a franchise. Reviews are as dismal as ever, not that it matters, and this should wind up around $32 million, without Valentine's Day on the weekend to rescue it.

The pastoral charms of Beatrix Potter make their way to the screen in Peter Rabbit, the story of a mischievous blue jacketed rabbit and his tangles with Farmer McGregor... although they don't quite match exactly what we're used to seeing out of this concept. Updated for the CGI age, the rabbits are all now celebrity voiced (James Corden, Margot Robbie, Daisy Ridley, Elizabeth Debicki, Sia), and Farmer McGregor is now a big city interloper come to claim back his estate and doesn't really "get" nature, locking off the rabbits from his garden, much to the chagrin of neighbor Bea (oh, I see what you did there) played by Rose Byrne.

In true family animal movie fashion, the rabbits then fight back with Home Alone style antics, all the while trying to keep McGregor and Bea's budding romance from wrecking their plans permanently. It's the sort of film where we watch rabbits learn the basics of electrical wiring, and see a man and rabbit make dirty faces at each other. Adults need not apply here, I don't think. The obvious comparison here is the Paddington movies, though this is pitched a bit younger still, I'd say. Name recognition will be there, but I feel it will struggle to break out of a pre-teen ghetto, and should open at about $24 million.

The last of our new films is The 15:17 to Paris, the story of the 2015 terrorist attack on a, well, train to Paris, which was foiled by a number of the passengers who rushed a gunman. Three of them were Americans, so this movie is about them (the French citizen who also went after him remained anonymous then and still and thus is not much a part of this movie).

In the stuntiest stunt cast that ever stunted, director Clint Eastwood has the three Americans playing themselves, both during the attacks and in a number of scenes that see them developing into the kind of people who would rush a terrorist on a train. In addition to the amateur actors, there's a strange group of mostly comedians playing the central roles in their development, including Judy Greer, Jenna Fischer, Thomas Lennon and Jaleel White (yes, Urkel for some reason). It's not the first time Eastwood has used non-pros in a movie – Gran Torino saw a large group of Hmong immigrants playing versions of themselves to varying effect – but this combined with Eastwood notorious "one and done" philosophy when it comes to takes makes this a dodgy looking affair, especially given that most of the film is lead up and only about five minutes is the attack itself. I also don't think this is a ... showy enough event to really inspire people to get to the movie theater – there's not much here that has to be seen in theaters, but it does feel like the kind of film that gets shown in schools forever. I'd expect about $13 million this weekend.

Jumanji 2 snuck in one last weekend at the top of the charts, outlasting The Maze Runner by around half a million last weekend, and grabbing first place in its seventh weekend. The last film to do that: The Passion of the Christ (technically Frozen also did this but not in its seventh weekend of wide release). Outdueling Fifty Shades is basically unthinkable here (though, *fingers crossed*), and it should nab about $8 million even in the face of Peter Rabbit. The only other returning film likely to end up with a significant take is The Greatest Showman, which is doing its own ridiculous thing after seven weekends, and should have about $6 million more here.