Top Chef Colorado Recap
By Jason Lee
February 6, 2018
BoxOfficeProphets.com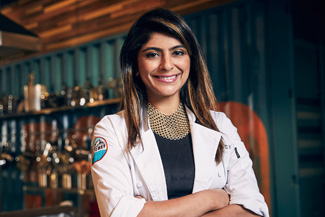 ---
As we rejoin the seven remaining chefs, emotions are running high. Joe is still riding the wave from his win in Restaurant Wars. Moustache Joe is feeling a bit burnt out but a call from his girlfriend invigorates him. And Bruce is still ruing his absence from his newborn son.

But there's no time to mope or lament—when the chefs enter the kitchen, they see David Kinch, a super well-respected Denver chef who boasts three Michelin stars to his name. It's a subtle message—no coasting allowed at this point.

Padma gives a little spiel about the recent trend of adding edible flowers to dishes and presents the chefs with this week's Quickfire challenge: make a dish using edible flowers and prove they belong on the plate. Oh, and if that weren't enough, this is going to be a Sudden Death Quickfire. The chefs who make the judges' three least favorite dishes will go immediately to a sudden death cook-off.

With so much on the line, the chefs all head off in different directions. Bruce decides to go with his tried and true method of making homemade pasta, but has issues with his extruder and thus changes his pasta plans midstream. Carrie decides to do what looks like a bruschetta, but which she calls "Fancy Toast"—and Moustache Joe (of course) can't help but disdain.

He's really getting tiresome. Always so snobby and such a know-it-all all the time.

Before we know it, time is up and lo and behold, two of the female chef are on top. Padma and David loved Carrie's Fancy Toast with lavender fig and goat cheese, which miraculously managed to balance the floral, lavender flavor. Fatima also does great with a mustard flower-rubbed lamb with chili de arbol, as using the flower as a rub was super creative. But it's Carrie who takes home her second Quickfire (and third overall) win. She won't get immunity, but Padma promises a "big advantage."

On the bottom, we have Joe with a roasted radish salad that needed more time to roast. With him is Chris (who overdressed his sea bass and scallop tartare) and Moustache Joe (whose stuffed squash blossom was "pedestrian").

With those three ready to cook it out, Padma calls in Tom to help judge the Sudden Death Quickfire . . . and he arrives with a cartful of cauliflower. So yep, from edible flowers to cauliflower. The chefs will have to make a dish that uses cauliflower in place of another ingredient, and the losing chef will be sent home.

Joe, Moustache Joe, and Chris all get started, but the chefs watching on the sidelines seem to be more stressed out. Joe decides to try and make a risotto using cauliflower—an idea that Moustache Joe disdains (again!) because Guest Judge David Kinch has a similar dish in his restaurant. Moustache Joe thus decides to try and make a play on buffalo wings but botches the cooking of his cauliflower when trying to smoke it.

In the end, he offers the judges smoked cauliflower buffalo wings, and upon eating it, elicits a gagging reaction from Tom. "What did you do to it?" he asks.

Chris has a play on caponata with his cauliflower, replacing the typical eggplant. Meanwhile, Joe puts forth his take on risotto.

None of the dishes impress the judges. "Considering how much is on the line," Tom comments, he's "disappointed in all the dishes," as they lack flavor and finesse (not what you want to hear at this stage of the game). Still, he picks Moustache Joe's buffalo cauliflower as the worst of the three, given the cauliflower's spongy, off-putting texture. David chooses Joe, though, as the cauliflower in his dish was simply not chopped fine enough to make it like risotto.

With the deciding vote, Padma singles out Joe's risotto, which simply did not resemble the original dish at all. And with that, another one of the bears is gone. From riding high to packing his knives, Joe will not be winning the title of Top Chef (unless he blows through Last Chance Kitchen).

But enough with vegetables. As guest judge for the Elimination Challenge, we have Adam Perry Lang, who's a nationally famous BBQ master. With his participation, it only makes sense to put the chefs through a tailgate challenge. They'll be cooking in three teams of two to host the best tailgating party Mile High Stadium has ever seen.

And as her "significant advantage," Carrie gets to pick the teams. For herself, she selects Chris as her teammate before pairing Fatima with Bruce and Adrienne with Moustache Joe. It's a savvy move—she notes that Chris is a big football fan and makes soul food, which should translate well to tailgating food.

After some manic shopping at Whole Foods, the chefs get to work. Adrienne and Moustache Joe are making ribs with deep fried mac and cheese, but both components are having issues. Adrienne's ribs are not tender enough, and Moustache Joe's mac and cheese is not crispy at all. She gets the glaze on her ribs quickly and Joe dusts the mac and cheese bites with cornstarch and they each hope for the best.

Meanwhile, Fatima is struggling to figure out how to incorporate her flavors into a dish of nachos, using lentils instead of beans and a habanero and peach chutney instead of a salsa. It sounds delicious, but lacks that gooey, cheesy experience that you typically get with nachos.

As for Chris and Carrie, they're not having any problems. They put out a pork green chili poutine with stadium fries (basically, roasted potato wedges). The dish looks great and tastes great, with lots of flavor and good texture on the fries.

Bruce and Fatima offer up two separate dishes instead of trying to make one cohesive dish, with Bruce's sirloin steak with beet salad and Fatima's nachos with black lentils, chutney, and achiote-rubbed chicken. The diners are lukewarm on the nachos—the flavors are muddled and the chips are soggy—but Bruce's steak seems fine.

Finally, we have Moustache Joe and Adrienne with limp fried mac and cheese and miso glazed ribs that's accompanied by a pretty weak BBQ sauce.

If the dishes sound underwhelming, it's because they were underwhelming. As the chefs are brought before the judges, Tom chides them for their complacency. The food he got was of the sort he'd expect to get at a tailgate not staffed by professional chefs. He knows they're better than this and frustrated that they're not showing it. In short, he's having the same problem that he had with the three dishes put forth in the Sudden Death Quickfire.

Still, one team stood out as the "clear winner," and that's Carrie and Chris. They did a nice job elevating typical tailgate food, did a nice job incorporating different peppers, and kept their pork moist and flavorful.

The same is not true of the food served by the other two teams. Bruce did a nice job with his beef but Fatima fell flat, as Tom could have gone to "fifty other bars" and gotten better nachos. Ouch. As for the other team, Adrienne's ribs were fine (though they lacked any intensity in flavor), but everything was wrong with Moustache Joe's mac and cheese, which were not even close to being crispy and didn't taste good.

Bruce is clearly safe, and Adrienne is grudgingly deemed to be so as well. Per Tom, Fatima's chicken was good but the rest of her dish was terrible, and there was nothing good about Moustache Joe's dish.

You'd think that he, then, would be the one sent home, but you would be wrong. In what feels like a pretty big shocker, Fatima is being sent home. It stings for her in a bad way—making it all the way into the top six, but no further. The one solace is that the judges genuinely seemed to enjoy her Pakistani cooking, which she had been worried about prior to coming on the show.

Here's hoping she continues cook her food, her way, as she navigates the post-Top Chef world.