Weekend Forecast for January 26-28, 2018
By Reagen Sulewski
January 25, 2018
BoxOfficeProphets.com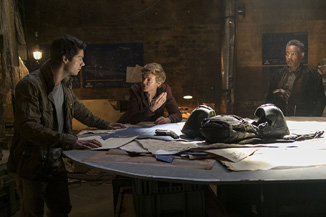 ---
Jumanji's reign of terror likely ends this week as for the first time in 2018, a film originally released in 2018 is likely to lead the box office charts, if only by default. Oscar nomination mean a ton of expansions, though, and those become the real interesting story of this week.

However, let's start with our new wide releases. The Maze Runner: Death Cure opens in around 3,700 venues as the closure to a franchise that no one seems all that enthused about. Call it Maze Runner: Sunk Cost Fallacy. This post-apocalyptic YA action-adventure series wraps up with its not-so-teen-anymore heroes racing to find the cure of the zombie-like affliction in the Last City while managing all of their various love triangles.

We're several thousand miles away from the puzzle box/Hunger Games film that started this series out and well into an epic-sounding plot about the fate of humanity with a soupçon of sci-fi futurism thrown in. Troubling for this final entry is that it shed a significant number of viewers from movie one to movie two and we're almost three years past the release of the last film. Aging out of your teen franchise is always a terrifying and realistic prospect. Even fans of The Hunger Games lost patience, though at least in this case they haven't pointlessly split the film in two. Domestic numbers dropped from $102 million to $80 million last time around, but the real play here is likely those sweet sweet international figures, which could still push it over $300 worldwide. I'd expect just a $23 million opening weekend here, in light of the lack of buzz, poor reviews and just the time since the last film.

Technically not a new wide release since it was actually released all the way back before Christmas (in a misguided attempt at awards contention?), Hostiles jumps to 2,800 venues after about $1.5 million in limited release. Christian Bale stars in the film as an Army captain who is, shall we say, not fond of Native Americans, assigned to escort a dying Cheyenne chief (Wes Studi) back to his ancestral lands. Along the way they encounter hardened settlers that have experienced tragedy amidst the attempts to colonize the lands of the West, as well as other tribes who aren't so thoughtful about Studi's last wishes. It's your typical "the frontier is a hard place to keep your morality and beliefs in" narrative, and the plot looks a little like a reverse Lonesome Dove, albeit condensed. Without a ton of ad support, this should be a bit of an afterthought with around $6 million.

So after three weekends on top, Jumanji will yield its top spot, but likely not without a bit of a fight, as it's managed to pull a bunch of weeks of low drop-offs in a row, defying the typical family film behavior after Christmas. At $325 million or so, it's closing in on being Dwayne Johnson's highest grossing film ever, which is quite a feat given the run of the Furious movies. It should add about $15 million this frame.

12 Strong and Den of Thieves debuted at a near identical $15 million apiece last weekend, with the military film underwhelming and Gerard Butler's cop thriller maybe doing a little better than expected. I don't expect either to have much staying power, and we should see each of them fall to around $8 million this frame.

Technically an Oscar film, The Greatest Showman isn't really in the mix of the films I'd expect to be helped out by nominations, but it kind of doesn't need it, having rolled out week after week of phenomenal drops and still, *still* remains above its opening weekend over a month out. As long as theaters are willing to give it screens, it can run for the foreseeable future (if the future means "about a month" to you) and it should add about $8 million itself here.

And now we come to the Oscar films proper, with The Shape of Water, Three Billboard Outside Ebbing, Missouri, I, Tonya, Lady Bird and Phantom Thread all making expansions in the wake of their nominations. The Shape of Water might fare best in light of its higher profile and the larger number of nods and may come up to about $4 million. Phantom Thread will likely just stall its drop, as the sartorial thriller is a bit offputting for mass audiences, and bring in another $3 million, alongside Three Billboards. Not expanding but quite significant in the race is The Post, Steven Spielberg's drama about the Watergate period, which is still running off its initial expansion, and should earn about $10 million this weekend.