They Shoot Oscar Prognosticators, Don't They?
Split Decision Guild Weekend Leaves Oscar Race Too Close To Call
By J. Don Birnam
January 22, 2018
BoxOfficeProphets.com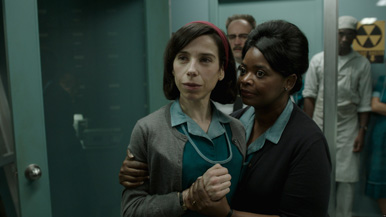 ---
A wild weekend in which two of the three main Oscar guilds delivered a split decision for their favorite movies of the year has some Oscar prognosticators scratching their heads. Is it Three Billboards or is it The Shape of Water. The ink is not even dry on the nominations—heck, THERE ARE NO NOMINATIONS--but it is looking more and more likely that one of those two movies will win Best Picture. But which one? I'll discuss the pros and cons for each today. I really think it is too close to call. Follow me on Twitter @jdonbirnam and Instagram @awards_predix for live updates on Tuesday.

A Quick Acting Detour: Four Locks

Four actors have, this year, won the BFCA, the Critics' Choice, and the Golden Globes. They are Frances McDorman, Gary Oldman, Sam Rockwell, and Allison Janney. The last time that happened? Never, Twitter tells me. And if you add BAFTA wins to some of those, their Oscar wins become near certainties. I am not currently able to look it up, but someone surely will tell me: how many times has an actor won all four of those and then lost the Oscar? It has happened (the name Lauren Bacall is in my head) but it is rare.

PGA: Shape of Water Prevails In Preferential Ballot

The Producers Guild spoke first on Saturday, and after eleven historic nominations, they decided under their preferential ballot to award the fantasy romance story The Shape of Water the Outstanding Production of the year (Coco and Jane won their categories, making their own races probably less interesting too).

If you have followed the Oscars and/or this column for any period of time, you know that the PGA has had a remarkable run of success since the preferential Best Picture ballot began ten Oscar races ago. The first eight in a row, the PGA predicted the Best Picture winner correctly, even in tough years. That is pretty good.

Then something happened two years ago, when the PGA went for The Big Short while Best Picture winner went of course for Spotlight. A similar loss for the PGA occurred last year after they picked La La Land but the Academy went for Moonlight. What gives?

Stats nerds will tell you that both TBS and LLL lacked a critical SAG Ensemble nomination. Without the support of the actors' branch, the theory goes, a movie cannot get over the hump needed to have broad support across the board to win in preferential voting. That of course really hurts The Shape of Water, which, even more than TBS and LLL, should be an actors' movie, given that it lacked a SAG Ensemble nomination this year. Ouch.

Does that seal Del Toro's movies fate as a Best Picture wannabe? All signs point to yes, particularly when you consider that not only did Three Billboards land the SAG Ensemble, it WON THREE OF THE AWARDS. But not so fast. See below.

SAG Ensemble: Strong Three Billboards Win Means It's Over?

So, as explained, Three Billboards did very well with the Screen Actors Guild. McDormand and Rockwell took acting prizes and the entire ensemble also triumphed. Only The Help has ever achieved three here, including Best Ensemble, and then gone on to lose Best Picture.

So does it mean it is over? Again, not so fast. The SAG Awards can be inherently capricious given the breadth and nature of the composition of their electorate, which includes a lot of radio and TV people. Many years they tend towards movies with racial themes such as Hidden Figures, The Help, and of course this year's winners, and those movies do not really figure seriously in the Oscar conversation (though both of those lacked a Best Director nod—it remains to be seen whether Billboards will be OK there).

So what does it all mean?

One way to read the stats is to give Shape the edge by noting that Three Billboards is a divisive film and that it therefore clearly lost a preferential vote. But the only evidence that 3BB is divisive is an inference based on the PGA result. One could argue based on Film Twitter or on its utter lack of any presence whatsoever with critics to say that it is divisive, but that seems a thinner reed.

But if the movie's PGA loss means it was too divisive to win, then why did Moonlight win under a preferential ballot despite losing at PGA? Why did Spotlight. The reality is that the PGA is a good bellwether but that is all it ultimately is: a signpost. The same goes for SAG of course, and statistically the PGA has had more success. It really can go either way in that sense.

You can of course argue that the PGA losers but eventual Oscar winners of the last two years were not divisive. They were just equally as popular as the PGA winner and peaked at the right time. Indeed, The Big Short was having its moment in the sun during PGA voting, only to completely fade after the Oscar nods with the other guilds. La La Land was still riding high before being the subject of a powerful and effective takedown campaign. The Shape of Water, by contrast, has been flying under the radar and arguably has just now starting to peak. This could mean that the PGA stat is back.

I normally would never trust a SAG win as a sign of a Best Picture win. Birdman got the SAG win to line up with its Oscar win. But overall SAG is at about 50% if not slightly less, in its twenty-four years of existence. Remember The Full Monty? Of course not.

My money is still on Three Billboards. While I and my fellow critics do not like the movies' facile racial answers, the public likes it, and the industry clearly likes it as evidenced by the Globes and SAG resounding triumphs. The only way it loses right now, in my mind, is if it somehow misses Best Director, but I do not expect that to happen.

And the only way for The Shape of Water to beat the daunting stat that no film other than in the first year of the SAG has won Best Picture without a SAG Ensemble nod, is for it to not be too far behind Three Billboards after the first preferential round. At that point, yes, I could see the merman winning. After all, The Shape of Water is widely expected to have double digit Oscar nominations on Tuesday morning and to more than trounce all the other competition. No one will come close. We know that most Oscar nods does not mean a win anymore (remember The Revenant, La La Land's record tying nods, Benjamin Button, etc.?). But it does mean that it will have broad support such that it could be lifted up in the second round of a close race.

Exciting!

Up Next: Final Predictions!!