Weekend Forecast for January 19-21, 2018
By Reagen Sulewski
January 18, 2018
BoxOfficeProphets.com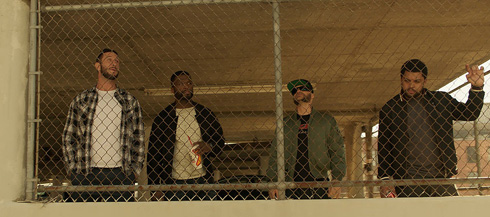 ---
We're into the third weekend of January and the Oscar expansions continue, alongside a couple of brand new releases, but barring a bit of a surprise, we'll still be waiting for our first #1 film of 2018 that was actually first released wide in 2018.

The best chance at a breakout is 12 Strong: The Story of the Horse Soldiers (hmm, if only there were a word for soldiers who ride on horseback...), a film based on the mission of some of the very first American military personnel to get on the ground in Afghanistan after the 9/11 attacks. A Special Forces team sent in to forge an alliance with resistance fighters against the Taliban, they practice asymmetrical warfare in a sort of bitter irony.

The cast is led here by Chris Hemsworth, taking a bit of a time out from being a super powered warrior to be just a regular powered warrior, with Michael Shannon, Michael Pena, Rob Riggle (who at least was an actual Marine) as other members of the squad, along with William Fichtner as their colonel. Not quite as jingoistic as one might imagine from the ads – it actually pauses for a moment or two to tell things from the Afghan side of things – it is nonetheless another in the line of movies dressing up the War in Afghanistan without really addressing the fallout from it.

Presented in a certain way, audiences have often gone for films about this War, and it follows in the strange pattern that studios have adopted that certain types of films have a natural release date. "The third weekend of January is the time when audiences just want overly patriotic films about war and/or terrorism. That's just science." So Lone Survivor and American Sniper work, but not so much for 13 Hours and Patriots Day, which did... fine. But no executive is going to get fired for doing something that someone else did with success.

Hemsworth hasn't found a ton of success outside of franchise pictures, with Blackhat, Rush, Red Dawn and even the second Huntsman film going down in flames. I don't think this is the film to break out of that pattern, and with mediocre reviews and a not very well known central character, it should wind up with around $14 million this weekend.

Another tradition that seems to be taking hold is dumping Gerard Butler films, who remains a thing beyond all reason. Den of Thieves sees him playing a Los Angeles Sheriff in the robbery division, going head to head against a notorious heist crew led by Pablo Schrieber (Porn Stache from Orange is the New Black) and which also has 50 Cent and O'Shea Jackson Jr (aka Ice Cube Jr). Pacino vs. DeNiro it ain't. A bit of an overstuffed and overheated thriller, it features Butler at his growliest and scruffiest and potentially some thrilling action scenes, but not much else. Reviews are towards the lower end of things, and without any dynamite ads, this should start with a mere $11 million.

We won't spend much time on Forever Your Girl, which matches its future behavior in theaters. A Sparks-lite film, it stars a couple of young haircuts that you don't know in a sappy romance about a country music star returning home and rediscovering the girl he left behind. This has somehow escaped from the Hallmark channel onto about 1,000 venues and should open to about $3 million.

A couple of important expansions happen this weekend with I, Tonya and Phantom Thread both which break the 650 threshold. I, Tonya is a bit more of a known quantity, having gotten lots of attention for its lead actress Margot Robbie, and with its very well known scandalous story, about the Tonya Harding/Nancy Kerrigan confrontation in 1993/94. It has around $10 million already and earned about $3 million last weekend. With this expansion, it should leap up to about $5 million this frame.

Phantom Thread is a bit more under the radar, though it's notable as potentially Daniel Day-Lewis' last film after his retirement announcement. Directed by P.T. Anderson, it's a romantic thriller set in the fashion world of 1950's London. Expanding into 897 venues, it should work up to around $3 million this frame.

This leaves Jumanji: Welcome to the Jungle to win yet another weekend, defying the usual behavior of family films once they leave the Christmas season. It's about to hit the $300 million mark and has had successive drops of less than 30%, which now make $375 million as a potential finishing point. It should win its third weekend in a row with about $20 million here.

The Post was a particularly successful expansion, opening to $19 million for its first weekend in wide release. The story of the Washington Post's response to the Pentagon Papers and the threats to journalism connected with audiences in the turbulent political climate of today, and is a strong candidate to show legs. I'd pencil this one in for about $13 million in its second weekend of wide release.

The Greatest Showman also continues to defy most patterns, displaying legitimate old school legs, and in Week 4 is actually above its (artificially depressed, but still) opening weekend take. From that $9 million start, it's now poking at $115 million or so by the end of this weekend, and well, who knows how far it can run when it just refuses to drop. I'd expect about $10 million here.

The deep returning bench continues with The Commuter, the Liam Neeson thriller, which should add about $8 million to its total, Insidious: The Final Key with about $7 million and Star Wars: The Last Jedi at the same figure. Paddington 2 was a surprise disappointment, earning only $11 million despite outstanding reviews, while Taraji P. Henson's thriller Proud Mary grabbing $10 million with no promotion. I'd expect both of these films to come in with about $6 million here.