Weekend Wrap-Up
by Tim Briody
January 7, 2018
BoxOfficeProphets.com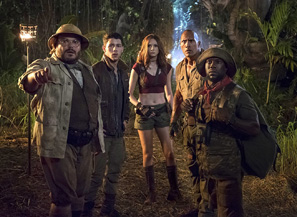 ---
The first weekend of 2018 is here and in addition to the post holiday collapse of the December releases, we've got one new wide release in the form of a thought to be moribund horror franchise and one minor expansion of an Oscar hopeful. If that doesn't sound terribly exciting, we do have a bit of an upset.

The number one film of the weekend is not Star Wars, but actually Jumanji: Welcome to the Jungle. Earning $36 million per our friends at Exhibitor Relations, that's down just 28% from last weekend and it has now earned $244.3 million since opening the Wednesday before Christmas. Easily the biggest winner of the Christmas films, I hope Sony nailed down Kevin Hart, The Rock, Jack Black and Karen Gillan for a sequel based on the success here. While it's still a surprise The Last Jedi vacated the top spot a weekend or so earlier than expected, this isn't a complete shock; Jumanji made it very close last weekend, and actually passed Star Wars for the first time on January 1st and beat it all week. That's such a good post-holiday hold that it's going to make a run at the $300 million mark as it remains a top family option.

In second place is also not Star Wars, but our new opener, Insidious: The Last Key. A thought to be ended franchise with the last entry, Chapter 3, released in 2015 (and earning less than the first film), Blumhouse continues to work their magic with cheap horror entries as The Last Key earned $29 million on just a $10 million budget. After a great 2017 with Split, Get Out and Happy Death Day, 2018 is off to a strong start for the production company. Insidious's success here is a bit of a surprise. The franchise first launched with $13.2 million in 2011 and earned $54 million (off a $1.5 million budget), and while the sequel opened to $40.2 million in 2013 (finishing with $83.5 million), the third entry dropped back to $22.6 million and ended with $52.2 million. The five year gap and huge drop between Chapters 2 and 3 didn't point to a $29 million opening, but there is your (way way way too early) biggest film of 2018 to date. We should expect a similar quick flameout here for The Last Key (think a final total of $62 million or so), but nobody will be mad as it was profitable by Saturday.

After three weekends at the top, Star Wars: The Last Jedi drops to third place with $23.5 million and $572.5 million. The vocal minority will once again point to the four weekends at #1 for The Force Awakens against the three for The Last Jedi as backlash against the film, but these people are wrong. The 55% decline from last weekend is definitely higher than anticipated, but it's a minor quibble at this point. Firmly lodged as the sixth biggest film of all time (fifth is The Avengers with $623 million), everything is fine. And I'd still place a wager that Episode IX will surpass the performance of The Last Jedi as people come back to see how it all ends.

Hugh Jackman's The Greatest Showman is your other Christmas winner, and takes fourth place for the weekend with $13.8 million, down just 11% from last weekend. Even though last weekend contained New Year's Eve (a box office anti-holiday), the drops for some of the holdovers this weekend are remarkable. After a slow start, it made the most of the 12 Days of Box Office and now has $76.9 million in three weekends. The musical is playing well with older audiences and benefiting from some old school word-of-mouth.

Pitch Perfect 3 drops 39% from last weekend, adding $10.2 million and giving it $85.9 million in three weekends. The Bellas overstayed their welcome big time (note: call me, Anna Kendrick) and look to stumble over the $100 million mark, and I'm sure Universal had much higher expectations after the $183.7 million performance of the sequel.

Ferdinand with John Cena (true to his brand, we can't see him in the movie) earns $7.7 million and $70.5 million in four weekends, down 32% from last weekend. Fox hoped to position Ferdinand as the big Chrismas entry for kids and families, but got kneecapped by Jumanji (and Star Wars to an extent), but the holiday box office helped the film greatly.

Molly's Game expanded to 1,608 theaters and earned $7 million on the weekend. Written and directed by Aaron Sorkin (his first time behind the camera of a film), it's the story of a 20-something woman behind a high stakes poker room frequented by A-listers who ends up being arrested by the FBI. Starring Jessica Chastain, angling for another Best Actress nomination (though she's currently on the outside looking in according to prognosticators), Molly's Game got generally good reviews and had earned about $7 million since opening in 271 theaters on Christmas Day. The $30 million production from STX Entertainment needs a little bit of help in the awards department to match that. Sorkin's probably getting a screenplay nomination, but that's not the sort of thing that moves the needle.

Darkest Hour continues to expand, moving to 1,733 screens and earns $6.3 million, up 16% from last weekend, and giving it $28.3 million to date. Gary Oldman is still far and away the frontrunner for Best Actor, and it may also get a Best Picture nomination, which does help its future earnings. There's probably one more smaller expansion in the works.

Coco wraps up its run with another $5.5 million (down 26%) in its seventh weekend, giving it $192 million in the bank. It's going to get to $200 million, but probably in two more weekends as it heads to the second run theaters.

All the Money in the World didn't really make that much, as it drops $3.5 million (down 36%) and has earned $20.1 million since its Christmas Day release. More fascinating for its extremely last minute casting change than its subject matter, All the Money in the World did land three Golden Globe nominations (mostly because the Hollywood Foreign Press loves Ridley Scott), but it is expected to be a non-factor at the Oscars.

The top 12 films this weekend earned $148.5 million, ahead of last year's $134.4 million when Hidden Figures edged out Rogue One by less than $1 million. Next week we're due for a big shakeup, with the wide expansion of The Post, and also Paddington 2 (currently 100% at Rotten Tomatoes, plus a bunch of buttkicking with Taraji P. Henson in Proud Mary and Liam Neeson in The Commuter.