Top Chef Colorado Recap
By Jason Lee
January 1, 2018
BoxOfficeProphets.com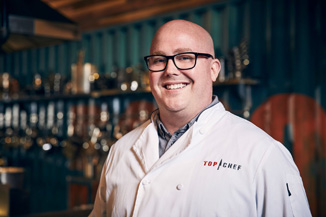 ---
A familiar face greets the cheftestants as they enter the Top Chef Kitchen today—Curtis Stone, a man that the Top Chef producers have tried valiantly to employ for many years now. From hosting Top Chef Masters to Top Chef Jr., he's returning to the Top Chef mothership to judge today's Quickfire Challenge, which was previously done on Top Chef Jr.

The cheftestants draw knives and are assigned a standard "Kids Menu" dish—from spaghetti and meatballs to chicken fingers. Our cheftestants, like the kid contestants before them, are tasked with updating and elevating those dishes, with the winning chef getting immunity.

But that's not the only twist. During their forty minutes, the chefs will only be allowed to use kid-sized equipment—from teeny, tiny cutting boards to itty bitty sauté pans. It makes for some hysterical sights, with chopping vegetables rolling off the board into adjacent trash cans and use of plastic standmixers that barely have enough horsepower to mix flour.

At the end of the forty minutes, Padma and Curtis are joined by three younger judges—the children of well-known Denver chefs. Their tastes and critiques are discerning, with knocks against the cheftestants' flavor combinations and the texture of their dishes. In the end, three dishes are judged to have fallen on the bottom of the challenge. Carrie's attempt to reinvent the corndog as little cornmeal-covered fritters is deemed too try, as is Bruce's twist on fish sticks as cornmeal-crusted striped bass. As for Tyler, his take on spaghetti and meatballs through incorporation of flavors more familiar with Vietnamese pho deviates too far from the original dish.

On a brighter note, three dishes were smashing successes. Adrienne's pizza with a cauliflower crust, crème fraîche was all around great. Fatima was creative in turning her grilled cheese sandwich into croutons used in a Caesar salad-inspired dish. And Tanya wins raves for her mac and cheese with gruyere, parmesan, and bacon (I mean, who doesn't like a little bacon on their mac and cheese?). In the end, Adrienne takes home the win and immunity.

With 3 ½ episodes complete in this season, we have yet to have a single repeat winner. Seems like it's a pretty even playing field so far.

For the Elimination Challenge, the chefs are asked to return to their roots. With a heartfelt nod to the history of this country as a place that welcomed immigrants in search of new and better opportunities, who brought their food and culture with them, the chefs are to cook a dish based on their own heritage and background. They'll be visiting Comal—a community "food incubator" that helps to teach immigrant women who want to open their own business the ins and outs of running such an operation—as inspiration before cooking at the restaurant of Gregory Gourdet, runner up to Mei Lin in Top Chef Season 12.

Leading up to, and following, the cheftestants' trip to Comal, it's clear that many of them are taking this challenge to heart. Brother describes how he learned of only one recipe from his father's background—dirty rice—before his father passed. Tanya recounts how her mother had dreamed of opening a gumbo shack in a day and age when women simply didn't do that. And Moustache Joe shares a story of how his mother passed away while he was in college. Today's challenge will clearly be an emotional one for them and other cheftestants.

But can they control their emotions long enough to get through the challenge? Carrie is up first with pierogies with herb crème fraîche and a fava bean, chorizo salad. The pierogi is a success but the rest is described as a distraction. Tyler serve alongside her with what he calls a "SoCal picnic" crossed with Swede—spiced tri-tip with pico de gallo next to a Swedish potato pancake and Swedish meatballs. He's been struggling all day with how to approach this challenge, with little knowledge of his heritage and a bland, Southern California upbringing, and things don't come together on the plate. The diners find it rather disjointed.

Non-moustache Joe is freaking out while finishing up his dish—he's behind schedule and everyone is pitching in to help as he screams and yells in the background. The judges take notice. When the dust settles, he has a saffron ribbon pasta with braised squid, a dish he makes often with his grandmother. Tanya serves her Louisiana-style gumbo with chicken, shrimp, and fried okra (Tom barely represses a shudder, as his okra-aversion is the stuff of legend). While Tanya has a hit with her tasty, balanced gumbo, Joe's pasta is falling quite flat.

Moustache Joe is up next with a chicken tortellini and cabbage prepared as an homage to his late mother. Tu pairs it with a Vietnamese bouillabaisse with fish meatballs, failing told hold back tears as he thanks the judges for the opportunity to cook something from of his cuisine in the challenge. It's a beautiful moment that his dish can't match, as it's missing acid and salt. Joe's pasta dish, on the other hand, is lovely and nuanced.

Brother and Fatima are next. He serves the dirty rice with stewed chicken inspired by his father's dish, and Fatima has her take on a classic rice and lentils dish that's so well known in Pakistani culture. Tom praises the flavors in Brother's dish, but while Fatima also nailed her flavors, the diners note that they've had better versions of it.

Like Non-Moustache Joe, Adrienne is totally in the weeds. She laments her over-ambitiousness as she finishes and then serves stuffed pig trotters with collard greens and a mustard, ham hock jus. The trotter is unfortunately undercooked. As for Bruce's Hungarian lamb goulash, the flavors are great but pieces of the lamb are really, really undercooked. "A colossal flaw," Padma notes.

Last up is Chris, who serves a humble, straightforward, no-frills lemonade fried chicken with collard greens and gorgeous looking buttermilk biscuits. The dish has tons of soul and he wins raves for his biscuits from the judges and his fellow cheftestants, who dig into a leftover tray of his biscuits once dinner service is complete.

So some extraordinarily high notes and some obvious errors in the dinner. On the right side of things are Chris (whose fried chicken delivered on their obvious, succulent promise), Tanya (who made everyone feel at home with her rich gumbo), and Moustache Joe (who maybe succeeded better than anyone else at meshing the flavors of his heritage with his skills as a chef). But it's Chris and his confident decision not to dress up his fried chicken as anything else than it was who takes home the win.

Four episodes, eight different winners. The title of Top Chef is up for grabs.

Receiving some bad news are Non-Moustache Joe, Tyler, and Bruce—the bears of the group (bear down, bear down!). Joe's pasta dish was not served hot and his pasta sauce was lacking in flavor. Tyler's discombobulated dish was all over the culinary map, and he would have been better served by focusing on either SoCal or Sweden. As for Bruce, he's in the bottom because his lamb was not cooked well at all.

You would think Bruce would be the person going home for making the most elementary of mistakes (failing to cook his protein properly) but the judges take the alternate route of sending home the chef whose dish was doomed at conception—Tyler. It was not a complete dish and had no sense of place.

It's a bit surprising to see him go home so early, as the person who wins the first Elimination Challenge typically makes it quite far in the competition. Alas, Tyler won't build on that tradition.