Top Chef Colorado Recap
By Jason Lee
December 25, 2017
BoxOfficeProphets.com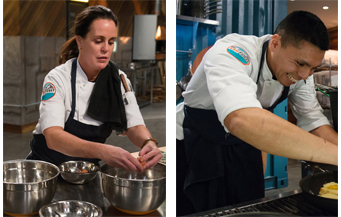 ---
This week's episode opens with an ominous scene—Laura, our resident cheftestant from Denali, Alaska—is on the phone with her son. Her stint so far on Top Chef has been the longest period of time she's been away from him, and she's struggling with her focus being so far away for her family.

As any Top Chef aficionado knows, such feelings are often to the downfall of the chef. Some, like Brooke last season, are able to channel those feelings into an even greater drive and commitment to winning the competition. Others, like Laura, it appears, fall apart.

But maybe, just maybe, she'll be able to pull things together in time for the Quickfire? Odds are against her, given that, as Padma announces, it's the season's first Sudden Death Quickfire. Joined by James Beard-winning chef and Top Chef Master Lachlan MacKinnon Patterson, the chefs are asked to do their own personal spin on the classic Denver omelet, which features eggs, ham, bell peppers, and cheese. Surprisingly, even though Lachlan warns them away from doing anything resembling an omelet, we get a lot of breakfast/egg-based dishes.

For some, the exercise goes well. Carrie, who won last week, is on top yet again with a simple but well-executed Denver breakfast sandwich with bacon, pepper jam. Brother, who was near the top of last week's Quickfire, does well again with a smoked and soft boiled duck egg with a red pepper gastrique. Finally, Tu brings back memories of the first Quickfire with a cold fried egg salad with ham and peppers, which is bursting with freshness and brightness. Brother ends up winning the challenge and immunity.

On the bottom is Laura (unsurprisingly) with a thick and heavy savory French toast. Joining her Tanya, whose cornmeal crepe was dry and flat, and Rogelio, who totally overcooked his toad-in-the-hole egg dish. Those three will cook against each other to see who goes home.

And to aid in the decision is head judge Tom Colicchio. The challenge will be a perfect French omelet. The two chefs who do the best, are safe. And the losing chef will pack his or her knives and go. The instructions are clear—a French omelet should have small curds, no browning, and a fluffy texture. It's all about technique and timing, the chefs are told.

Advice that they are quick to dismiss. Rogelio, bizarrely, throws cheddar and mushrooms into his egg mixture, while Tanya puts in wilted spinach. Neither the spectator chefs nor the judges can believe it—why aren't they focused on just making a perfect French omelet?

But they have nothing to worry about. It's not even a competition with the disaster at Laura's station. With no clean non-stick skillets available to her, Laura spends precious minutes washing her cookware. After that, she's too slow to get her eggs cooking, and when she throws some mascarpone cheese into the cooking eggs, it all goes to $#@#. In the seconds before she plates, she drains some of the raw egg liquid into the trash can adjacent to her cooking station and attempts to shape the "omelet" into a trifold by hand. It's very hard to watch.

Padma goes through the motions and attempts to derive some drama from the Sudden Death Quickfire, but it's clear—Laura is sent home in tears. Her fellow cheftestants are stunned by her collapse. Laura is, Fatima notes, a two-time James Beard Award nominee, so it's not like she's a bad chef by any stretch of the imagination. But today was clearly not her day.

With that decided, it's onto the Elimination Challenge. The chefs will cook in four teams of three, with each team manning its own food truck. They'll each have to put together a three-item menu aimed at attracting the business of 150 college kids. The team that does the best at that job will be safe from elimination.

The blue team, made up of Adrienne, Chris, and Tu, decide to go with a sandwich theme. And as they're all known for spicy cooking, they pick the name Blazing Sammies.

Moustache Joe, Fatima, and Tyler decide on a Hangover Cure food truck, making stuff that just plain tastes good.


The green team is comprised of Brother (who has immunity), Rogelio, and Bruce. They pick the name Foodgasm for their truck, but seem to lack any cohesive concept.

Finally, there's Carrie, Tanya, and Chris, who go with the name Down the Chin, which seems like it should be some sort of euphemism, but really is meant to emphasize the sauciness and messiness of their dishes.

After a sprint around Whole Foods, it's off to the food trucks for three hours of prep. And seemingly, every team is having some type of equipment malfunction. At Down the Chin, the electrical outlets are not working. At Foodgasm, the ovens are not working. And at Hangover Cure, Fatima's aerosol canister is broken. The chefs do their best to roll with the assorted punches as hungry college students start to stream in.

A huge line starts to form in front of Hangover Cure, which leads to a massive slowdown in the speed of service. Lucky of them, the food is worth the wait. Guest and judges really enjoy Tyler's smoked tomato soup with grilled cheese croutons, despite the 85-degree weather. Joe's chicken wings are a huge hit. And Fatima's waffles are adorned with a delicious caramel sauce.

At Blazing Sammies, the judges have a hard time with the fact that the team decided to use the same bread for all three sandwiches. On top of that, the sandwiches are just okay. Padma isn't a fan of Chris's crispy fried fish sandwich, which is dry and overbattered, and Tom agrees. Tu's meatball banh mi isn't bad, but lacks the herbaciousness of a typical banh mi. Adrienne's Harlem chopped cheese sandwich, meanwhile, is good, but not great.

Things are heating up over at Down the Chin. The college students, totally unexpectedly, love Tanya's chicken and waffles, which Tom compliments as well made. Carrie's cheeseburger (with the cheese stuffed inside the meat patties) are literally bursting with juice and flavor. Non-moustache Joe has Maxwell-style ribs, which are good and messy, but not amazing.

Finally, outside Foodgasm, Brother is doing his best to draw the biggest crowd possible to their truck, emphasizing his Colorado roots. Unfortunately, the food isn't as good as the salesman. Rogelio's elote salad with queso fresco is not embraced by anyone—it has little flavor and is wilting in the Colorado heat. Bruce's pork sandwich with smoked gouda is, as Gail puts it, "fat and fat and fat." In Tom's words, it's a big greasy mess. Finally, Brother tries to top things off with fry bread with chocolate mousse, but it has a staleness about it. Also a sandiness. When Gail asks what it is, someone chimes in: it's honey powder. "Cute but useless," Gail remarks.

Ouch.

So the ballots are in and Down the Chin, with those great cheeseburgers and chicken and waffles brought in the most guests. The judges, though, liked the food at Hangoer Cure the best. The soup was not an obviously good choice given the weather, but it had great smokey flavor. Moustache Joe's chicken wings were juicy and crisp and perfect. And Fatima did a nice job balancing a lot of different flavors—strawberries, pistachios, rosewater, etc. Moustache-Joe ends up winning the challenge. He's pompous but talented. Grrr.

There's not really all that much suspense for which team is on the bottom. The judges chastise Blazing Sammies for using all the same bread in order to speed up service—"when you're planning your dishes in your restaurant," Tom asks pointedly, "do you think about food first or service first?"—and some of their flavors were underwhelming . . . but the harshest critiques are reserved for Foodgasm. The fry bread was dense and tasted stale, the salad was lukewarm and lacked acid, and the pork sandwiches were big balls of fat.

After the chefs leave and the judges start to deliberate, they go through the motions to discussing the various flaws, but as Tom says, the decision is "pretty easy." Tu's sandwich was missing classic banh mi flavors, Bruce didn't render his pork, Chris didn't put enough relish on his sandwich . . . but Rogelio missed the mark in conception and execution. He didn't know what he wanted it to be, and it wasn't well made in the moment. As a consequence, he's going home.

And with that, neither of the two chefs who specialize in Mexican food (Claudette and Rogelio) make it past episode three. We'll have to see if they're able to progress in Last Chance Kitchen.