The 12 Days of Christmas: Weekend Wrap-Up
By David Mumpower and Kim Hollis
December 24, 2017
BoxOfficeProphets.com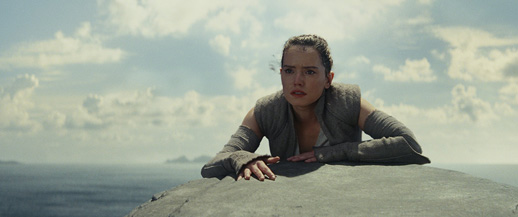 ---
Okay, let's get something out of the way right now. Star Wars: The Last Jedi is no Star Wars: The Force Awakens. It was never going to be, and everyone should have realized that. We'll explain why in just a bit, but the sheer volume of hate being directed at this film is maddening…and we see that as one of the least Star Wars-positive websites on the internet. It was STILL the number one film of the weekend, beating back a metric ton of new releases, earning almost as much as the rest of the top five combined. That's your story. If you're in a hurry this Christmas Eve, you can stop reading now and run off to open some presents and chug egg nog. We won't mind, we promise.

Are you still reading? Okay, good. Egg nog is nasty anyway.

Yes, the number one film in North America is one again The Last Jedi. This isn't a surprising turn of events in the least, but let's recount the stats anyway. Star Wars 8 earned $68.5 million this weekend, which is good. Yes, there's also a "but…" coming. In 2015, Star Wars 7 grossed $149.2 million on its second weekend. That's *ahem* slightly better.

What's going on? Well, we need to evaluate all the moving pieces here, and the key one is something that Star Wars 8 could never overcome. The Force Awakens had more than 30 years of accidental anticipation driving its early box office. People hadn't seen the Skywalker twins or Han Solo since 1983. With The Last Jedi, people hadn't seen them since two Christmases ago. That's like not seeing a cousin, not building historic hype for a movie.

For whatever reason, people lose their damn minds when discussing Star Wars. Reason and rational behavior go out the window. As someone who thinks the franchise is garbage, I (David) have a rare opportunity to praise a performance that diehards are freaking out about. Let me start with a significant data point. What did Rogue One earn on its second weekend? If you answered $64 million, you win the no-prize. By day ten, that film had grossed $286 million. Everybody views that one as a huge success, right?

Well, Star Wars: The Last Jedi has a running total of $365.1 million after ten days. Folks, $36.5 million per day is a really good 10-day pace. No, it's not The Force Awakens, which absolutely scalded previous records with $540 million. That's an imitable total for any title currently in production, and I include Star Wars 9, Avatar 2, and Avengers: Infinite War in that. Don't judge Star Wars 8 against an impossible standard.

What Disney has done here is make a cash grab on the Star Wars franchise. They're releasing a new film every year, reducing the specialness of the franchise while maximizing earnings potential. Along the way, they've managed to release three films that most fans deem as somewhere between good and very good. That's commendable. So, don't freak out about a holiday-deflated second weekend of $68.5 million. It's still going to earn north of $500 million, the third straight Star Wars film to do so.

A pair of sequels battled for second place this weekend. In a slightly surprising turn of events, the Jumanji reboot emerges victorious. It always helps to have The Rock and/or Kevin Hart in a movie. Jumanji: Welcome to the Jungle grossed $34 million over the weekend and $50.6 million since Wednesday. It will break $100 million over the next week, making it a wonderful investment for a $100 million production. Reviews of this film are extremely good, as 77% of critics on Rotten Tomatoes give the films the proverbial thumbs up. It also received an A- Cinemascore, a good result that indicates it's enough of a crowd pleaser to keep crowds interested into the New Year.

We see a massive change in fortune for the franchise in third place this weekend. After the original Pitch Perfect opened to $5.1 million but became a leggy hit that tallied $65 million domestically (and was a huge hit on video), the sequel shocked the world with a $69.2 million debut and $184.3 million from its domestic run. The problem? Pitch Perfect 2 is not remembered fondly even with a 65% fresh rating. It has a 6.4/10 rating at IMDb and only 64% of viewers at Rotten Tomatoes like it.

So, that means that Pitch Perfect 3 comes in with an opening weekend of just $20.5 million. That is almost $50 million less than Pitch Perfect 2, and has to be just incredibly disheartening for Universal. The good news for them is that the next several days of holiday revenue will inflate its total some, but by any analysis, Pitch Perfect 2 is a giant leap backward for the franchise, and probably spells its end (if the end weren't already planned).


Fourth place goes to The Last Showman, the Hugh Jackman/Zendaya/Zac Efron musical about P.T. Barnum. From 20th Century Fox (er, Disney? I guess not yet), the prestige picture without critical support earned $8.6 million from Friday-to-Sunday. Since debuting on Wednesday, The Last Showman has earned $13.2 million, and since people do seem to enjoy musicals over the holiday season, it will probably fare okay. With that said, it's got to be less than the studio was hoping for. They've spent a lot of money and effort marketing this one.

Also from Fox is Ferdinand, the underachieving CGI animated film featuring the WWE's John Cena as the primary voice actor. The casting department had to greatly overestimate his appeal to the general public, or perhaps they never actually tuned in to a show to hear the massive boos he receives despite supposedly being a good guy and fan favorite (ha ha). It might manage to stay just ahead of Coco through the holidays, but given the varied reception for the two family films, I'll expect Coco to move ahead in a few days. With two weekends under its belt, the Blue Sky production has now earned a lukewarm $26.5 million.

That brings us to Coco, now in its fifth weekend. It earned a tidy $5.2 million, down 48% from last weekend. That decline is largely because of Christmas Eve falling on Sunday, which sucks the life out of movie theaters – and especially family films. Still Coco has now accumulated $161.3 million from domestic venues, and adds an awesome $325 million overseas. Disney/Pixar will be plenty happy with that, especially as Coco will have plenty more to earn in the coming days.

Director Alexander Payne is an acquired taste, one that some people have never acquired. His latest film, Downsizing, is struggling thanks to middling reviews and extremely poor audience reaction. With $4.6 million yesterday, it's going to fall off the radar quickly. Paramount is going to be happy to eke out every dollar they can over these next several days, because audiences are not into Downsizing.

On the other end of the awards bait release spectrum is Darkest Hour, the Winston Churchill biopic that has gotten world-class attention thanks to the performance of Gary Oldman. A lot of people feel that Oldman is long overdue for an Academy Award, and with his transformation into this historical figure, he has emerged as a front-runner if not favorite. Focus expanded the film to 806 venues this weekend, and the result was a 384% increase to $4.1 million. Overall, Darkest Hour has earned $7 million in North America and $5.4 million overseas. As awards wins and nominations start to roll in, I'd expect this one to gain a lot of traction.

What would happen if Owen Wilson and Ed Helms did a comedy together, featuring lots of familiar faces in cameo or expanded cameo roles, and no one came? Well, you'd have Father Figures, a painfully unfunny looking project that Warner Bros. advertised heavily for some reason. Maybe it's because it was their only real hope for revenue during the holiday season. Whatever their thinking, Father Figures earned only $3.2 million in its first three days, and will quickly be passed over by stuff like The Shape of Water and holdover Wonder (also featuring Wilson) as people grow wise to its awfulness.

Finally, in tenth place we have The Shape of Water, the Fox Searchlight hopeful for a Best Picture nomination. Directed by Guillermo del Toro, the studio expanded the film to 726 venues and was rewarded with a three-day total of $3.1 million. That's a 78% increase over last weekend and brings the film's total up to $7.6 million. We'll be talking about The Shape of Water a lot more in the upcoming awards season, I'm sure.

Overall, the top 12 movies earned $162.1 million, which is down a bit from last year when the top movies earned $171.2 million. Basically, that year-over-year decline can be attributed to one extra film opening in double digits last year. Otherwise, the results are pretty similar. We'll continue to keep discussing the 12 Days of Box Office over the next several days, including tomorrow's debut of All the Money in the World (and some limited releases/expansions).