5 Ways to Prep: Christmas Releases 2017
By George Rose
December 21, 2017
BoxOfficeProphets.com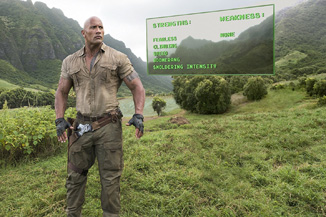 ---
Here we are at the end of of 2017 and we have FIVE new releases. Christmas can be such a blessing and a curse in this regard. Yay, so many options to choose from! I mean, ugh, so many options to choose from. So many movies and so little time/money. Usually you're lucky if even two of the top ten movies each week is remotely decent so it makes choosing a bit easier. When five movies come out at the start of awards season, you can find yourself in a pickle; there's just too much quality content to see with the few hours each week you have available. Then again, it wouldn't be the box office unless there was a few turds lurking around.

When two movies come out, it makes my job easier because one is usually interesting and the other is a Madea movie. I know which to pick and everything goes smoothly. With five new movies, my one selected for the weekly prep article would only satisfy 20% of those reading. I was going to skip choosing any movie in exchange for a special one-time random 5 Ways to Prep spin-off (like 5 Ways to Comic Con). Then, I decided to believe in Christmas miracles and figured I'd try a hybrid of sorts. I've always wondered to myself, what if I calculated the average earnings of the five recommendations I provided to see if that average ended up somewhere close to what that weekly headlining film eventually earns. If I tested the theory before, I would have only been able to test it on one film at a time. But who has time for that?!

Then I thought, what if I did a lightning round article. What if instead of choosing one of the five new films, I did all five? I could then test this theory on five films at once to get my results more quickly. After all, choosing any one film would reveal too much about myself. If I choose The Greatest Showman, I'm gay for liking musicals. If I chose Pitch Perfect 3, I'm definitely gay for liking all-girl acapella band musical. If I chose Jumanji: Welcome to the Jungle, then I'm a nerd for liking video games and I'm old for liking the original. If I chose Downsizing, then I'm pretentious for choosing the "most intellectual" movie of the bunch. And if I choose Father Figures, then I should be fired from writing for BOP because I'd be the stupidest person alive for having that place anything other than fifth on my list.

So, my friends, let's take a break from our Star Wars fandom and put our differences in new release preference aside and do a super 5 Ways to Prep mega article. I will henceforth call this yearly Christmas film release bonanza "5 Ways to XMA5". See what I did there?!

NUMBER ONE: THE GREATEST SHOWMAN

#1) X-MEN ORIGINS: WOLVERINE (5/1/09): Because people will watch Hugh Jackman in even a terrible movie. ($180 million domestic, $373 million worldwide)
#2) LES MISERABLES (12/25/12): Because people like musicals at Christmas, especially if Hugh Jackman brings his Tony-winning credibility to them. ($149 million domestic, $442 million worldwide)
#3) MADAGASCAR 3 (6/8/12): Because parents like taking their kids to movies about circuses instead of actually taking them to the circus ($216 million domestic, $746 million worldwide)
#4) MOULIN ROUGE! (5/18/01): Unless that movie is a critically acclaimed, Oscar-worthy musical with circus elements ($57 million domestic, $179 million worldwide)
#5) BIG FISH (12/10/02): Or an Oscar-worthy adult drama about crazy people with big dreams that worked in a circus and was similarly released around the the holiday season. ($67 million domestic, $123 million worldwide)

Average Earnings: $134 million domestic, $373 million worldwide

NUMBER TWO: JUMANJI: WELCOME TO THE JUNGLE

#1) JUMANJI (12/15/95): This is the first of the franchise and was a big holiday hit two decades ago so it's the most important pre-release watch before the sequel. ($100 million domestic, $262 million worldwide)
#2) CENTRAL INTELLIGENCE (6/17/16): This isn't the first time Kevin Hart and The Rock have teamed up in an action-packed comedy. ($127 million domestic, $216 million worldwide)
#3) TRON: LEGACY (12/17/10): This isn't the first time a big-budget, family-aimed action movie about people entering a video game has been done and released around the holidays. ($172 million domestic, $400 million worldwide)
#4) THE JUNGLE BOOK (4/15/16): And people definitely go bananas for modern updates of classic films set in the jungle. ($364 million domestic, $967 million worldwide)
#5) THE LEGEND OF TARZAN (7/1/16): Then again, they grow tired of fads and remakes and jungle loving rather quickly. ($126 million domestic, $356 million worldwide).

Average Earnings: $178 million domestic, $440 million worldwide

NUMBER THREE: PITCH PERFECT 3

#1) PITCH PERFECT 2 (5/15/15): The previous entry will help prep you for the next sequel and shows just how powerful these pitches are ($184 million domestic, $287 million worldwide)
#2) SISTER ACT (5/29/92): And people really do love watching a bunch of sassy yet wholesome women sing together as one happy family. ($140 million domestic, $231 million worldwide)
#3) A BAD MOMS CHRISTMAS (11/1/17): But people get tired of watching the same women do the same thing, especially if all they're doing is causing trouble during the holidays. ($71 million domestic, $122 million worldwide)
#4) GIRLS TRIP (7/21/17): Unless you take an extremely generic and played-out concept, change it ever so slightly by making the cast black, and strike gold with an untapped demographic that's also looking for girlfriends behaving badly ($115 million domestic, $139 million worldwide)
#5) INTO THE WOODS (12/25/14): Because the charming Anna Kendrick + music + the holidays = a fairly reliable recipe for box office success in December. ($128 million domestic, $213 million worldwide)

Average Earnings: $128 million domestic, $198 million worldwide

NUMBER FOUR: DOWNSIZING

#1) HONEY, I SHRUNK THE KIDS (6/23/89): This shows just how big movies can be when they feature a tiny cast. ($131 million domestic, $223 million worldwide)
#2) THE MARTIAN (10/2/15): And this shows how big movies starring Matt Damon can be, even if he's alone on another planet ($228 million domestic, $630 million worldwide)
#3) THE SECRET LIFE OF WALTER MITTY (12/25/13): But audiences don't necessarily like when A-list superstars show up during the holidays to force a quirky drama down our throats. ($58 million domestic, $188 million worldwide)
#4) SUBURBICON (10/27/17): Not even when Matt Damon is in a quirky comedy. ($6 million domestic, $6 million worldwide… seriously)
#5) GULLIVER'S TRAVELS (12/25/10): But even total garbage movies about tiny people starring A-list celebrities can be saved by worldwide audiences during the holiday season ($43 million domestic, $237 million worldwide)

Average Earnings: $93 million domestic, $257 million worldwide

NUMBER FIVE: FATHER FIGURES

#1) WEDDING CRASHERS (7/15/05): Because Owen Wilson was once one of the modern day kings of comedy. ($209 million domestic, $285 million worldwide)
#2) THE INTERNSHIP (6/7/13): But that was a long time ago and not even reteaming with Wedding Crashers' castmate Vince Vaughn could guarantee box office success. ($45 million domestic, $93 million worldwide)
#3) VACATION (7/29/15): And Wilson's latest comedy partner, Ed Helms, is no box office draw these days either, not even with an established brand to help ($59 million domestic, $105 million worldwide)
#4) MAMMA MIA! (7/18/08): Then again, people do go crazy for a movie about finding out who your real parents are. ($144 million domestic, $610 million worldwide)
#5) MOTHER'S DAY (4/29/16): Unless you're not singing about who your real parents are, then it's super depressing and boring and nobody cares about your mama. ($32 million domestic, $48 million worldwide).

Average Earnings: $98 million domestic, $228 million worldwide

5 WAYS TO WRAP-UP XMA5: I hope you enjoyed this variation of the regular article as much as I did making it for you, even if this isn't the most effective way to guess the future earnings of new releases; Greatest Showman and Jumanji seem like pretty good guesses, Pitch Perfect 3 looks a little lower than expected, Downsizing might be a touch bigger than expected and Father Figures can only hope for half of those totals at this point. No matter what happens at the box office this holiday season, there's something for everyone and plenty to check out. Keep your fingers crossed for movie theater gift certificates in your stocking stuffers this year. I know I will and hopefully I see you all at the movie theater this Christmas. Happy holidays, everyone!