Weekend Forecast for December 22-24, 2017
By Reagen Sulewski
December 21, 2017
BoxOfficeProphets.com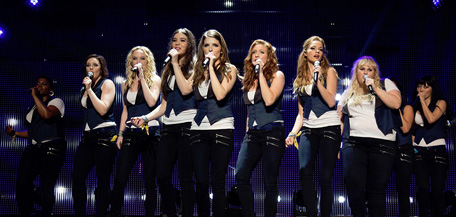 ---
The usual shotgun approach to the Christmas week leads to at least six new wide releases and numerous expansions and limited releases filling the cinema screens over the most wonderful box office time of the year.

Leading the way on Wednesday is Jumanji: Welcome to the Jungle, fulfilling the promise we all knew would happen of a Guns N' Roses song being used to sell a children's movie (following up on this summer's use of Eminem for said same). A sequel to 1995's adaptation of the children's book about a mystical board game that transports its contestants to an adventure land, it updates the setting for the modern equivalent, video games. Starting off with a Breakfast Club type situation, it then transports its collection of student caricatures – jock, nerd, hot chick, female nerd – into characters that exist in the game, with Kevin Hart, Dwayne Johnson, Jack Black and Karen Gillan respectively personifying them there.

And then we get to the wacky physics-bending action-adventure stuff, as the four must "beat the game" to return to the real world, fighting through their own mental blocks and adapting to their new, game-appropriate and seemingly-assigned-by-a-therapist powers. There's also a direct tie-in to the original movie with filmmakers hinting at a tribute to Robin Williams through his character from it. It's nothing particularly revelatory but as a solid., middle-of-the-road family action picture over the holidays, it's placed perfectly to grab the Night at the Museum audience. As directed by Jake Kasdan (who had just that one brilliant film, Zero Effect, in him, apparently), it has received strong reviews and should compete to be the biggest earning of the new openers, coming in with around $38 million over the weekend.

Also opening Wednesday was The Greatest Showman, a musical about the life of circus founder P.T. Barnum, holding him out as a sort of Mother Theresa to the outsider community. Hugh Jackman plays the lead role, with Michelle Williams, Zac Efron, Zendaya and Rebecca Ferguson in key roles. As directed by Michael Gracey, a former effects supervisor, it plays a bit like watered-down Baz Luhrmann.

In the wake of La La Land, the move towards more original musicals is a natural one, but that's a tough bit of lightning in a bottle to capture again. The ads lay heavily on the "From the lyricists of!" angle, but I'm not sure that's really the winning pitch for this film. Musicals are notoriously hard to catch on without buzz, and this one doesn't quite have it. Reviews are middling at best, though this would not be the first Christmas spectacle to defy critics, but I think any such windfall from this would occur starting on the 25th. I'd be looking for a weekend figure of around $12 million.

Coming then, to the weekend releases proper, we start with Pitch Perfect 3, the wrap up to the surprise hit franchise about a capella singing contests. This edition catches up with the Bellas after their world championship win only to find that being in a high level vocal group doesn't entirely translate to success in the real world. Thus, they reunite to go on a USO tour and finding themselves up against bands that *gasp* use instruments! There's also a record deal in the mix somewhere, but it may only be extended to Beca (Anna Kendrick) at the expense of the rest of her crew – will she abandon them for bigger things when they're clearly looking to her for support and camaraderie?

Coming on the heels of the surprising and leggy hit of the original, and then the giant smash but also tremendous critical disappointment that was the sequel, Pitch Perfect 3 finds itself in the squishy middle in terms of potential. Terrible reviews might normally sink this, but it's probably critic proof in a lot of senses. More worrying is the recycled plot points and jokes from the other two films, and the realization that there's only so much you can drag out of films that are mostly about singing cover versions of songs. Factoring in the general reduction in opening weekends that happens around Christmas, I'd say we're looking at a start of $35 million.


Downsizing is this year's winner of the film mostly likely to be a prank gone too far – Alexander Payne directs Matt Damon in this sci-fi satire about a world where literal miniaturization has been invented and is presented as a way of solving many of the world's problems – environmental, financial, social. This seems pretty cute as a sketch, but how are you building a feature around this? (Side note: Charlie Kaufman could totally build a feature around this.)

While not discounting the idea that there's something deeper here buried in the premise, there's a lot of reliance on oversized props and sight gags that don't really inspire a lot of confidence. Payne may have earned the benefit of the doubt based on past works and is capable of brutal satire (Citizen Ruth remains extraordinary in its viciousness), but that doesn't mean every swing is going to be a home run.

Also starring Kristin Wiig, Jason Sudekis, Christoph Waltz and James Van Der Beek, this looks to be too weird for mass audiences and critics alike, and should end up with a fairly poor $8 million opening weekend.

Speaking of terrible comedy, Father Figures gives us a truly awful looking road comedy about two brothers (Ed Helms, Owen Wilson) who go on a search for their real father after being told that their mother (Glenn Close) has been lying to them all this time, and doesn't actually know for sure who it is. So basically, it's a non-musical, gender-flipped Mamma Mia!, and is about as dire as that sounds, having been held back from critics.

The cast of potential dads includes J.K. Simmons, Terry Bradshaw, Chris Walken, Katt Williams (!) and Ving Rhames (!!) which tells you what sort of insane nonsense we're dealing with here. You can't always look at a film's marketing material and get a sense of quality but in the case of this film's poster – a monstrosity of Photoshop and the crop tool, which just plops the heads of the cast in a high school collage that's supposed to say "Prepare for wacky, not-forced-at-all fun!" - it's unfortunately clear what we're dealing with. While it's been bombarding the airwaves with advertising for some weeks, this is one of those times where every ad just makes people madder and madder or think "Hey, didn't this come out three weeks ago?" I'd look for just $7 million this weekend.

Oscar hopeful The Shape of Water jumps to around 700 venues after close to $2 million in 158. The Guilllermo del Toro film about an unconventional sci-fi romance has won over a wide range of critics and audiences and stands as one of the holiday's big buzz films. It should hit about $6 million this weekend.

Darkest Hour expands to a little over 800 venues this weekend after earning nearly $1 million in 84 last weekend. Starring Gary Oldman as Winston Churchill in the worst days of World War II, as France neared defeat and it seemed England would be next, it's a film that's much more about its larger-than-life character than anything else it might depict. With Oldman finally in line for what seems like an alley-oop Oscar win, this is almost all on him for its potential at the box office. It's unlikely to be a huge success in that right, but getting out in front of audiences at all is a win. With this expansion, it should get to about $3 million this weekend.

Everything's running second to Star Wars: The Last Jedi, which opened with a very strong $220 million. While that's an eye-popping number, it does show a slight fall off from The Force Awakens, and hints that it's not immune to a fade in enthusiasm. We're not in low-drop territory just yet, and even if we were, two years ago proved that these mega-openers succumb to gravity like any other, regardless of the time of year. Thus, we should expect about $115 million this weekend for The Last Jedi.

Ferdinand was an underwhelming performer in its open, with just $13 million and shooting well under previous Blue Sky releases from the past. It's got family audiences to fall back on now at least, and should survive well through the holidays, but for now will come in with about $8 million this weekend. Likewise for the other big family release right now, Coco, which will grab about $6 million this frame and hope for a boost over the next week.