Top Chef Colorado Recap
By Jason Lee
December 20, 2017
BoxOfficeProphets.com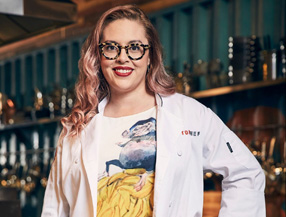 ---
One bullet dodged. Many more to go.

The Tyler's elimination win already fading into the background, the cheftestants return to the Top Chef Kitchen the next morning for a Quickfire fan favorite: the mise en place relay race . . . or as I like to call it, countless opportunities to lose a finger. Or "Casey's downfall." (If you haven't seen Top Chef all-star Casey Thompson's laboriously slow onion-chopping during the relay race, I encourage you to try and find a video online)

The fourteen chefs are split into two teams of seven and will have to allocate their numbers to (1) finely chopping one quart of shallots, (2) peeling and thinly slicing one quart of cremini mushrooms, and (3) cleaning and portioning twenty pieces of beef tenderloin, which must be between 7-8 ounces each, all within thirty minutes. The members of the team that finishes the fastest will then have whatever time is remaining to cook a dish featuring those ingredients. The winner gets $5,000 and immunity.

The blue team (Rogelio, Bruce, Tyler, Claudette, Brother, non-moustache Joe, and Adrienne) immediately jumps ahead of the green team (Laura, Carrie, Tanya, Chris, Tu, Fatima, and moustache-Joe). They build a big lead with the shallots and hold it through the mushrooms. Green rallies back by having two people tackle the tenderloins, but three of their cuts fail to fall between 7 and 8 ounces. Meanwhile, Bruce, who took the slow and steady route by methodically weighing each of his cuts, takes home the win for team blue.

And with eight minutes left on the clock, members of the blue team immediately start a mad rush towards the stove to start searing off their meat. The number of collisions by or around the stovetops is concerning, but no blood is ultimately spilt. That is, except for Rogelio's fillet with mushrooms and Dijon cream sauce. The meat didn't have enough time to rest, and his sauce was broken . . . like his spirit. He ends up on the bottom of the challenge, along with Tyler's bourbon grilled steak, which didn't come together due to its predominant focus on the accompanying carrots.

On top, though, are Brother (with great incorporation of hibiscus in his seared fillet with mushrooms, shallots, and fennel) and non-moustached Joe (who infused tons of flavor in his ginger-marinated tenderloin). Joe comes away with the win, $5,000 richer and bursting with immunity.

With the prep work done, it's onto the main event. Our guest judge is Denver chef Alex Seidel, who specializes in "bridging the gap between farmer and consumer" (doesn't that sound fancy on a Linkedin profile?). He runs his own farm, which the chefs will have the pleasure of visiting. They'll work in the same teams to put together a four-course progressive dinner for twenty of Denver's finest chefs and suppliers, in which each course incorporates a specific ingredient from Alex's farm.

After some light banter in car over to the farm, the chefs discover that the "farm" is actually a farm and dairy, and that their secret ingredients are four specific cheeses produced by the dairy. After sampling them all, the chefs split off into their teams to plan their meals.

While things are relatively harmonious with the blue team, moustache-Joe is running roughshod over the rest of the green team, dictating what he's envisioning for each course. The chefs seem of two minds about it—on the one hand, he's acting like a dick (and they're right), but on the other hand, his suggestions are actually pretty good (which is annoying).

Joe continues playing the front-seat and back-seat driver at Whole Foods, suggesting that Chris give his planned dessert some second thought. At dinner following the shopping excursion, Chris asks Joe to trust him and learn to relinquish some of his control over the menu. Joe is unabashed in responding that Chris has not yet earned his trust in the competition.

Looks like Joe might be just as douchey as his moustache.

Morning dawns the next day and the chefs head to Alex's restaurant, Mercantile, to prep and cook for the meal. But the day only brings more turmoil and drama to the blue team. Their bone-in lamb chops were not properly prepared, and Tu's efforts to clean them up are haphazard at best. In fact, when Tom and Alex swing by the kitchen to check in, Tom tries but can't help himself from correcting Tu's approach to tying the meat. Tu also, somehow, manages to scorch the sauce for the meat.

Meanwhile, his teammates Adrienne and Claudette are struggling with their fish course. Claudette had proposed they cold smoke the fish, which Adrienne was fine with . . . until she realized that Claudette had never cold smoked anything before.

Too bad they're up first. They serve a "smoked" trout with cacio pecora and trout skin chips. On the green team, Fatima and Laura offer a play on cheese and crackers, with a Shepherd's milk cheese halo and a cracker made from cheese rinds. The judges adore the cheese and cracker dish, which had great flavor and made smart use of the rinds. Adrienne and Claudette's dish isn't bad, but it's underseasoned and lacks smoke.

Both teams hit the next courses out of the park. Non-moustache Joe and Bruce on the blue team serve a sheep's milk feta with beet agnolotti and scallions. On the green team, Carrie and moustache-Joe have a potato and ricotta dumpling with a butter sauce and hazelnut relish. Tom really likes that Carrie only grilled one side of the dumpling and finds that the dish had good balance between pasta and filling. For Joe and Bruce, the pasta was fantastic and had nice, bright flavors.

The same is not true of both teams' third courses, which are disappointments. The blue team has a lamb loin with spring vegetables from Tyler and Rogelio, but the lamb is unevenly cooked—Padma and Tom's were raw, while Graham's was cooked perfectly. The green team has seared lamb with corn grits from Tu and moustache-Joe, but the corn is far too sweet and the butchery on Tu's lamb is quite bad.

Both team finish strong, though. Brother on the blue team has a blueberry tart with whipped ricotta that has great flavor. For the green team, Tanya and Chris serve fried dough with sheep's milk feta ice cream and a chocolate ganoche, which Padma adores and declares to be one of her favorite dishes ever on Top Chef.

So a lot of highs and a couple of lows, leading to a difficult decision regarding the winning team. The green team's first two dishes did the best overall at highlighting and featuring the cheese, but the lamb dish from Tu and moustache-Joe was the worst dish of the evening. In fact, Tom describes it as "really bad, just in technique, flavor . . . across the board, there were no redeeming qualities."

Thus, the question, as Padma puts it, is whether that one dish is enough to drag their entire team down.

The answer is no. The green team ends up on top and is heaped with praise by the judges. Laura's cracker was amazing, and the dish showed great attention to detail. Carrie's dumpling was a play on something she'd done before, but was simple, humble, and perfectly executed. And Tanya's feta ice cream was brilliant and delicious.

As a side note, I gotta say, after last week's female shellacking, it's great to see that the top chefs on the winning team were all female. The contrast was even more stark given Tu's disaster of a lamb dish . . . Padma notes as an aside, he was very lucky to have been on the winning team.

And from the winning team, one chef is the overall winner, and that's Carrie. Quite the turnaround from being on the chopping block last week. Just goes to show that when the playing field is even, nobody is safe.

And certainly, one chef from the blue team will learn that today. With the judges being fans of Brother's dessert and Joe/Bruce's lamb (plus the fact that Joe won immunity), there are only two dishes up for consideration on the losing end of things. Claudette didn't do a very good job adding any smokey flavor to the fish, and she owns up to the fact that she contributed little to the conception and idea of the dish. Meanwhile, the judges liked Adrienne's contribution of the trout skin cracker to the dish. As for the team's lamb dish, Rogelio did a poor job cooking it, with portions being close to inedible on Tom and Padma's plates.

So lack of ambition/weak smoking versus undercooked meat. On most occasions, you'd expect undercooking meat to be the bigger flaw, but today, it's Claudette who's going home, who the judges say lacked inspiration and execution. Two episodes in and we've lost two female chefs. Hopefully, this isn't a trend that continues much longer.