Top Chef Denver Recap
By Jason Lee
December 12, 2017
BoxOfficeProphets.com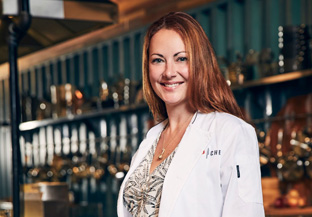 ---
The Top Chef producers are not messing around this season. Season 15 (I know, I can hardly believe it either) of Top Chef kicks off not with shots of the cheftestants arriving at the Denver International Airport or plunking their luggage down at some cushy group house, but rather, making their way into the Top Chef kitchen for the first time.

The message is clear—this is a business trip, not a leisure trip.

The cast is refreshingly diverse, and not just in terms of race or gender, but also in terms of age. The styles of cooking range from Vietnamese to Mexican to Pakistani to Amish soul food (whatever that is), and the chefs span the gambit in terms of career status—from owning multiple restaurants to up-and-comers. What they all have in common is awesome cooking ability and a burning desire to be named Top Chef.

And the competition for that title starts immediately. Padma strides in to inform the chefs that instead of the usual pleasantries, each chef will introduce himself or herself through the medium they know best—cooking. They'll be serving up a potluck meal to each other and the four judges (Padma, Gail, Tom, and Graham). The winner gets immunity.

With that, the clock begins counting down from forty-five minutes and mass chaos ensues. The chefs don't yet know the layout of the kitchen, the location of different ingredients, the types of cookware that's available, etc. Thus, after an initial flurry of movement, the flurry switches to individual cooking stations. Chris, an Amish/soul food chef with a Philly edge, starts to work on dumplings. Tanya, a non-nonsense African American chef from Oakland, sticks to what she knows with some chicken wings. Joe, a moustached Luigi lookalike, stuns many by attempting to make fresh pasta. And Tu, an effervescent Vietnamese chef, decides to chance the road less taken by making a Vietnamese salad, as every other chef gravitates towards meat.

The difficulty of following the various dishes being assembled is only matched by the challenge of keeping track of the identities of the fifteen new chefs in the kitchen.

Before we know it, and to the amazement of the cheftestants, the forty minutes is up and lunch is served. Each chef introduces himself or herself, as well as his or her dish. The resumes are impressive, with stints by the chefs at French Laundry, Le Bernardin, and other great restaurants. Unsurprisingly, seemingly each dish receives praise from the cheftestants and the judges.

But who will win immunity? In a surprise twist (and Top Chef is always full of surprise twists), the cheftestants will decide. They are each given a ballot and asked to select their favorite and least favorite dishes. The bottom two chefs end up being Melissa (who seems incredibly nervous about being on the show, and who made a seafood stew that featured undercooked potatoes) and Carrie (a talkative chef from Alaska whose summer bruschetta got soggy over the course of the potluck and generally had some muddy flavors).


Three chefs get better news. Moustache Joe (or should I call him Luigi?) did a great job with his pasta with pork sugo. Joe from Chicago (who previously worked at Spiaggia) made a roasted red snapper with wild mushrooms that delighted Tom. Finally, Tu's Vietnamese salad was the epitome of freshness. And taking home immunity this week is Tu, who looks stunned given the talent level in this competition.

From salads to meat and potatoes, the Elimination Challenge asks the cheftestants to put their own spin on the classic American pairing. They'll be throwing a block party in Larimer Square in the heart of downtown Denver, and the site of its recent culinary renaissance (though, to be fair, what city hasn't undergone a culinary renaissance in the past decade or so?). They'll be feeding a group of 200 Denver locals, including many of the city's acclaimed chefs.

After a quick van ride to the local Whole Foods, all of the chefs (who clearly know the drill already) book it over to the meat counter to try and secure their protein of choice. The frantic shopping is followed by even more frantic cooking back in the Top Chef kitchen, where Bruce (who somehow has connections to almost every judge on the show and multiple members of the cheftestants) finds himself squarely in the weeds, almost unable to finish his prep and saved by the grace of Tu, who sacrifices his own time to help out a fellow chef. Tu's lucky he's got immunity, cause that could have been an ill-advised extension of charity.

The chefs' exhausting day of cooking, shopping, and prepping is finally over, and they head back to a simply amazing group house. Beds are claimed, roommates are made, bottles of wine are opened, and ruminations on the last twelve hours begin. Carrie, our Alaska chef, vows not to end up on the bottom again. So does Melissa, who thinks she's planned a dish that no one could hate. Meanwhile, Bruce stews about his dish and worries that he won't be able to finish making all the gnocchi he has planned.

We're treated to a gorgeous Denver day as the chefs take over Larimer Square, while the diners look on from the sides, eagerly awaiting the feast to come. Joe (Luigi) isn't sure that the cookware provided will provide the heat needed to prepare his dish, and so good-hearted Tu (again) sacrifices his own dish by lending his special induction pot to Joe. Tu will make it work by warming up his stew in a single hotel pan placed atop two induction plates. "I gotta keep stirring it so that the bottom doesn't get scalded," he muses to himself.

Ah, famous last words.

Service begins and, in a pleasant surprise, the food all sounds good. Fatima, a Pakistani chef who grew up idolizing Padma, is thrilled to death after Padma and Graham try her take on samosas with braised chicken and tamarind beef and heap her with praise. Bruce manages to finish his gnocchi, pairing it with braised pork shoulder that Tom practically inhales. Rogelio, an ever-smiling Mexican chef, pulls off a high degree of difficulty by making a potato and beef croquette. Great dishes also come from Tyler (a chef from Connecticut) who made a great sweet potato puree with smoked pork gravy, Chris with an ingenious potato waffle with BBQ beef, and Brother Luck (yes, that's his real name) with a beautifully artistic purple potato puree with lamb and goat cheese.

Falling a bit short (again) is Melissa and Carrie—the former made a Yukon potato puree with braised pork shoulder that was underseasoned, while the latter's play on chips and dip featured potato chips that were burnt. With her were Adrienne (an endearing Mexican chef), whose sweet potato tostone with pork belly was just too sweet, and Tu, who did indeed scorch his stew, leading to a bitter aftertaste.

After a massive Denver storm cuts the afternoon short, the chefs head to Judges Table to face the music. Although Tom tells them that, overall, it was a great start for everyone, the three dishes that stood out came from Fatima, Chris, and Tyler. Fatima expertly executed her dish and made every flavor stand out, the BBQ element in Chris's dish really stood out from the pack, and Tyler provided the best preparation of potato of the bunch and made a very flavorful stew to accompany it.

Tyler ends up as our first Elimination Challenge winner of season 15, which brings a huge smile to his face. He's well aware of the extremely strong track record for first-episode winners on Top Chef, and being superstitious himself, he's hoping that trend continues.

As for those chefs up for elimination, it's an all female-group (sigh). Melissa returns on the basis of flavors that tasted like "warmed over leftovers," per Tom (ouch). Adrienne's dish was simply too sweet and didn't have much texture to it. And beyond Carrie's burnt potato chips, she overdid it with her lemon goat cheese, which overwhelmed the dish.

Clearly, though strong dishes in and of themselves, the bottom three each had their own set of problems. And this week, it's going to be Melissa's dish that sends her home. She looks utterly in shock, barely able to take in Tom's feedback that her dish was simply not unique or well-execute enough to stay in the competition. Unable to hold back tears during her departure monologue, she expresses deep frustration at leaving so soon and hopes that Last Chance Kitchen will give her an opportunity to show that she is indeed able to make great food.

It's a pity she wasn't able to do so in either the Quickfire or the Elimination Challenge in which she participated.