November 2017 Box Office Recap
By Steven Slater
December 6, 2017
BoxOfficeProphets.com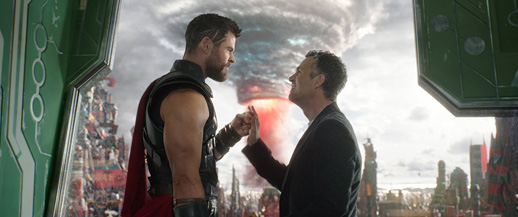 ---
Thanksgiving is the time of family tradition, when we all get together, feast until our bellies burst, and then promptly explode with rage waiting for the doors to open at Walmart. What a time. November of the year 2017 continues a tradition of billion dollar grosses for the tenth year in a row. Although not even close to the high mark of $1.5 billion set in November 2012, at least a few big films kept theaters treading water, if not outright swimming. There were also plenty of mid-range hits and buzzing indie darlings to keep movie lovers occupied. Let us see where audiences escaped to this month.

1) Thor: Ragnarok

Opening Weekend: $122.7 M
Monthly Box Office: $281.7 M

Thank goodness, a comic book movie is finally number one again, a drought that has persisted since July. I had feared that comic book movies had lost their luster and were on their way out. Never fear, the 16th entry in the Marvel Cinematic Universe is here to save the day. Thor does the expected, and hits another home run for Marvel and Disney. Director Taika Waititi also elevates a character who had kind of been sitting in B-level superhero territory, and firmly plants it in the A tier. Thor: End of the World (for English speaking audiences) is going to easily be the 10th MCU film to break $300 million domestic, not to mention the third just this year! One billion worldwide is just out of reach, as it will probably top out close to $900 million in the next few weeks. The first Thor earned $181 million, the second earned $206 million (and that after The Avengers). With Thor the Third earning nine figures above either of those, this is a massive win for Thor and company. Compounding that is the statistic of opening to domestic gross multiplier. For the first film it was 2.75, for the second 2.4, and with the third it looks like it will come right in between the two, which is not bad since it opened much higher than either film.

2) Justice League

Opening Weekend: $93.8 M
Monthly Box Office: $180.8 M

Dead horse, you are beaten! The match-up between DC and Marvel has been a foregone conclusion for some time now, but this is a blazing sign on a highway billboard, perhaps outside Ebbing, Missouri. Justice League performs the opposite of Marvel; get the superhero crew together, and the opening weekend is lower than the performance of any film leading up to it. After Wonder Woman's performance earlier this year, I can only imagine how fast Zach Snyder is going to be cut from this series. It is extremely unfortunate what happened to his family while making this film, but perhaps it gives him a chance to walk away with dignity. I had been worried for the DC films when I first heard he was attached after Christopher Nolan finished his Batman trilogy, especially because of how god-awful Sucker Punch was. Similar to Transformers, audiences have finally caught on and diminishing returns are sucking the air from this breed of cinematic universe. With Aquaman and others on the horizon, can Warner Bros. engineer some kind of pivot and follow the success of Wonder Woman? Stay tuned!

3) Coco

Opening Weekend: $50.8 M
Monthly Box Office: $82.6 M

Ever since 1995, Pixar has staked out the month of November as their prime opening territory. Disney had been doing this before hand, and continues the tradition today (with and without Pixar), and others have turned this into a pre-holiday season bonanza. Harry Potter took it to another level, and ever since the tradition has been carried on like clockwork. This year Pixar repeats what Moana had done twelve months ago with Coco (it's getting harder and harder to remember which Disney animated films are or are not Pixar movies). Coco is playing very similarly to Moana and Tangled, and should wind up splitting the difference between them for a total domestic gross slightly over $200 million. After missing a bit with Cars 3 this summer, Pixar keeps impressing and can at least hold its own compared to the rest of the Disney animation line-up. With John Lasseter taking a leave of absence, one wonders what changes will come to one or both of Disney's juggernaut animation studios in the months and years to come.

4) Murder on the Orient Express

Opening Weekend: $28.7 M
Monthly Box Office: $78.1 M

Something a bit old fashioned shows up in fourth place this month, in a pleasing turn of events. Kenneth Branagh brought a whole bunch of celebrities together (remember those?) and puts them in a juicy who-done-it, actually perhaps one of the original who-done-its. Never doubt the power of a name like Agatha Christie to get the over-50 crowd in a movie theater. Eat it, James Cameron. Branagh's tale puts himself front and center as the iconic detective Poirot, who must solve a murder mystery on a stranded train full of eccentrics. And then there's that mustache! Murder also continues a very intriguing trend of 70mm film coming back into the theater, as it marks the second of three releases this year shot in either 70mm widescreen or IMAX formats and presented as such. Dunkirk was the one that made the most of this, and we will soon see how The Last Jedi utilized the large screen format. With decent holds and perhaps a run through Christmas, this one could just get to $100 million in the end.

5) Wonder

Opening Weekend: $27.5 M
Monthly Box Office: $75.5 M

The fifth biggest movie of November may actually be the most impressive box office story of the month. Wonder seemed like it could have been one of those saccharine tales around the holidays that tries a little too hard to be earnest and heartfelt, but then good reviews and positive buzz rolled in. Although this opened in a distant second to Justice League, consider how impressive it is that this film may soon have daily returns higher than that blockbuster title. Wonder will become Lionsgate's highest grossing film of the year, in what has been a quietly excellent year for this mid-range studio. While the major studios have mostly ceded that middle ground where films can make between $25-$100 million, Lionsgate has filled that void with properties that never try to hit home runs, instead just steadily earn a slight profit. That has made Lionsgate a bigger earner this year than Paramount, and just about tied with Sony. Wonder will be their first and only film to earn $100 million domestic, but it shows that the studio that struck it huge with Twilight (after purchasing Summit Entertainment) and The Hunger Games has made some wise choices moving forward. Oh, and good for Julia Roberts, too.

6) Daddy's Home 2

Opening Weekend: $29.7 M
Monthly Box Office: $75.3 M

These poor kids, who every two years have to deal with angry man-babies competing for attention, when they just want a good father. I am sure the message by the end of these films is all warm and fuzzy. Actually, Will Ferrell and Mark Wahlberg have become a sort of new Richard Pryor and Gene Wilder, with a trio of films under their belt that have all been decent hits. Could it be true that Mark Walhberg is a bigger comedy star now with these films and two Teds under his belt? The bad news is that this sequel opened and is performing at about two-thirds the original, and will likely wind up just short of $100 million, so perhaps daddy's home for good now.

7) A Bad Moms Christmas

Opening Weekend: $16.8 M
Monthly Box Office: $61.4 M

It seems Bad Moms is the new Madea franchise, although Mila Kunis has not performed in drag yet. Bad Moms is following the Daddy's Home model to a T, opening at around two-thirds the original, and will finish close to $70 million by the time it ends its run. I would also add that having a film about moms written and directed by two men is not the best look at this particular moment, so perhaps its for the best the the next film in this *sigh* franchise is Bad Dads. Maybe it will star Will Ferrell and Mark Wahlberg.

8) The Star

Opening Weekend: $9.8 M
Monthly Box Office: $23.3 M

I may not be the target audience for this film, as it has completely flown under my radar. This animated tale about Christmas has never been higher than sixth on the charts, and yet has pulled in a decent amount of money. It also is one of those rare films where it made more money on its second Friday than its first (mostly due to the Thanksgiving holiday). I doubt this will lead to a bunch of animated Christian films, but there continues to be an audience looking for religious films. Given how large swaths of the country feel about Hollywood, these films are about the only connection huge chunks of the population have to the silver screen.

9) Jigsaw

Monthly Box Office: $17.1 M

Well, well, well, here come the horrorshow groodies at last. Now don't think that because ninth place is where the first holdover from October is located that it means November was such a spectacular month. Rather, it is the supreme weakness of the tenth month that did it in. Jigsaw is the only film from a previous month to make it onto this list. Most of this money was earned in the week after Halloween, because how much sense does it make to see a scary movie long after that holiday has passed? Of course, Christmas movies now open November 1st, so this is splitting hairs. Jigsaw, unfortunately, sees a very diminished return compared to other Saw films, which tends to happen after a franchise languishes seven years. Jigsaw will only beat the sixth installment in terms of opening weekend and gross.

10) Lady Bird

Monthly Box Office: $12.5 M

November is when the Oscar hopefuls start percolating around multiplexes and independent movie houses, and so far Lady Bird appears to be rising to the top. Greta Gerwig's directorial debut has received rave reviews and audiences have responded well. Each weekend it adds a few hundred screens and keeps its take in the low millions. Expect to see this film more than double its gross in December, and probably earn a handful of nominations once awards nominations start coming out. This will likely follow Saoirse Ronan's previous film, Brooklyn, not only in box office, but perhaps in oscars as well. That film earned $38 million and received nominations for Picture, Actress and Screenplay. Sounds like a perfect fit for Lady Bird.

Just outside the top ten were some other holdovers and a few rising stars. Boo 2 from Madea earned just under $10 million this month, as did Three Billboards Outside Ebbing, Missouri, Geostorm, Blade Runner and Roman J. Israel, Esq. We also had some of the highest totals per theater, as the Oscar crowd starts hunting for a winner. Call Me by Your Name wins that race with over $100,000 per screen, followed by Lady Bird and Three Billboards before they platformed. Expect to hear those three names many times over the coming months. December already has a vacuum of new titles, so look for the titles on this list to perform well for a few weeks until Star Wars and Christmas movies blossom big time.

If November films were a golf game, I would give this month a par. It could have been a birdie if Justice League had performed better, but at least it is not the triple bogey that some months this year have been. One good sign from this month is the amount of money films that were not tentpole events made. For instance, the sixth highest grossing film of this month, Daddy's Home 2, made about $75 million. This is the most money the sixth-highest film has made in any month this year. In a way, this November was closer to a summer month in terms of box office numbers, especially when the top is headlined by two comic book films and an animated film from a powerhouse studio. I suppose it is simply a sign of the times that Batman, Superman and Wonder Woman could not combine forces to come even close to Thor and the Hulk. Ragnarok, indeed.