November 2017 Box Office Forecast
By Michael Lynderey
November 4, 2017
BoxOfficeProphets.com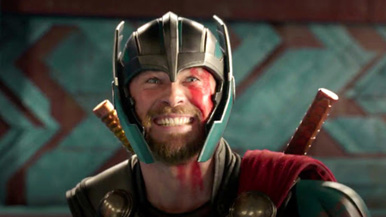 ---
Perhaps because of recent news events, the November film schedule is looking a little barer than expected (Death Wish and Polaroid have been excised to another year), but the big hitters have remained: a Pixar film, two superhero meet-cutes, and a pair of sequels to films about moms and dads that bring the older generation into the equation, kicking and screaming. Then there is the rest.

1. Thor: Ragnarok (November 3rd)

You're living in the decade when all-purpose blockbuster filmmaking has been replaced by supermen cinema, and nothing about this year will break the cycle.

This month, a Marvel superhero team-up leads the way, with a DC superhero team-up also on schedule for a little variety.

We begin with Thor: Ragnarok, which has contrived to be the 17th (out of 17) Marvel Cinematic Universe film to be rated "Fresh" on Rotten Tomatoes (that's not a compliment). This is a record of critical success envied by, for starters, Martin Scorsese, Alfred Hitchcock, and Steven Spielberg. Who knew Marvel films were that good?

A lot of people liked the first two Thor movies, but it looks like a whole lot more of them are going to like Ragnarök, which, basically, is Scandinavian for "Apocalypse", a title that gets no disagreement from me. The smart thing about the film is that it plays like a two for the price of one, bringing in not just Thor but also Bruce Banner, known on late and lonely nights as the incredible Hulk, a beloved comic book grandee who has been "tragically" absent from the big screen since his exile in Avengers: Age of Ultron (as the Hulk flew away in his little rocket ship, tears were shed).

Cate Blanchett is Hela, another evil deity pushing for control of Asgard, and one who must be congratulated for her unholy existence, because she has gotten credit as the Marvel Cinematic Universe's first leading female villain (you get your kicks where you can, I guess). Tessa Thompson takes over from Natalie Portman as the female lead, a warrior queen, Jeff Goldlbum will offer wry commentary as the sadistic entertainment mogul Grandmaster, and Tom Hiddleston's tireless fan-favorite Loki will get another few moments in the sun (say, didn't Thor promise the puny earthlings that Loki will go to Asgard jail for his many murders? As far as I can see, a glowing prison jumpsuit is not part of his outfit).

Taika Waititi, helmer of several crafty and near budgetless New Zealand films, takes over directing duties, and the returning cast also includes Idris Elba reprising gatekeeper Heimdall, and Anthony Hopkins as Odin, whose record of governing and keeping his land in order has been decidedly mixed since roughly 2011, when these films began (Asgard just isn't great anymore, sadly; the invaders are pouring in).

The film also arrives with a big advantage that its schedulers may or may not have planned for: Just like Stephen King's It, Thor 3 has the good fortune to open after many weeks of under-performing box office, and a collection of titles that have largely been ignored, looked down upon, or downright mocked by most audiences (October is the only month of 2017 not to carry a $100 million earner).

Thor finished with $181 million the first time and $206m the second, while the Hulk has starred in two films of essentially equal box office ($132 million in 2003, and a scary-twin $134m in 2008). Here, he is teamed with a fledgling Marvel hero in what has been marketed as essentially a buddy film. Understandable, though for Thor's new best friend, I would have picked, say, Freddy Krueger, Chucky, or Jigsaw. Be honest, does the world really need another superhero?

Opening weekend: $141 million / Total gross: $354 million

2. Justice League (November 17th)

The Distinguished Competition (as Marvel calls DC) brings out its own brand of Avengers-style comic book hero enjoin-ment, and a film that should be neck-and-neck to win this November (in fact, by placing it second, I've probably made the wrong choice, but this sentence nicely hedges my bets).

The Justice League are a sturdy bunch, but this team's ace in the whole is Gal Gadot, of course, who carried Wonder Woman as the biggest film of the summer, though still only the second biggest of the year (Beauty and the Beast will hold that spot until those Star Wars fans start pouring into the theaters in December. Incorrigible). As the year has progressed, Gadot's performance, character, film, and off-screen demeanor have all melded to elevate Wonder Woman to a status as an icon, and Justice League's advertisements surely go to great lengths to market her existence.

This is especially because, unlike most of the Avengers, three members of the Justice League will receive films only after, not before, this big team-up venture. One such newcomer to the franchise is The Flash, briefly glimpsed in a few beforehand films, and played by Ezra Miller, star of dark independent cinema like Afterschool and We Need to Talk about Kevin, and of the comparatively cheerier The Perks of Being a Wallfower, for which he's perhaps still best known. Also joining are stage actor Ray Fisher as the appropriately pseudo-mechanical Cyborg (with a solo film due for 2020!), and Jason Momoa, a B-movie alumni if there ever was one (he remade Conan the Barbarian in 2011, growls and all), as the beloved Aquaman, whose 2018 headlining feature recently wrapped production (I ain't kidding when I issue my daily criticisms of superhero abundance).

Ben Affleck returns as Batman, and one can sensibly deduce that Henry Cavill's Superman will venture back from the dead at some point between now and the next sequel (just like horror movie villains, superheroes never die. Really, the only difference is that horror villains are cool, and don't open their films to ridiculous numbers, Pennywise excluded). Despite his inevitable comeback, and unlike, say, Star Trek III: The Search for Spock, Justice League hasn't been marketed as a journey to save Superman - Supes has been absent in at least the trailers I've seen, and even after a thorough examination, I couldn't find on him on any of the 28 posters on Impawards, although one of them hints at the outline of his cape (or maybe I'm just seeing things), and he could be playing Where's Waldo somewhere in the pixels.

Justice League was initially directed solely by Zack Snyder, though Snyder stepped away because of personal reasons, with post-production duties going to Joss Whedon, a more cult-friendly filmmaker who directed my favorite Marvel Cinematic Universe movie, Avengers: Age of Ultron (...no, I'm not trolling).

Also not much seen in the ads is the villain, Steppenwolf, played in some form by Ciarán Hinds, and perhaps lacking the brand name recognition of the DC Universe's two fairly skinny-looking bigger evils, Lex Luthor, who shows up here somewhere, and the Joker, who seems to have passed on harassing the Justice League this time. Steppenwolf is some sort of space warrior-king, like Thanos, the constipated-looking galactic being who's been idely threatening to attack the earth for almost a decade now in the Avengers universe. Whatever you say about his looks, manners, or personal life, at least Steppenwolf is getting right to the point.

Opening weekend: $131 million / Total gross: $303 million

3. Coco (November 22nd)

2017 is the second year with two Pixar films, after Inside Out and The Good Dinosaur paired up and sowed evil upon the land in 2015. Cars 3, which I thought was a successful entertainment, finished with $152 million earlier this year, and now Pixar delivers what is expected to be the much bigger film.

That is Coco, which has a title that can mean almost anything, and probably induces giggles if repeated out loud often enough. It has a plot that vaguely recalls the 1986 horror film Trick or Treat, wherein a young boy (voiced by Anthony Gonzalez) follows his favorite musician, now deceased, to the land of the dead, where he gets to meet and chat around with any number of his ancestors (from a genealogical point of view, I find that fascinating).

Coco takes as its inspiration Mexico's Day of the Dead, which plays out from October 31 to November 2, as a partner holiday to the Celtic Samhain (now known as Hallowe'en). Indeed, the film goes all in to its Mexican setting, delivering fiesta music and a lively visual palette of dark colors in its joyous underworld. Coco opens on the Thanksgiving Wednesday beloved by animated juggernauts like Tangled, Frozen, and Moana, and also by Pixar's own The Good Dinosaur, an underrated film whose total will surely be toppled by this one, not least because there's a cute dog on the poster.

Now, just as my horror film forecasts often grow long, pedantic, and textured with the lovingly-detailed history of the genre, my forecasts for CGI films tend to be short, blunt, and increasingly repetitive of each other (indeed, the quality of my animation write-ups can be summed up with the joke, "the food was bad, and in such small portions"). My CGI prediction formula is clear and easy: I tend to point out that the film appears to be funny; that it is receiving good reviews, or will do; that the cast includes some well-chosen voice performers, perhaps pleasant to the ear (Gael García Bernal, Benjamin Bratt, the inevitable dose of John Ratzenberger); and that it will probably make a lot of money. Pixar films inspire more than a few of these observations, and Coco should have no problem checking every box on my list.

Opening weekend: $100 million (5-day) / Total gross: $295 million

4. Daddy's Home 2 (November 10th)

The sister (!) film of a Bad Moms Christmas, with the fathers of the fathers arriving to show us exactly where and why its lead characters' personality deficiencies were cultivated (facial physical resemblance is optional). Both Daddy's 2 and the Bad Moms sequel are set around Christmas, of course, and both plot the course of opening in early November, with the idea of playing deep through Thanksgiving and then sticking around for a full month into December 25th, if they can.

The story begins as before, with Will Ferrell the sincere and unmacho stepfather to the children of no-nonsense vulgarian Mark Wahlberg. What happens next is unsubtle but not unfunny, as the two arrive at the airport, where they greet Mel Gibson, who as Wahlberg's father is burly, brusque, and manly, and then John Lithgow, a tall, smiling, and friendly dandy who is inevitably revealed as the father of Ferrell's character. (Would reversing the personalities of the parents have worked a little better? Not sure).

So nurture makes nature. John Cena is still around as Wahlberg's new wife's ex (I and everyone else would have cast The Rock), and Linda Cardellini long-suffers as Ferrell's spouse, who rarely gets a good line. Jokes may repeat themselves: as before, characters #1 and #2 badmouth character #3, before the camera reveals #3 sitting right next to them. These people get to the point.

The first Daddy's Home opened with $15 million on Christmas day and finished with something ridiculous - $150 million! - yes, a number exactly ten times its first. Some were puzzled, as some are, but to me it made perfect sense: films geared at, and featuring, families released in mid to late December are a natural to sow box office gold (see Cheaper by the Dozen, say). And while Daddy's Home was not wonderful, it must be given credit for attracting those respectable numbers even against the ginormous Jedi juggernaut that unduly assaulted theaters that month. Perhaps December was a better release date again this year, especially with Coco threatening to arrive a few weeks later. Nevertheless, these fathers, stepfathers, and grandfathers will begin their feuding early into the season and hope to bicker all the way to late December's end; by which time I think their theater counts will fall, as cinema owners clear off as many screens as possible for the December 15th opening of that film I dearly wish not to see.

Opening weekend: $28 million / Total gross: $110 million

5. A Bad Moms Christmas (November 1st)

Spoiler warning: the film already took in $2.5 million on its opening Wednesday, the first day after Halloween. I can say without hesitation that this was exactly my prediction. So far, so good.

Bad Moms grossed $113 million in 2016, and indeed, Bad Moms 2 is my favorite type of sequel, the one greenlit and produced for release the very next year after its original (the best example is perhaps Child's Play 3, which came out about ten and a half months after 2).

Mila Kunis returns as a harried middle-class mother, shorn of an uncaring husband and partnered with a more appealing option (Jay Hernandez), while Kirsten Bell is still the repressed housewife and Kathryn Hahn the wild single mom, now wilder still. Their perfect suburban opposition from the first film (Christina Applegate, Jada Pinkett Smith, Annie Mumolo) have been defeated and banished to supporting roles, if they're seen at all, but a new trio arrives to restore domestic order around the holidays in this neighborhood: Christine Baranski as Kunis' demanding matriarch, Chreyl Hines as Bell's best friendish mother, and Susan Sarandon, who doesn't look much like Hahn, but essays her even more free-spirited mom, and plays the kind of character who can drink anybody under the table, and will.

The first film's reviews weren't released until the last possible minute, which was weird, because they were pretty good (TomatoMeter says 58%; fair). Hey, it was a funny film. The sequel's critical favorability has dwindled (down to 27%, now), and presumably so will its box office, but the month has a tendency of pushing films such as this over the top.

Opening weekend: $20 million / Total gross: $68 million

6. Murder on the Orient Express (November 10th)

1934 mystery novel Murder on the Orient Express, perhaps the most famous of Agatha Christie's library, gets another go-around. The train and its tracks look great, far-reaching and baroque and semi-neon-lit, with snow falling around the edges like a grimmer Polar Express. The cast is full of character actors and movie stars. On the poster, Johnny Depp and Michelle Pfeiffer stand strong, looking steely and opaque; in the corner, there's Willem Dafoe, with glasses and a classic toothy scowl; Josh Gad seems virtuous as the seemingly benign assistant; Judi Dench again embodies European royalty (a princess, summarily downgraded from Queen); and Daisy Ridley of Star Wars fame is the plucky ingenue (and finally makes a film I can bear to watch her in!).

One of the above characters is murdered. Another is guilty.

Director Kenneth Branagh engages in the simplest form of all nepotism by casting himself as the lead, Belgian crime-solver Hercule Poirot. Branagh, of course, has helmed not only a myriad of Shakespeare adaptations (Henry V, 1989, Hamlet, 1996, Thor, 2011), but also the great mystery thriller Dead Again (1991), which plays like a nice set-up for this entry.

The story has been adapted any number of times (the last really big version was in 1974, where it took in $27 million, roughly $127m today), and the story may or may not retain the identity of the murderer (not that I remember it, anyway). Warner Bros. is taking a gamble on such a film, a period piece which looks cool but which does not include, I am pretty sure, action, intergalactic special effects, or any more bone-crushing violence than is absolutely necessary. The trailer does deliver some anachronistic music (Imagine Dragons' Believer, which is probably not in the film itself). As it happens, I grew up watching old mystery thrillers on late-night cable, and this film looks to present itself a worthy successor, though my tastes and the general public's have diverged early and often.

Opening weekend: $18 million / Total gross: $58 million

7. Wonder (November 17th)

Based on R. J. Palacio's 2012 novel, Wonder centers on Auggie, a boy with an incurable facial deformity, much like Eric Stoltz' character in Mask, and perhaps The Elephant Man. Auggie is given cinema life by poor Jacob Tremblay, who has been cast as a child under various forms of duress in Room (2015), Before I Wake and Shut In (both 2016), and The Book of Henry (2017), and presumably just barely lost out on playing yellow raincoat-wearing Georgie in It. But he's a trooper, and this time carries the film under prosthetic make-up, with Owen Wilson and Julia Roberts as his caring parents, Mandy Patinkin as a kindly teacher, and Noah Jupe, who played Matt Damon's son in Suburbicon, as the best friend and about the only gentle soul Auggie meets in the den of brutality and hopelessness that is middle school (I assume).

As a respite from superheroes and PG-13- or R-rated Christmas films, Wonder seems like a fair attraction for family audiences. It looks nice and inoffensive, and ought to play exactly like that at the box office, though sticking around into the December box office haul might be a little tough. It helps that the novel is reasonably popular (or so I'm guessing, with no evidence whatsoever), the direction is by Stephen Chbosky, who wrote the book of and then adapted The Perks of Being a Wallflower, and there is, again, a cute dog on the poster, too. The tagline tells me to "choose kind", following which I edited out all the derogatory insults from my forecasts of this month's two superhero films, and therefore lost about half the word count.

Opening weekend: $14 million / Total gross: $50 million

8. The Star (November 17th)

The Star is a CGI adaptation of the Nativity Story, and follows Joseph and Mary as they journey from Nazareth to Bethlehem, accompanied and watched over by talking animals who aim to lighten the proceedings and provide narrative addendums on the action. These conversational beasts include horses, camels, and a pygmy jerboa (coincidentally, my favorite breed of jerboa), all the better to attract character actors for showy (not literally) voice roles. There's a hero donkey named Bo (voiced by Steven Yuen), and the vocal array is also led by Zachary Levi as Joseph and Mary Rodriguez as Mary, and counts (and counts...) among its credit list, Kris Kristofferson, Ving Rhames, Mariah Carey, Oprah Winfrey, Madea's own Tyler Perry, and more.

The film is from Walden Media and Columbia Pictures, and has the misfortune - well, I assume it was their choice - to open a week before Pixar's Coco enters to dominate the marketplace. Still, the film may have a strong Christian audience reception that I'm underpredicting here, and ought to have legs for a few weeks.

Opening weekend: $10 million / Total gross: $40 million

9. Roman J. Israel, Esq. (November 17th)

Roman J. Israel, Esq. is a gritty thriller about a lawyer with that name and title, who is played by Denzel Washington in what looks like a strong dramatic role, a man who confronts a legal system that repeatedly disappoints him. The film is written and directed by Dan Gilroy, who was also behind the brilliant Nightcrawler (2014), and who here again delves into the underbelly of Los Angeles' facade (a crawlspace where current news stories often tread). Alongside Washington, Gilroy has cast Colin Farrell, receiving a comeback of sorts as more of a character actor, along with Carmen Ejogo and Shelley Hennig. The film perhaps aims in the tradition of all those tough, unflinching, and lengthy films Washington has opened in early November - American Gangster (2007), Flight (2012), and even Unstoppable (2010). Roman J. Israel, Esq. does not bend as easily to high-concept thriller or drama to explain itself to potential audiences, and carries somewhat mixed to positive reviews, though it has been recut from its premiere at the Toronto International Film Festival, so it has another chance to please reviewers - and you.

Opening weekend: $8 million / Total gross: $25 million

10. The Oscars (all month!)

The Oscar season begins in September, I guess, but serious awards contenders have produced few box office breakouts in the last two months, for no lack of trying. That fact will soon be rectified, because November carries in its crib four of the top challengers for golden trophy season.

First, Woody Harrelson as President LBJ goes out into regional release this weekend (a ticket that is of course beyond preferable to seeing another Marvel film), but November's big four are Lady Bird (November 3rd), Three Billboards Outside Ebbing, Missouri (November 10th), Darkest Hour (November 22nd), and Call me By Your Name (November 24th).

I've seen Billboards, a searing, funny, and occasionally brutally violent drama, and maybe the best movie of the year. I unreservedly recommended it. Nominations for writing and directing (Martin McDonagh handled both) are assured, and Frances McDormand, as a mother in vengeful rage after her daughter's yet-unpunished rape and murder, has my endorsement to for a second Best Actress win. If the film catches on, and I think it will, it could climb to a $50 million total or beyond. Deservedly.

In a semi-autobiographical manner, Greta Gerwig directs Saoirse Ronan in Lady Bird, which looks like the darkest and deepest of the wave of critically successful indie teen films of the last seven or so years (sadly, we're far from the slapstick and sex days of Adventures in Babysitting or My Tutor, respectively). Most of these new young adult dramas (The Spectacular Now, Me and Earl, Perks + Wallflower) finished with between five and twenty million dollars, and Lady Bird should fit right in with that crowd of cool outsider high school kids.

Elsewhere at the cinema, Timothée Chalamet and Armie Hammer romance each other under the sweltering Italian sun in Call Me by Your Name, a Sundance veteran and among the top three Best Picture possibilities, given its unreservedly enthusiastic reviews. This is the film that could win over November's other indies at the box office. Getting to $100 million is plausible.

And finally, there's Darkest Hour. Gary Oldman plays Winston Churchill, though the hair and makeup department has contrived to make him bear an undeniable resemblance to Fat Bastard from Mike Myers' Austin Powers films (I think I'm the only person both brave and tasteless enough to point this out. It's on the house).

Brian Cox played Churchill in another film this year, but Darkest Hours, by Joe Wright, is the big one. Ben Mendelsohn is in the Colin Firth role as King George IV, Kristin Scott Thomas is Clementine Churchill, and as the current front-runner for the Best Actor Oscar, Oldman gives an even better performance than Myers, it is said.