October 2017 Forecast
By Michael Lynderey
October 5, 2017
BoxOfficeProphets.com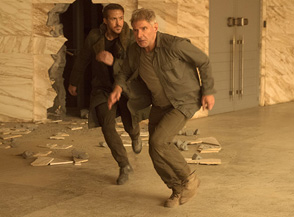 ---
The grotesques invade the movie screens this Hallowe'en. And while science fiction fanboy nirvana is poised to rule the month, and will, scrappy horror challengers aim to nibble away at its feet - Madeas, John Saws, killers in pig masks, and malevolent snowmen all wait in the shadows to take the runner down.

1. Blade Runner 2049 (October 6th)
In what is the month's queen bee and assumed sole $100 million earner, Ryan Gosling must navigate a futuristic world and its colorful supporting characters (Jared Leto, Dave Bautista, and Robin Wright are on standby), before reaching Harrison Ford's Rick Deckard and discovering the answer to whatever question he had presumably posed at film's beginning (you only get one, so make it count, Gosling!).

The first film, which I saw one time ten years ago, was a respectable science fiction entertainment with the expected thematic points about whether a robot can ever hope to be human instead of a card-carrying member of the Machine Empire. As I understand it, fans of the original appreciate the 1982 film's special effects and set design, most of which are a trademark of Blade Runner's helmer, Ridley Scott, who began in commercials and carried over their sense of style. Blade Runner, set in 2019, was also noted for its genre-defining vision of a vaguely dystopian future of Babel-tall buildings and mega-screen advertising (personally, futuristic/alternate world films that I think are a bit more topical are V for Vendetta, Watchmen, and the little-seen 1981 Shock Treatment, a musical that managed to foresee so many things).

Now, after many years, a sequel emerges and that's all good, but though its fans might not mind, Blade Runner 2049 has been completed at an inhumane length of two hours and forty three minutes, projected on a giant numbing IMAX screen pitched at highest sharpest decibel. And in a year that has already given us such gems as 2 hours and 15 minutes (Logan), 2 hours and 20 minutes (War for the Planet of the Apes), 2 hours and 29 minutes (Transformers 5), and 2 hours and 21 minutes (Kingsman: The Golden Circle... honestly, what the actual... ?!?), I fear that Blade Runner's running time, which has been spared the wrath of a particularly eager editor, is simply too demanding on my cinematic spirit; and with a taxing Rotten Tomatoes rating of 90%, which means I'll actually have to use my brain, the film is asking a lot.

Directing duties on Blade Runner 2 have been commandeered by Denis Villeneuve, who made Prisoners, which I consider the best film of 2013, and who then went on to direct both Sicario (2015) and Arrival (2016), two films that... a lot of other people quite liked. Judging by its aforementioned reviews, a lot of people quite like Blade Runner 2049, too - so much so that it should overcome its length and vague unfamiliarity to modern audiences to smash through the $100 million dollar mark, in the process denying Madea or some other scrappy horror film bragging rights for month's biggest.

Opening weekend: $47 million / Total gross: $142 million

2. Tyler Perry's Boo 2! A Madea Halloween (October 20th)
Before I even think of doing any forecasting at all, I must offer a sincere apology: last October, I allowed my inner fanboy to get the better of me, abandoned all reason and sense of fair play, and spent most of my writing space extolling the great and glorious virtues of the Madea series in general and of her first Halloween film in particular (sight unseen). In the process, I belittled hard-hitting, serious, dramatic cinema like Billy Lynn's Long Halftime Walk, a film I viewed months later and found to be emotionally fulfilling, and which had enough challenges at the box office without my additional harping on (Madea's Halloween grossed $73 million, while poor Billy Lynn finished with a mere... one million dollars).

That last Madea Halloween movie was... disagreeable. Though its plot description breathlessly advertised Madea facing off against "killers, paranormal poltergeists, ghosts, ghouls, and zombies", the film contained none of the above, and the actual culprits ruining Madea's Hallowe'en turned out to be frat boys pulling remarkably sophisticated pranks (I might be behind on futuristic current technology, but how is it that they got a mirror to write on itself in real time?).

But the people had spoken at the box office, and that is why, among other reasons, this year we are getting Tyler Perry's Boo 2! A Madea Halloween, as opposed to, say, Billy Lynn's Second Walk: Hallowed Fields. In any case, time has passed, nerves have settled, and Mabel "Madea" Simmons returns again in what is her eleventh film role (do see them all, as I have). Here, the official plot summary once again promises us wonders, announcing to the world that on Halloween night 2017, Madea will put on her pearls and confront a "haunted campground", populated by "monsters, goblins and the bogeyman", which have, the plot outline vows, been "unleashed".

I have a deep, sneaking, and totally accurate suspicion that these monsters, goblins, and, indeed, even the bogeyman himself, are not actually real (in the film), but rather the creation of more misbehaving teenagers and teenage adjacents with rather extensive special effects budgets, and a lot of time to waste. I fear that, despite all hope to the contrary, the masked villains carrying chainsaws and other holiday paraphernalia on the film's posters will turn out to be not fearsome supernatural fiends hunting down our beloved Mabel, but mere and plain mortals enjoying the holiday's traditional elements of prank and trickery. If so, so be it. At least this time, we're ready to be disappointed.

By the way, there are two more Madea movies scheduled for next year. So yeah, they could be prequels, but more likely that means Madea makes it through Hallowe'en alive. With a minimum of most limbs intact, including that one.

Opening weekend: $31 million / Total gross: $66.6 million

3. The Snowman (October 20th)
Michael Fassbender stars as a detective on the hunt for a serial murderer in a creepy snow-bound setting, and in a film whose advertising offers no more information than that about itself (except of course, unless you've read the book). Supporting players include Rebecca Ferguson, a mustached J. K. Simmons, and a former Batman (Val Kilmer), and unless the killer is a real snowman or a more deranged than usual Madea, I assume that one of the above actors is it (just a guess!).

The Snowman will most probably place among the top three of the month, though I could be misreading the situation and underrating the chances of some of the below contenders. The director is Tomas Alfredson, previously of the first Let the Right One In, while the 2007 Norwegian novel The Snowman, by Jo Nesbø, is reasonably popular, and the film, although creeping in two weeks later, seems to place itself in the tradition of the kind of early October book-to-screen thrillers that have posted spectacular (Gone Girl) or reasonable (The Girl on the Train) numbers in recent memory.

What The Snowman also has going for it is something much more elemental, those pictures and posters of a crudely designed snow person bleeding blood red, covered with the nasty and simplistic messages the killer leaves behind ("Mister police."), and the deep sense of mystery about what morbid human creature can be engineering such a scenario. From that view, the simplicity of the ads is effective and in-character; Fassbender fits the stoic nature of a winter setting; and if the film is well reviewed, it could even stay in theaters just past the year's first snowfall.

Opening weekend: $19 million / Total gross: $55 million

4. Geostorm (October 20th)
The title Geostorm contains within it a Dean Devlin science fiction film about a world once again under attack by climate-caused disasters on an unimaginable scale (malfunctioning weather satellites have doomed us all this time out). Devlin, here making his directorial debut, has historically served as filmmaking partner of Roland Emmerich, who is not involved in the film but whose apocalyptic aesthetic influence is unmistakable (and unforgivable! I'm kidding - I'm a fan).

Gerard Butler plays the muscular scientist fighting for the world and his little girl, Jim Sturgess is his brother and study buddy, Andy Garcia holds the presidency (he has my vote), Ed Harris is the grumpy but reformable Secretary of State, and Robert Sheehan, a quirky Irish actor, gets another American film role (it's a start). So Geostorm has a likable, reasonable cast for such an endeavor, even if the film seems just a little off-season (November 10th is more right than the pre-pre-Halloween weekend), though anyone who wishes to attend probably will go anyway.

Indeed, as a film about, and with, an abundant amount of special effects and city-destroying CGI animation, I could be downpegging the chances for Geostorm's upper-tier box office success. Roland Emmerich's The Day after Tomorrow and 2012 both out-paced many predictions, and indeed as far back as Independence Day many a forecaster has given themselves egg on face low-balling the Emmerich disaster empire. I could be next.

Opening weekend: $20 million / Total gross: $48 million

5. My Little Pony: The Movie (October 6th)
My Little Pony is an animated franchise about little tiny horses galloping on across the fields of fantasia, living on in merriment while solving problems through pluck, endurance, and mental stamina. It was began as a 1981 toy line, continued into a 1980s television series and a 1986 feature film, and has by now evolved into every manner of entrepreneurial pursuit available. I recite these facts in an encyclopaedic (or more Wikipaedic) manner because, even for a thorough pop culture maven such as myself, I have somehow managed to avoid most or almost all interaction with this franchise for the good thirty years of my existence, even with a 1990s childhood that was clearly being spent on better and more noble pursuits, like Power Rangers action figures and dusty Goosebumps tomes.

So if My Little Pony wasn't my thing 20 years ago, it will, I assume, not have grown any more appealing to me all this time later (you know, on some days, I still get a pony confused with a unicorn), though I suspect that much of the star-heavy voice cast signed up for the film because it was part of their childhoods (Zoe Saldana, Emily Blunt, and Michael Peña join voice animation regulars like Tara Strong, Ashleigh Ball, and Andrea Libman). The film was oddly given the exact same title as its 1986 big-screen predecessor (yes, both address themselves as My Little Pony: The Movie, which as of tomorrow will be illogical), but that shouldn't bother the throngs of hungry Pony fans out there, who have waited 30 years for another film adaptation and must now wait no longer.

Opening weekend: $14 million / Total gross: $41 million

6. Jigsaw (October 27th)
As I never tire of methodically and pedantically explaining, the first Saw film, a low budget ($1.2 million) gore item with an abusively twist-filled plot, had initially been scheduled for direct-to-video release (such films were not respectable mainstream viewing in the early 2000s, for whatever reason). But it was rescued from the bin and sent out to open everywhere two days before Hallowe'en night 2004, where advertising and decent reviews carried it to a shock $18 million opening. The sequels went even bigger ($31m open/$87m total in 2005, $33m/$80m in 2006) before beginning the inevitable decline; and in the meantime, along with the 2003 Texas Chainsaw remake, Saw launched the entire sub-genre of hard-R torture fests that assaulted innocent cinemagoers for years after the fact.

So we had seven Saw films in seven years, and now, after six years of silence, the buzz is back ("The Buzz is Back" was the tagline for The Texas Chainsaw Massacre 2 in 1986. This is an educational moment).

Those paying plot attention know that the inglorious adventures of pseudo-moralistic mastermind John Kramer, nicknamed Jigsaw by the fictional police and John Saw by me, ended upon his death in 2006's Saw III; though the man had left such a richness of post-mortem tape recordings, schemes, and overdue library books that four more films about his life were produced, released, and seen. Just about all dangling mysteries were wrapped up in 2010, with Saw 3D (not to be confused with Saw 3), but the new film's trailers inform us that Jigsaw-style murders and tape recordings have resumed in that hitherto unnamed, damned, bleak-looking industrial city in which all Saw films are set. More to the point, Saw City's many warehouses once again house screaming victims plugged into implausible and bloodthirsty machinery, detectives again shine flashlights through the night, and labyrinthian plot twists will once more answer one question while laying ground for sequel upon sequel to come.

The original Saws were almost always released on the last weekend before Hallowe'en, the better to capture the pent-up intensity of the holiday, and their faithful viewers treated them almost like a cliffhanger television series, returning to take in the next episode year after year.

Of course, the teenagers and small children who grew up on the Saw series have presumably now grown into middle age or beyond, and so it's hard to tell whether the throngs of devoted Saw fans who pledged and maintained faithful attendance will reprise the habit. Of course, John Saw is presumably the definitive horror villain of the 2000s (with apologies to all the little girls who burst out of televisions with murderous intent), even if he does make his post-mortem return at a time when his genre has moved on from bloody torture and into less noble pursuits, like shaky cameras peering down on serial exorcisms.

Whether the series can go back to its glory days is uncertain, but one big comeback film such as this can probably perform to expectations. Fans must still be out there, though to quote another Texas Chainsaw sequel, is the Saw still family?

Opening weekend: $21 million / Total gross: $40 million

7. Happy Death Day (October 13th)
This twist on a greeting card stars Jessica Rothe as a college student who presumably saw Zoey Deutch re-live the day of her death over and over in Before I Fall earlier this year, and then announced to herself, "I want that".

Deutch's many deaths in that film arrived courtesy of... complex... sources, but given that it's October, the culprit here is a malicious serial killer in an ironic pig mask who merrily bumps the female lead off, day after day after day, no matter what. She wakes up in the same bed, she goes through a few hours of uneasy anticipation, and then her pursuer finds her no matter what. Among the other cast, Israel Broussard (the lone male member of Sofia Coppola's Bling Ring) is the nice young man who tries to steer the heroine to safety, one day at a time, while providing audience members with at least one plausible guess for the killer's identity.

For a viewer who values the genre (such as myself), this all veers in the direction of fun, and maybe it will be. And even without big stars (yet) or a brand name, this high-concept horror film with an intriguing central mystery stands a decent chance of doing pretty well for itself, especially with teenage horror fans who aren't into the posthumous John Saw and the sainted Mabel Simmons.

Oh, and just think: the possibilities for sequels are endless.

Opening weekend: $14 million / Total gross: $38 million

8. The Mountain Between Us (October 6th)
Based on a 2011 novel and with a title that you must take absolutely literally, The Mountains Between Us tells of a photojournalist and doctor who live through a horrifying plane crash and must thereafter embark on a hard-hitting journey to survival, while fighting against weather, nature's more ravenous wild life, and (wait for it) each other. In The Edge (1997), which was similar on at least a surface level, the survivors were played by Anthony Hopkins and Alec Baldwin, so the film turned to thriller. Here, given that the lucky pair are played by Kate Winslet and Idris Elba, the plot will presumably tend more toward romance than cannibalism (although the pilot evidently perished in the crash, in case any one has a doggy bag).

The Mountains premiered at the Toronto Film Festival and now opens on a weekend where media attention will be focused on the lengthiest and most internet-anticipated film (which is not this one, to be clear). Between Us, on the other hand, should play as a more down-to-earth (literally) drama, and could attract some fans of the actors who seek reasonable (54% on Tomatoes) counterprogramming on a damp day or rainy night.

Opening weekend: $10 million / Total gross: $33 million

9. The Foreigner (October 13th)
Jackie Chan stars in this action thriller, a film that I believe is heading into wide release next week, and that's not necessarily surprising. While Chan hasn't played the lead in a North American national release for some time - and has almost never starred in any without at least some semblance of comedy - The Foreigner seems to tack after a well-established formula closely enough, following a distraught father with expertise in violence, his murdered child, and the army of henchmen and terrorists responsible for the situation who must be sent off to meet their maker. The film adds a functionary played by Pierce Brosnan as a kind of friend or foe (to be determined), while Martin Campbell, previously of a James Bond and Zorro film or two, directs.

Back in the day, writers and critics declared Liam Neeson's Takens as films about an "aging action hero" as if that was unusual, but Charles Bronson was about 53 when he began Death Wish days, Harrison Ford was only Jack Ryan in middle age, and John Wayne kept on cowboy garb for two decades after turning 50 in 1957. So, the works of Neeson and now Chan are not unusual, and I suspect the actor has a small army-sized cadre of fans who may wish to see him on the big screen, on these shores, again.

Opening weekend: $11 million / Total gross: $29 million

10. + 11. Only the Brave (October 20th) and Thank You For Your Service (October 27th)
Miles Teller stars in a pair of dramas that should keep him on the talk show circuit for most of late October. In the first, he's one of a crew of firefighters in the Granite Mountains (the film's original title), with Josh Brolin and Taylor Kitsch fighting the flames by his side, Jeff Bridges as the mentor figure, and Jennifer Connelly as a spouse worried at home. The second is a war drama about soldiers back from Iraq, with Beulah Koale and Joe Cole as other veterans, and Haley Bennett and Amy Schumer in the Connelly role.

From his debut as Nicole Kidman's unexpected confidant in Rabbit Hole (2010), and as he enters his thirties, Teller has established himself as a solid dramatic actor with a flair for comedy (War Dogs). Much of his best work has been well-reviewed but little-seen, and I forecast the combination to continue throughout the month. His performances will, I expect, be critically hailed, but will be found in subjects too heavy for an audience that rarely opens straight-forward dramas to strong numbers in October, a month still populated by genre hallmarks (Blade Runner, Saw, Madea), and located solidly outside of peak awards season (for example, the well-received Battle of the Sexes, with solid work by Emma Stone and Steve Carell, got little box office traction last weekend).

Opening weekends: $6 million / Total grosses: $20 million (each, each!)

12. All I See Is You (October 27th)
Marc Forster directs Blake Lively in the sort movie star role she has quietly been triumphing at, having just carried the unusual drama The Age of Adaline (2015) and the shark-bait thriller The Shallows (2016) pretty much all by herself. Here, she's a blind woman who regains her sight, much to the detriment of her husband (Jason Clarke), who has presumably spent the time of her blindness engineering things that she may not want to see. Thriller elements follow. The director has a positive record, the idea is interesting, but reviewers are not thrilled (at least so far), and the late October release date tends to stifle much of anything that doesn't have "Saw" somewhere in its name. Still, one more genre film never hurt anybody, and as always, I'm on the lookout for great and memorable plot twists. Don't disappoint me.

Opening weekend: $5 million / Total gross: $14 million

The Dramas
Elsewhere, films are entering the calendar in various shapes and sizes of a wide release, many with awards aspirations, and a few, I assume, simply aiming to entertain. Most or all of these releases should be within cinema seeing distance by the time the clock strikes midnight on Hallowe'en night, and just about all of them should tally up box office roughly between 10 and 20 million dollars. On the 13th, there's Marshall, with Chadwick Boseman as Supreme Court Justice Thurgood Marshall, though just a local attorney at the time of film's setting; Goodbye Christopher Robin, with Domhnall Gleeson as Winnie the Pooh creator A. A Milne (Margot Robbie's in that one, too, as Mrs. Milne, which should give it points); and Professor Marston and the Women, with Luke Evans as the good prof., who with his wife (Rebecca Hall) and their mutual mistress (Bella Heathcote) entered into various... triangulations and journeys into the world of bondage, before creating Wonder Woman (from clay) in the early 1940s. Later in the month, Renée Zellweger teams with Jon Voight and Djimon Hounsou for the inspirational Same Kind of Different Than Me, George Clooney' Suburbicon is about blood-letting hitting the shocked burbs all over the 1950s, and Todd Haynes' Wonderstruck is a time-travel experience of a different kind.

Oh, and Amityville: The Awakening, the 18th film in the series, about which I droned on and on when it was slotted for June, arrives not a moment too soon, and will be crawling out of the studio lot and into your heart at some point this month; whether on VOD, streaming, or theatrical, is irrelevant, as long as Amityville 18 is at last projected somewhere out there on the hallowed screens of America. You may think a house can't go very far, but find the film, before it finds you.