September Box Office Recap
By Steven Slater
October 5, 2017
BoxOfficeProphets.com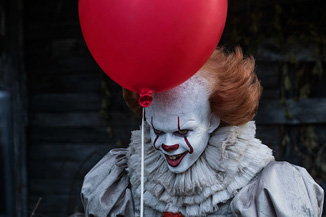 ---
Up is down, left is forward, and ahead is landing on the moon. I know what the calendar says, and I know what movies have come out, but it's like climate change is wreaking havoc on movie-going habits and everything is out of whack. We had one of the worst summers and Augusts in recent memory, and now we have the best September of all time with by far the biggest September movie of all time. Given that the biggest movies of the year in 2017 are inevitably occurring in March and December, it feels almost like a stake has been driven into the heart of summer movie-going, especially given the fare released during many of the weekends between Memorial Day and Labor Day. The upside is a September like this one, where an event movie can take us totally by surprise.

1) IT

Opening Weekend: $123.4 million
Monthly Total: $286.6 million

The budget for this film tells you everything you need to know about the expectations for this film versus what it delivered; Warner Bros. gave IT $35 million, and offered it to director Andy Muschietti who had previously only directed Mama. Given how The Dark Tower had performed just the month prior, this budget would have seemed reasonable. Then IT earned over a third of its budget from Thursday night previews. A smash hit was born. IT earned almost double what the entire top ten had earned two weekends prior, it almost tripled the record for September opening weekend, and it more than doubled the record for a fall opening. Now it has surpassed the long-time champ of R-rated horror films, The Exorcist, and could wind up with three times the domestic gross of the number one film from August. Suffice it to say that the entire reason this September is so remarkable is because of a single film.

If IT had been released during the summer with a big marketing campaign, this probably would not feel as special, but these box office numbers are huge by any metric. I mean, how many coke-fueled nightmares from the 1980's are sitting around waiting to become phenomenons? Would IT have been so big without Stranger Things being a huge hit just last year (and the hype for the second season building)? Are children of the 1980's the only thing keeping movies afloat right now, given that every property of note from then has been brought back from the dead in true 1980's Re-Animator fashion (next up, Top Gun 2: Wheelchair Wars!). Regardless, IT is a shot in the arm for movie theaters, and undoubtedly we will see a resurgence of Stephen King properties and other nostalgic items beyond what is already being done.

2) Kingsman 2: The Golden Circle

Opening Weekend: $39 million
Monthly Total: $62.2 million

Kingsman 2 is doing about as well as expected, and after actuals came out for this past weekend it spends its second weekend in the top spot. Opening a bit ahead of the first Kingsman, number 2 should fall a bit behind domestic and a bit ahead worldwide when all is set and done, which is commendable given how other franchises have performed recently. The playful nature of this series, complimentary to the more serious tone of recent spy fare, scratches that itch that some people tend to get this time of year. It also gives 20th Century Fox some good news, as Kingsman pushes them over the $1 billion mark, the fourth studio to do so this year. Given the big studios that have not hit that mark yet (Sony, Lionsgate, Paramount), I would not be surprised to see one of them sold off within the next few years. I'm calling it: Apple buys Sony (the movie studio), and Netflix or Amazon buys Paramount. Kingsman keeps Fox independent and alive. For now.

3) The LEGO Ninjago Movie

Opening Weekend: $20.4 million
Monthly Total: $31.8 million

Color me shocked that this film did not break out a bit higher, but I guess the magic formula of LEGO's and ninjas was somehow lacking. Maybe the target audience for that is in their late 30's, and kids would prefer a LEGO dinosaur movie. Regardless, the LEGO movies have been relatively cheap for animated movies, and so this one should do well in the end. However, given that both previous LEGO movies were over $100 million at this point, this one has to hurt. The LEGO Movie 2 is next for the franchise, so expect that one to do much better, although it is not scheduled to debut until 2019 and does not have Phil Lord or Christopher Miller as directors. Although I hear they now have an opening in their schedule...

4) American Assassin

Opening Weekend: $14.8 million
Monthly Total: $31 million

No, not the Tom Cruise movie, this is the American film that kind of riffs off Taken. Handsome dude's girlfriend is captured by terrorists, so of course Michael Keaton trains him to kick some extremist ass. Liam Neeson would have been available, except he retired from action movies (just like Steven Soderbergh). The budget was respectably low, and so it has quietly recouped its costs on the domestic front, although do not expect any true profit from this as it makes its way to the bargain bin at Walmart. However, this will be the biggest hit for CBS films, who have had a string of films fall in the $20-$35 million range, such as last year's Hell or High Water and Patriots Day.

5) The Hitman's Bodyguard

Monthly Total: $29.8 million

The first holdover from August is the buddy action flick pairing two foul-mouthed actors who tend to have fun. I am sure some of their thunder was stolen by Kingsman, but by then it had amassed an impressive total. This should wind up with a little over $75 million domestic, and more than double that worldwide on the appeal of the stars. This is good news for Ryan Reynolds, as this will be his highest grossing film other than Deadpool since 2012's Safe House (not including voice work). Meanwhile, Samuel L. Jackson pads his coffers, aiming to become the highest grossing actor again. Unfortunately with Harrison Ford entering theaters this weekend, Jackson will just have to wait for a few more Avengers movies.

6) Home Again

Opening Weekend: $8.6 million
Monthly Total: $24.7 million

The long awaited sequel to Home Alone, when Kevin is trying to go home for the holiday's and hijinks ensue, keeping him from his destination. Now you want to see it! No, this is the Reese Witherspoon vehicle that falls into a genre that has not seen a true gem in a while, the dreaded romantic comedy. And then I remember The Big Sick technically is a romantic comedy and has quietly earned almost double what Home Again has. While Reese Witherspoon has been producing a very respectable list of films and television projects, her acting career seems to have withered somewhat. Her next acting project is A Wrinkle in Time from Ava DuVernay, so perhaps that will break out.

7) Wind River

Monthly Total: $20.2 million

The latest project from Taylor Sheridan, his directorial debut, and the conclusion of his American Frontier trilogy (they just make these franchises up now), Wind River is one of those summer counter programming films that can sneak under the radar. While it will probably be forgotten at Oscar season, this is one of those films that is a nice palate-cleanser with nary a trace of CGI. After playing for two months, this has accrued a bit over $30 million, triple its budget, and is the biggest hit of the year for The Weinstein Company. I'm surprised Tulip Fever did not do better myself.

8) Annabelle: Creation

Monthly Total: $19.8 million

The number one film from August had a bit of staying power in September, enough to bring it just over $100 million, and keeping that month from being the first August in years without a film breaking the century mark. Annabelle: Creation continues the streak of James Wan when it comes to shepherding good horror films into production, and will finish neck and neck with Conjuring 2 on the domestic front. Surprisingly, these films also play very well internationally, as this will earn over $300 million worldwide, joining both Conjuring films in that club. Most horror films are lucky just to match their domestic box office on the international side, but these creepy ghost stories seem to do the trick.

9) mother!

Opening Weekend: $7.5 million
Monthly Total: $15.9 million

I am perplexed by Darren Aronofsky and his most recent film. On the one hand, his movies never were huge hits until Black Swan broke out big time, earning over $100 million and more than quadrupling his previous high water mark with The Wrestler. But perhaps the goodwill from that only afforded him one Noah, which likewise earned just over $100 million, yet had a much chillier reception than Natalie Portman's descent into madness. Given that Jennifer Lawrence might be the biggest female star in Hollywood right now, you would have thought mother! would have debuted higher, with steep drop-offs in the following weekends. Perhaps the movie should have platformed in December, rather than opening wide in the typically dead month of September. Either way, this one will probably go down as a big disappointment, although the most vociferous Facebook chatter about any film this month was for mother!, with many saying it deserved more respect. I would have seen it, but then I saw a balloon floating near a gutter drain.

10) Leap!

Monthly Total: $14.3 million

Not the long awaited sequel to Billy Elliot, this is instead highly generic CG animated fare from the Weinstein's of all people. Well, they distributed it, but if you look at the animated movies the Weinstein's distribute, it appears that is their Achilles heel when it comes to good taste. Then again, independent 3D-animated movies have not done so well in general. Also, movies with exclamation points in their titles are doomed to failure. There is good news, though, since this film was a French production it has earned far more overseas and will probably recoup its costs.

By virtue of this past weekend having a day in October, American Made falls just outside the top ten for September, but it seems like it is doing decently for a recent Tom Cruise film. It is on the lower end of his fare, being just above Jack Reacher, but perhaps the good reviews will give it some legs. Because we all know Tom Cruise don't need no butt. As a matter of curiosity, the remake of Flatliners opened lower than the 1990 original (which itself was not remembered as a real classic, sorry Flatliners fans!), but how can Ellen Page and Diego Luna compete with Julia Roberts and Kevin Bacon? For the top ten list of movies that opened in September, after American Made and Flatliners add Friend Request and Battle of the Sexes, one of which might end up on next month's list (guess which one!).

This September will rightly be remembered for one big reason, and that is IT. Forever doomed to create awkward grammatical issues, IT took full advantage of the large void that has persisted in movie theaters the past couple of months. People were aching to get away from hurricanes and into movie theaters, they just needed a good reason to do it. No, IT. I just call it the scary clown movie. The top twenty films of September earned about $613 million, which is a hair above what August could muster. Although August usually earns about twice as much as September in grosses, recent years have shown just how much mankind has changed the movie climate. In 2015 and this year, September movies earned more than August films, and one big film can tip the balance. Guardians of the Galaxy and Suicide Squad buoyed their month's totals in 2014 and 2016, whereas 2015 had no huge hits in August (the biggest being Straight Outta Compton), and this year had IT in September. Maybe the lesson is that it ain't the month, it's the movie. No, IT's the movie.