5 Ways to NYCC (New York Comic Con)
By George Rose
October 4, 2017
BoxOfficeProphets.com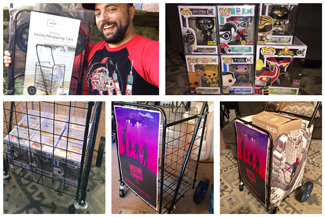 ---
The moment the East Coast has waited for all summer long is finally here… New York Comic Con (NYCC). It is the reason I have spent the last few weeks recapping my convention past and it is the biggest pop culture event of my year. It has taken five NYCC's, two Philly Cons, a Fan Fest and five years to lead up to this. I have never been more prepared or better able to help you prep. Follow me, friends, as I show you the five ways I have prepped for NYCC 2017.

1) Pre-Show Research

Many months ago it became clear the big marquee name at NYCC 2017 would be Mark Hamill (Luke Skywalker). I mentioned it a few weeks ago that he was my target of this Con and I imagine everyone else's as well. Then pricing became available. As it turns out, a picture with him will cost $250 and an autograph will cost $300. That's right, THREE HUNDRED DOLLARS. The most expensive autograph at Fan Fest was $60. I guess when you are the last surviving Jedi of the biggest franchise in cinema (Harrison Ford's Han Solo died in Episode 7 and Carrie Fisher died in real life in December 2016) and you have the biggest movie of the year (Star Wars Episode 8) about to come out in two months, you can charge whatever you want.

And what Hamill wants is $300. I can understand a celebrity who can only appear at the four-day Con for one day to charge that much, if they just won an Oscar or something. Hamill has been at dozens of conventions over the years, usually as "that old guy that used to be in Star Wars movies" and "that Star Wars guy that now does the voice of Joker in Batman cartoons." He charged reasonable prices (from what I found online) and has a tendency to write funny yet inappropriate things on your memorabilia. This year, he is one of very few people appearing on all four days. I wish I could say this doesn't make any sense to me but it completely does. Carrie Fisher died December 2016 after charging around $70 an autograph at NYCC in October 2016, fans like myself go crazy they lost a legend and missed the chance to meet her, and suddenly Mark Hamill's stock rises in a way not seen in over four decades.

I can call him a jerk, a greedy pig, a bitter celebrity that led the cast from the most iconic film series ever made just to have everyone around him become more rich and famous, and now he's taking it out on me. None of that matters. Hamill is in perfect storm territory and is about to rule the Con. As it stands, he is out of the running for my time, attention or cash. In a few years when he goes back to being "the guy that used to be Luke Skywalker" I will be ready and waiting. With Hamill no longer in the running, that frees up a huge chunk of my NYCC budget.

After I gave up on Hamill, I decided to focus my energy on the Funko Booth Lottery. That's right, there is no guarantee you get in. There are several vendors that sell Funko Pop figurines but only the Funko Pop company booth sells NYCC convention exclusives. To get in, you had to enter your email into a lottery. The drawing for that lotter was September 28th. After waiting and planning which of the exclusive Pops I was going to get, and asking my parents to give me my October 21st birthday present in cash early to devote entirely to buying those exclusives, did I learn that I was… not selected. It appears the Comic Con gods rewarded me plenty when they got me VIP seats for Stephen Amell's panel at Fan Fest in September.

With no Mark Hamill money in the budget and the Funko Pop booth out of reach, my entire budget is now up for grabs. With the two biggest pieces of my planning already having failed completely, it is now a matter of which reasonably priced mini-celebs will be appearing. First you find the list on the Comic Con website, then you narrow that down to the days you can go (for me, only Thursday), then you narrow it down to who will do autographs (some celebs are only doing panels). For now, here are the celebs that I am planning to meet:

Jason David Frank (White Ranger), David Yost (Blue), Austin St. John (Red) & Walter Jones (Black)… most of the Power Rangers (Mighty Morphin Power Rangers)
Tara Strong… Harley Quinn (animated Batman shows/movies)
Kevin Conroy… Batman (animated Batman shows/movies)
Troy Baker… Batman (animated Batman shows/games)
Jim Cummings… Winnie the Pooh (animated Winnie the Pooh shows/movies)
Jason Isaacs… Lucius Malfoy (Harry Potter movies)

2) Building Your Budget

Once you know who you want to get autographs from, it's time to start guessing what it will all cost you. Luckily, pricing is available online for most celebs early this year. The average price of autographs will be about $40, with Cummings charging as low as $30 and Isaacs charging $60. Those nine definite autographs comes to just under $400. For the sake of argument and the possibility of getting two autographs from a few celebrities (if certain memorabilia presents itself while on the shopping level), we're looking at roughly $500 for autographs. This could (and hopefully will) go down once I get to NYCC and find that some autograph times conflict or if there are any last minute celebrity cancellations.

Since I am not welcome to the Funko Booth, I have decided this will be a good time to possibly buy some of the older convention exclusives at the generic Funko sales vendors. Let's say the average price is $35 (retail is usually $10-15) and I'll allow myself maybe five of those (since it's triple the price of paying the retail value at the now closed-off Funko Booth). There goes another $150. And let's not forget the convention exclusive shirts that blend two brands together like the Evolving X-Mon (Pokemon dressed up as the X-Men). With shirts typically going for two-for-$45, I can get eight shirts (the average amount I end up with each year) for $180. $500 for autographs plus $150 for Pops plus $180 for shirts comes to… $830. Let's tag on another $60 for round-trip train tickets, $10 to park my car at the station, $30 for food for the day, and maybe a few dollars spent on other people and you are looking at a $1,000 day. And that's WITHOUT even a single Mark Hamill interaction or the money you spend before the Con.

3) Pre-Con Purchases

Once you know who you are planning to get autographs from, it's time to get the goods before the show. You shouldn't gamble that you will find the Funko Pop (or whatever you want signed) in good condition at the last minute for a reasonable price. Here is what was purchased in preparation for NYCC: the Blue/Red/Black Power Rangers will share signing the Megazord Funko Pop (purchased from Big Apple Collectibles for $72); the White Ranger will sign his own Pop ($10 from Amazon); Tara Strong will sign my glow-in-the-dark Harley Quinn Pop ($10 from FYE); both men that voiced Batman will sign the Batman Unmasked Pop that Gotham's little Bruce Wayne (David Masouz) already signed ($36 on eBay); Jim Cummings will sign a fuzzy Winnie the Pooh Pop ($37 on Ebay); Jason Isaacs gets a Lucius Malfoy Death Eater Pop ($27 on eBay). Those six Pops cost about $200. That's a lot of money to invest and it would be complete waste to buy Pops and get them signed just to have them damaged on the journey.

Since this year has proven to be my breakout year acquiring as many autographs as possible (as a direct result of Carrie Fisher's death) and I have struggled carrying bags full of merchandise in the past, I decided this will be my first convention ever bringing… a shopping cart!!! A small, collapsible wire cart costs $25 at Walmart. That cart can hold 23 Funko Pops (three levels of 3x3, minus the space of four for the Megazord) in Deluxe Pop Protectors (average price $8). 23 protectors comes to another $200 after tax. That means prior to the Con I have already spent almost $450 on Pops, protectors and a shopping cart. Oh yeah, let's add on another $50 for the Thursday ticket itself. $500 pre-Con plus $1,000 at the Con equals $1,500… without Mark Hamill or the exclusive Funko Booth access. And for just ONE DAY.

4) Pre-Con Arrangements

You are now days away from the Con. Double check the celebrity schedule to make sure the Pops you bought are the Pops you're going to bring. Ask for a few extra shifts at work or some overtime to start earning that $1,500 you're going to need. Find out what time the Con opens (10am) and work backwards: 20 minute walk from the train station to the Con, 1.5 hour train ride, 15 minutes to park and wait for the train, 10 minute drive to the station. That means just over two hours to-and-from Comic Con. I have to leave by 8am which means waking up at 7am. The Con closes at 7pm which means I'll get home around 9pm. Decorate and pack your shopping cart in advance, get a good night of sleep and you're ready to go!

5) Pictures, Pictures and More Pictures

Take pictures of how you prepped because you may never be able to see that hard work again. The posters I attached to my shopping cart can (and probably will) get damaged from walking all day long. The Funko Pops I purchased can (and hopefully will) get autographed and will therefore never look the same again. And, assuming all goes right and you have properly prepared and budgeted in advance, then all you have left to do is enjoy the Con and take hundreds of pictures. Would the story I told you last week about giving Stephen Amell's assistant $20 worth of herb in exchange for VIP seats to his panel have mattered if there weren't pictures attached to validate that story? In today's day and age, nothing matters without pictures as proof. Check my Instagram (@RoseByAnyName) after Thursday October 5 to see my NYCC pics and check back next week to read 5 Ways to Comic Con: NYCC 2017!