Weekend Wrap-Up
Cruise v Pennywise v Kingsman at the Box Office: September Slumps
By John Hamann
October 1, 2017
BoxOfficeProphets.com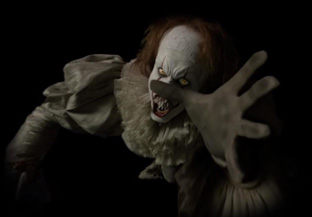 ---
The last time Doug Liman and Tom Cruise got together, we got Live Die Repeat. Unfortunately for Liman and Cruise, the box office result for American Made is doing just that – repeating, with more dying than living.

It's a tight race for first place as It quickly closes the $10 million lead held by Kingsman: The Golden Circle last weekend, when the sequel triumphed. We're four weekends in now, and Pennywise chomping kids refuses to go away. American Made started off slow with its Thursday previews, but that film was certainly in the mix as well.

The tie goes to It, but that could absolutely change when actual numbers are reported tomorrow. It won by $300,000 or so, as the $35 million production picked up another $17.3 million after crossing the $500 million worldwide mark this week. After dropping 51% last weekend, It actually holds up quite a bit better in this frame, losing 42% compared to the previous weekend. Still is anyone really counting at this point? Warner Bros. can easily fund four Its based on this one film, as it prepares to take a run at $300 million domestic. This clown certainly brought the box office back to life, and Warner Bros. is hoping Pennywise can pass that box office baton off to a bunch of replicants next weekend.

It looked Tom Cruise and Doug Liman had clicked with second place finisher American Made, and critics seemed to be ready to line up and throw roses, but then it fizzled just a bit, hitting opening weekend with a still very strong 87% fresh rating. Regular Joe critics liked it more than top critics (the ones that actually get read), as the top critics rating is significantly lower, at 78% fresh. The Thursday preview amount put the "die" back into the equation, as Cruise failed to help American Made earn even a measly $1 million on Thursday, with that number coming in at only $960,000. With a budget of only (yeah, I know) $50 million, it looked like a repeat of the previous Liman/Cruise team up was in the cards, as Edge of Tomorrow had to claw its way across the $100 million mark at the domestic box office, despite being one of the greatest sci-fi films of our time (I understand Blade Runner 2049 will challenge my words next weekend). Thankfully for Cruise, Liman and Warner Bros., our friends overseas bailed Edge out, as it finished with $370.5 million – likely a financial loser theatrically, but it would have turned the corner at some point. Based on that Thursday preview amount alone, it looked like American Made was going to do much, much worse.

The Friday number brought a little life back to American Made, providing some relief to all parties. The Friday number, combined with the Thursday preview, was reported at $6.1 million, not the $5 million or less most people were expecting. A $1 million difference on Friday generally means a $3 million difference over opening weekend, and as much as a $12-$15 million difference for the domestic total. For a $50 million film, this is big news. It could also change the way we look at Tom Cruise movies. Audiences obviously didn't rush out on Thursday to see American Made, and then – maybe – the more discerning moviegoer read the reviews and showed up on Friday. With some very good and recent Mission: Impossible movies, and Edge of Tomorrow, audiences may be letting up on Cruise just a little bit – it's too bad he did The Mummy and the last Jack Reacher film. Still, the evidence is there, but it wasn't going to save this one domestically by any stretch.

Over the weekend, American Made earned only $17.01 million from 3,024 theatres for Universal, giving Tom Cruise the third lowest opening weekend of his career (for movies released on over 3,000 screens) and his lowest since Jack Reacher, which debuted to $15.2 million. The thing about Cruise though, is that his films either have great legs, or fizzle fast. The Mummy, believe it or not, may have made money and had decent legs (at least overseas), opening domestically to $31.7 million but then fizzling with $80.1 million. After that, the Tom Cruise overseas fan club took over – pushing The Mummy to $408 million against a $125 million production budget (in my book, films that earn three times production budget are at least close to being winners). Mission: Impossible Rogue Nation had huge domestic legs, opening to $55 million and finishing with $195 million, and even a turkey like Knight & Day was decent, opening to a low $20.1 million and finishing with $76.4 million.

Given the quality of American Made, and its behavior over opening weekend, it could find success. After only a weekend of work overseas, American Made has already earned $65 million, likely already enough to save Cruise's bacon. If it can get to $150 million over there and add $60 million here, Universal should see a return. Cinemascores were a good but not spectacular at B+, but Blade Runner really could kneecap it next weekend when it debuts on 4,000 screens. I hope Doug Liman's next film steers away from Cruise and picks up Channing Tatum as Gambit, and seeks the Deadpool-style hard R rating.

Third place, then, goes to Kingsman 2 but only by a another hair, as the Taron Egerton/Colin Firth film manages to earn $17.0 million in its second weekend. Getting second is the only good news, as The Golden Circle plunges 56% compared to opening weekend, well off the 49% second weekend hold of the original. The first Kingsman was all about legs; the sequel will be the opposite. The problem for Fox is that the sequel cost $23 million more to make ($81 million versus $104 million). That's a lot of ground for the overseas number to make up, but so far, it is doing okay internationally, picking up $68 million to date. Will it see a profit for the studio? At this point, it's a long shot, but stranger things have happened.

Despite being a film for kids – and the only one of its kind in the top 12 – The LEGO Ninjago Movie gets dropped on its head in its second weekend. This version of a LEGO Movie earned $12 million in its second frame, off 41% compared to its $20 million opening. The first two LEGO movies dropped 28% and 38% in their second weekends, as the comparative stomping continues. At a cost of $70 million to make, this will be the first to lose a significant amount of money. Domestically, The LEGO Ninjago Movie has earned $35.6 million, and will likely top out at about $55 million. Add to that the fact that both The LEGO Movie and The LEGO Batman Movie earned more domestically than overseas, and you can see the trouble that Warner Bros. is in this time around. Still, the franchise is kicking butt with over $800 million in worldwide sales versus production budgets totalling $210 million.

New release Flatliners is just that, despite a talented cast that includes Ellen Page, Diego Luna, and Kiefer Sutherland, in a return role from the 1990 original. You know you're not doing well when the 1990 original opened to $10 million, and the sequel – almost 30 years later – opens well below. Flatliners flatlined with an opening weekend take of only $6.7 million, as studio confidence wasn't there, given the venue count of only 2,552. At Rotten Tomatoes, Flatliners is still seeking a positive review after 35 swings and misses, giving it that awesome rating of 0%. Surprisingly, the Cinemascore wasn't completely hateful at B-, but I don't think people will be chatting this one up at work on Monday. The only good news for Sony is that they only spent $19 million on this dreck, and given that the marketing was invisible, not much there either.

Fox Searchlight's Battle of the Sexes moved from 21 theatres last weekend to 1,213 this weekend, and saw the jump they were looking for. The Steve Carell/Emma Stone flick rose 560% to $3.4 million, giving the sports drama hope going forward. The 85% fresh film has earned $4.1 million at the domestic box office, and still has room to grow. It hasn't hit overseas theaters yet, but could do well over there where tennis is a more popular sport.

I'll save you the pain of hearing about films that earned between $1.5 and $3 million, and move on to our third new release. Til Death Do Us Part fumbled in its debut, as Novus Entertainment distributed its first film. The thriller, starring Taye Diggs, could only muster $1.6 million from 562 screens, but at least lands in the top 10. Our fourth opener, the religious flick A Question of Faith, did worse on more screens (661), earning $1.1 million.

In limited release, Victoria and Abdul, with Judy Dench, Ali Fazal and Eddie Izzard, got off to a grand start on only 77 screens. It managed to pick up $1 million, and garnered a venue average of $13,390. People like seeing Dench as Queen Victoria I guess. Damn groupies.

Overall this weekend, the box office takes a pretty extreme step backward versus last year, when Ms. Peregrine's Home for Peculiar Children and Deepwater Horizon opened to $29 and $20 million respectively. Those two films led that top 12 to $105.7 million, well ahead of this year. The top 12 this weekend picked up only $83.6 million, leaving the door wide open for Blade Runner 2049 next weekend. My question: will enough people come out to see a sequel to a film whose original came out in 1982? Had the reviews been mixed, I would have stayed away, not wanting the original marked in any way. Now, with some calling it a masterwork, I'll be there opening weekend. After reading Variety's review, I watched Dennis Villeneuve's The Arrival again on Netflix, and wish I could jump ahead in time to Friday, and be watching the Blade Runner sequel (with Amy Adams naturally).