Friday Box Office Analysis
By Tim Briody
September 30, 2017
BoxOfficeProphets.com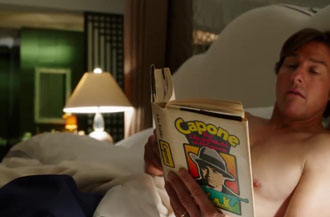 ---
We wrap up September with a surprisingly close race for the top spot at the box office

American Made

Tom Cruise's American Made takes #1 on Friday with $6.1 million. After stumbling over the summer with The Mummy (which did gangbusters overseas, however) and last year's Jack Reacher sequel, the one time #1 box office star returns with a film with middling financial expectations, and it appears to have exceeded them. With decent reviews and a mix of comedy and action, it's showing to be a decent choice for older audiences not interested in Kingsman. For the weekend, American Made will actually be in a pretty close race for the top spot, with Kingsman and It also in the mix. Cruise still has some drawing power, and American Made has just enough of a lead (and Thursday earnings were just under $1 million) that it should eke out a win with a little over $17 million.

Flatliners

BEEEEEEEEEEEEEEEEEEEEEE

Sorry, what I meant to say was Flatliners (actually considered a sequel to the 1990 original) earned $2.1 million on Friday, on the strength of a 0% Rotten Tomatoes rating. This performance, critically and financially, throws under the original by a significant amount, and that's before inflation. It is still the horror entry of choice for moviegoers, and Flatliners will disappear swiftly after a weekend of $5.7 million.

Battle of the Sexes

Expanding from an NY/LA release, Battle of the Sexes earns just $1.1 million in 1,213 theaters. Directed by the husband and wife team behind Little Miss Sunshine, the expansion here is disappointing, but do keep it in mind as reigning Best Actress Emma Stone is a contender for her third acting nomination in four years, and Steve Carell's performance is being tossed around as well. For the weekend, Battle of the Sexes is headed to $3.5 million.

Til Death Do Us Part

An African-American targeted psychological drama, Til Death Do Us Part, manages to make the top ten with $500,000 in just a targeted release of 562 theaters. Starring Taye Diggs, it's looking at $1.5 million on the weekend.

Notable Holdovers

Kingsman: The Golden Circle collapses hard in its second weekend, perhaps having its audience siphoned off by American Made. It tumbles 68% from last Friday to just $4.8 million, creating a close race for the top spot for the weekend. The first Kingsman movie earned $128 million, and despite opening a little higher, $100 million is suddenly doubtful for the sequel given this decline. A second weekend of $14 million is where it should land.

The LEGO Ninjago Movie also takes a hit, dropping 53% from last Friday to $2.7 million. That's mostly okay, as the majority of the LEGO Movie franchise's earnings come on the weekends, as even February's The LEGO Batman movie dropped about 50% Friday to Friday while only dipping 38% on the weekend. Similar forces will be at work here, though The LEGO Ninjago Movie will go down as a disappointment compared to the others in the franchise. Give it a second weekend of $12 million.

It continues to chug along with $4.9 million, taking advantage of Kingsman's big drop to hold in second. It'll cross $300 million domestically midweek (it's at $278.8 million right now) and is a contender to sneak back into the top spot if American Made ends up front loaded. A fourth weekend of $16.1 million continues It's historic performance.