5 Ways to Fan Fest: Part Two
By George Rose
September 28, 2017
BoxOfficeProphets.com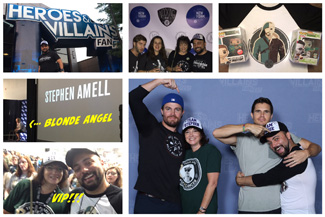 ---
Previously on 5 Ways to Fan Fest: Our hero, George, started his two day Heroes and Villains convention on Saturday, September 16 with seven autographs from five celebrities. At best, he let the teenage Batman off the hook with only a few compliments and a handshake. At worst, he violated Superman's personal space by stealing a sniff of his Kryptonian armpit pheromones. The $500 piggy bank was down to $100 with Stephen Amell's Knocking Point Wine Party still to come before the final day of the event. Can our hero survive with barely a Benjamin as a budget? With his sidekicks Travis, Heather and Michelle by his side, nothing can stop him!

At this point, it's about 5pm on Saturday. Travis and I met up with the ladies after he practically pried me off of Brandon Routh's arm during our last autograph of the day. We changed and went out for a quick bite to eat. I was starting to get "hangry" and after an entire day of devoting all my energy to maintaining a family-friendly filter there was nothing left to hold me back. I didn't drink at the dinner before the wine party because I didn't want to show up to a nice event already wasted. I assumed this wine party was a fancy affair; I even packed a blazer just in case. When my friends told me not to bring any weed inside the party with me, I knew this function was classy. Then I was told to leave my coat behind. Jeans and a t-shirt would be ok. To me, this made the wine party more a ruffian extension of Fan Fest and less of a proper wine tasting thrown by Nocking Point. Why no weed? Why all the rules?!

As we walked into the convention hall, I noticed there were no drug-smelling guard dogs like during the convention. Ok, so I could have brought weed but, whatever, my car was a thirty second walk away. The wine party staff starts guiding us into the same room as Fan Fest and it becomes clear that this party is 100% a Fan Fest bonus that just happens to be Nocking Point sponsored, not some Deluxe Wine Party Wannabe. We walk in and see the massive section of the convention room that was assigned to celebrities panels was converted into a party area with a band on stage. Like, as we were at the party I could see the three Funko Pop stands that made up the miniscule "shopping" area. I could feel my naughty itch starting to tingle.

When you walk in, you are given a Nocking Point wine glass exclusive to the event. This is your bottomless wine glass for the night. You can go to any wine station and have your glass filled up with Nocking Point wine. You are also given two blue tickets, good for any drinks at the bar. This means either a liquor drink, beer or even a bottle of water. I decide to reward my sobriety at dinner with an immediate glass of wine. Followed by two more. In ten minutes. Wash that down with two shots from the bar and I was good to go. I saw Robbie Amell in the crowd but decided not to bother him. Yes, even drunk I showed some restraint. I knew I had my custom (and autographed from earlier) "Team Robbie" hat on and I didn't want to do anything he would remember, because I would wear this hat again the next day for the professional photo-op.

I avoided Robbie at all costs and with great success. I mean, maybe. To me, I was a ninja. To Robbie, I was probably as subtle as Pennywise with a fist full of balloons. Like, total creep show. Regardless, I assumed there was no contact. His cousin, however, would not be so safe. Stephen Amell had issues getting to the convention early enough to attend both days but he promised on Twitter that he would make it there in time for the wine party. Moments after I finished following Robbie Amell around, we saw a crowd congregating in the corner near one of the wine stations. As promised, Stephen made it in time and was now pouring the wine himself.

I pushed my way to the front but had to wait a few minutes for my turn because a bunch of skanks were trying to cut me in line. After screaming like all the other groupies around me I eventually got Stephen's attention. At first, he smiled at me like any other fan. Then he looked up at my "Team Robbie" hat and laughed. I said, "Sorry I like him more. It's not your fault. I prefer brunettes." He stopped laughing because… well, I made it weird. He asked which wine I wanted (red, white or pink) and I requested pink. Then I realized he could probably tell I was gay because I chose pink wine. Then I realized I probably gave that away when I said I wanted to bang his cousin. Then I realized I was definitely TRASHED. I thanked him and stumbled off.

I took a break from the party and went outside for a cigarette. Then I stopped at my car and smoked a little from the peace pipe. After heading back inside I noticed a panel happening. Wait, WHAT?! Nobody told me the celebrities were gathering on stage for an X-rated panel. Stephen Amell, Robbie Amell, Italia Ricci, John Barrowman and more congregated in the most exciting half-hour panel of the weekend. Since I was drunk and could barely pay attention, I recorded about twenty minutes of it on my phone to watch back later. Once the panel ended, a portion of the crowd left while the real party animals stayed behind. I took this opportunity to run over to the t-shirt stand. While rummaging through my car after dinner, I found a check for $40 that I hadn't deposited yet. My remaining $100 budget was now $140. I figured that was enough for at least one Stephen Amell autograph and a Nocking Point shirt.

There were two shirts on display. One was a light blue t-shirt for the Nocking Point at Fan Fest 2017 Party. The other was a three-quarter length baseball style shirt with Arrow on one side and Case Jones on the other. Those were the two Funko Pops I brought to have Stephen Amell sign and I knew I had to have that shirt to take a cool picture the next day. When I went to the stand, the brunette saleswoman told me the shirts were $25 each. Then she said the Arrow/Casey shirt I had was the last one left and it was a small size. I asked if she would give me a deal and that I would buy the combo shirt in small and the blue Nocking Point shirt in a medium. She said no. I stood there drunk for ten minutes staring at the shirts in sadness.

Then a blonde angel appeared. She said, "Oh, it's the end of the night. I'll tell you what, if you buy that last Arrow/Casey shirt then I'll give you a medium Nocking Point shirt for free." I started jumping up and down with both shirts in my hand and thanked the blonde angel. I only had seven $20 bills left so I handed her two of them. She handed one back and said, "Don't worry about it." I went from one shirt for $25 to two shirts for $20. And this, my friends, is the moment the rest of my convention experience would be completely altered by. I leaned in and asked the angel, "Do you smoke weed?" She appeared confused, then looked around and said, "Well, yeah, sometimes." I told her I'd be back in ten minutes to return the favor. My friends tried to stop me because, you know, they're responsible but I came back ten minutes later with weed.

"Holy shit," she said, "you actually came back." I explained that a Lanister always pays their debts and that I was drunk but she was kind to me so I wanted to thank her. My money was extremely valuable to me since I only had $120 left but I had a bunch of weed so I didn't mind giving $20 worth of it to the nice lady who hooked me up with shirts. She then complimented my custom "Team Robbie" hat and stated that she knows a superfan when she sees one. I told her I'd be at the convention the next day and she told me to look for her. I was informed she would be helping Stephen Amell out at his panel and I asked if she could get me on stage with him. She laughed, said probably not and I left.

The next day I felt bad. My friends had woken up to go to breakfast in the hotel lobby while I took my sweet time waking up with a hangover. They were nice enough, though, to bring me up food when they were done. We left shortly after and headed back to the convention. Though the day before I had the unexpected pleasure of enjoying the majority of the day alone while I went on my celebrity witch hunt, the Sunday of Fan Fest proved why sometimes it's good to stick with your friends. What I didn't really know or get to experience the day before was Heather's disability badge. Apparently, if you're eight months pregnant at the convention you can get a disability badge which allows you to skip the lines like any other handicap person gets to do when they are at a theme park or special function. I have never known such spoils.

The line for entering the building when the event first opens proved to be incredibly long. It would have been if not for Heather's baby belly! We walked right past everyone and right into the convention. Since Stephen had missed out on Saturday, he advised fans he wouldn't leave the convention on Sunday until every autograph desired was signed. He was the biggest star at the convention and he was only there for one day so it should go without saying that his line was MASSIVE. I mean, it would have taken almost three hours to wait in his line. We were told we couldn't immediately skip the line because Stephen had photo-ops coming up (no selfies at the booth to help him save time for more autographs) so we were given a time to come back.

I went to go smoke, came back and we got in the special handicap line. A few moments later we were just a few feet away from Stephen with a very large and very angry mob of peasant fanboys behind us. Some people have to chose to either get an autograph or a picture since waiting in line for three hours means you might miss your photo-op time. For the rich, the handicap and the pregnant, lines are of no concern. We walked up to Stephen, everyone got autographs (I was able to get two because he was only charging $60 and I had exactly $120 left to my name) and we headed over to the photo-op stations. Michelle and I put on our "Team Stephen" and "Team Robbie" hats and got in line. Without Heather by our side, we had to wait with the poor losers of the world. Luckily, Stephen was in a rush so everything was quick.

Michelle and I got our Stephen/Robbie combo picture taken, I threw myself all over Robbie one last time and we went to the printing station. Picture printed, digital copy sent and my day was basically over. Because of the blonde angel's generosity the night before and Stephen Amell's desire to please fans for missing half the convention (which I imagine is why he was only charging $60 an autograph), I was left with exactly the money I needed to get the two Stephen Amell autographs I wanted. The only thing left to do for the day was see Stephen Amell's panel, the crown jewel of convention moments that fans had waited all day for.

Some fans spent several hundred dollars to sit in VIP seats at the panel in nicely organized chairs in front of the stage. The other few thousand fans had to stand around the VIP section like bloodthirsty zombies outside a mall in Dawn of the Dead. This would be the final time Heather's "disability" would come in handy. Because of her, we were able to inch up towards a disability section near the front of the crowds. It was here that I noticed right on stage, as promised, was my blonde angel. I screamed out to her and held my "Team Robbie" hat up in the air. She turned her head, squinted and started laughing once she realized who I was.

My friends were ballistic, shocked that I actually saw Stephen Amell's assistant again and that she saw me in the crowd. I yelled up to her, "Get me on stage!!!" She said she couldn't get people up there and then, because I'm an asshole, I made the "smoking a joint" gesture and told her to think about it. My formerly happy friends were now, once again, disappointed in me. Since I was screaming a conversation between myself and Stephen Amell's assistant, it was viewed as poor taste to very publicly make any mention of weed. I felt embarrassed that my friends were upset so I kept my head down and looked at convention pictures on my phone.

The crowd waited while the blonde angel guided VIP people to the proper place before Stephen was about to come on stage. Even though the disability section is better than the section for normal losers, it's full of people in wheelchairs that feel they deserve to be where the VIP people are. Yes, a disability should get you special treatment but not the same treatment as rich folk that pay hundreds of dollars for close up seats. Or, assholes like me. A few moments later I heard the voice of a blonde angel on the speakers. "Ok, everyone, Stephen's panel is about to start. We still have empty VIP seats. Who wants one?"

I could feel it in my bones, this was the moment I had spent five years and seven conventions prepping for. I grabbed my "Team Robbie" hat, shot it up into the air, and started screaming. "Ok, guy with the Team Robbie hat, come on down!" WHAT?!? I looked at my friends and they looked back at me with their jaws on the floor. I started screaming, then pointed and laughed directly at Travis and Heather. "I TOLD YOU SO, MOTHER FUCKERS!" My friends were shocked, jealous and thrilled for me all at the same time. The battalion of handicap wheelchairs around me were furious, so I climbed over them and the VIP barrier and strutted my way to FOURTH ROW SEATS!!! I turned to the crowd, waved to my friends in the poor people section, took my seat, and prepared for the panel. Justice had been served.

The blonde angel asked, "Anyone else?" I raised my hand again and pointed back to the disability section. The angel looked at me and then to where I pointed. "Is the woman in the 'Team Stephen' hat your friend?" I nodded with a big smile and she said "Team Stephen" could join. Michelle started screaming and ran to me. I thanked her again for letting me join her $100 Stephen/Robbie Amell double photo and for letting me crash her hotel room for free. She then thanked me for getting her into the VIP section and said, "This is why we always invite you." I smiled, held her hand and watched Stephen Amell's panel from my spot in VIP heaven.

After the panel, I left the convention. I had no money and I didn't imagine lightning would strike twice for me. What started as a simple gesture of one man giving a woman some weed in exchange for the kindness of a discount turned into the greatest convention upset in the history of me caring about such things. I pissed off a crowd of handicap people in wheelchairs and a crowd of rich people who paid tons of money for something I was able to sweet talk my way into. Not only was it the greatest convention moment in my history of Con-ing but it validated one very important thing: you should always be who you are. Only by being myself and ignoring the (slightly rational) advice of my friends was I able to win big. Autographs and pictures will never compare to the joy I felt when $20 worth of weed was able to make Fest Fest magic.

I don't suggest you smoke weed. I don't think you should bring illegal substances into a police-controlled environment. I don't think you should stalk celebrities. What I think is you should do what makes you happy, as long as it's legal in at least a few states. Be who you are, be good to your friends and pay it forward when someone does something nice for you. Do your best to keep a filter on with celebrities because they don't deserve your harassment. Then again, neither do you. Don't beat yourself up if you embarrass yourself or say something stupid. The convention gods are watching and your good intentions could be rewarded at any moment. If you want proof, check my Fan Fest pics out on Instagram (@RoseByAnyName); it's where all the memories of my epic Heroes and Villains adventure will live on forever.