Hidden Gems: Sing Street
By Kyle Lee
September 26, 2017
BoxOfficeProphets.com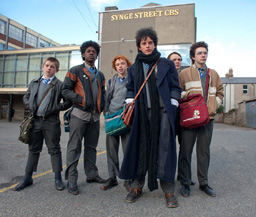 ---
John Carney's Sing Street was one of the most unfairly overlooked movies of 2016. It's the coming-of-age story of Conor (Ferdia Walsh-Peelo), a teenager in 1985 Dublin, Ireland. His family is falling apart, his parents constantly fight, economic times are tough, he's being transferred to a new Catholic school full of bullies and harsh administration, and (as we all do at that age) he's trying to figure out who he is as a person. Conor plays a bit of guitar and writes a bit of poetry, but he doesn't really know who he is yet. What 15-year-old does? Into the mix, as usually happens in these stories, steps "the girl," Raphina. Conor asks her to be in his band's next video, to which she agrees. He then promptly walks away and up to Darren, the only friend he's made at his new school, and says "We need to form a band."

Conor gets lessons in music from his hash smoking college dropout brother Brendan (Jack Reynor), and finds a songwriting partner in multi-instrumentalist Eamon (Mark McKenna). Quickly, the boys form up their band (which they call Sing Street) and even have an original song written for the video Conor invited Raphina to be in, which they cheaply shoot in hodgepodge costumes and makeup. The shoot is a success, the song is actually good, and it leads to more of both happening. Conor, of course, falls hard for Raphina, but she has a boyfriend. One of my favorite moments in the movie is when Conor is recounting to Brendan about seeing Raphina take off with the boyfriend, music blaring. This very brotherly exchange then happens:

Brendan: What was he listening to?
Conor: Genesis.
Brendan: He will not be a problem.
Conor: No?
Brendan: No. No woman can truly love a man who listens to Phil Collins.

And I love that not because I have something against Phil Collins, but because that is exactly the type of surely judgmental thing that a big brother taking his little brother under his wing would say. Brendan speaks in absolutes, and Conor takes in everything Brendan says. He listens to the music Brendan gives him, and then begins taking in the influence of those artists. Brendan gives him a record from The Cure and the next day we see Conor's band walking to school decked out in the pop-goth look of The Cure. And they do that with other musicians too, as Conor takes artistic control of the band, while he and Eamon work together on the musical direction (Eamon tells Conor at one point that he doesn't care what style they play, he just wants to play).

Conor ends up finding himself through the band and through music. It all started because he wanted to impress a pretty girl, but it took hold of him and became a much deeper experience than that eventually. And this is where the movie really shines. I don't remember other fiction movies being able to capture the unexplainable joy and soul connection of playing music together. We can watch great concert documentaries, but never had a movie captured that with characters in a way that spoke to me (as someone who has played music for a long time, both in bands and by myself) until John Carney's 2007 movie Once (which won an Oscar for Best Song in 2008). He then recaptured that magic on a much larger budget with his next movie Begin Again, which is wonderful even if it's not got Once's charm. He then moved on to Sing Street, which is one of the most joyous movies I've ever seen. Carney has a way of playing off the looks between band members, the sideways glances and just the energy between the performers. Like in Once, he got real musicians to play the lead roles, which I think made a huge difference. These guys aren't faking their abilities or their joy. They're just playing these great songs (which Carney co-wrote, alongside his duties as writer/director of the movie) and we feed off their performances.

In addition to the great original songs in the movie, the soundtrack is packed with great 80's tunes from The Cure, Motorhead, The Jam, Joe Jackson, Hall & Oates, and even a new song sung by Maroon 5 frontman Adam Levine (who previously played one of the main supporting roles in Begin Again). This movie is absolutely packed with music. Carney started out as the bass player in the great Irish band The Frames (led by his future Once star Glen Hansard), before leaving to pursue filmmaking. So he has music in his bones, and it has shown in his three brilliant music driven movies.

Carney gets the music so right, but this movie doesn't work if the love story falls flat, and thankfully he also wrote two great lead roles in Conor and Raphina. Raphina isn't just a pretty face, and she isn't a manic-pixie-dream-girl there only to spur Conor's character development. Raphina is a fully well rounded character, played in a beautifully heart felt and vulnerable performance by Lucy Boynton. She has her own arc, her own insecurities and strengths and weaknesses. And Conor loves her through all of it.

What begins as shallow infatuation with the pretty girl deepens as Conor becomes more himself and grows through his music. I'm not sure if this performance is the beginning of a career for Ferdia Walsh-Peelo, since he is a musician first, but it's one of the great coming-of-age lead characters.

One of my favorite sequences is where Conor is trying to rehearse a video shoot at the school for a new song, inspired by Back to the Future (which none of the other students have seen). As he did in Begin Again, John Carney allows a little flight of fancy as the film gets a bit of a sheen to the cinematography and we jump into Conor's dream version of what this video looks like. We're subtly reminded of this in the closing moments of the movie. I won't reveal what happens, in case you haven't seen it, but in the final sequence of the movie, the cinematography gets that little sheen to it again. Is it all happening? Is it a dream? I like to think it's somewhere in the middle. Like maybe there's a bit of older Conor looking back into this moment in his life with a more forgiving filter than it might've really been happening in reality at that moment. Regardless of how you take it, it's a powerful and wonderful ending to a movie that wasn't seen by enough people, but loved by most who saw it. A true Hidden Gem.