5 Ways to Fan Fest: Part One
By George Rose
September 21, 2017
BoxOfficeProphets.com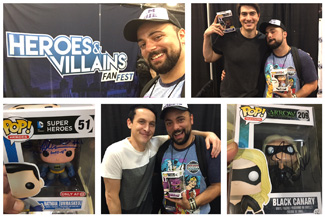 ---
The following two-part series is Rated-R. It is not suitable for children. It contains foul language, sexual situations, alcohol/drug intoxication and a general sense of debauchery. The views and opinions are solely those of the writer. BOP does not endorse the following actions. Do not try this at home or at any convention. Enjoy!

Welcome, everyone, to Heroes and Villains Fan Fest! For those that have read the 5 Ways to Comic Con series, you know I love nerdy conventions and all things pop culture. You also know I have a habit of embarrassing myself in front of celebrities. After my most recent Comic Con had me stealing pictures from the Hulk and talking to Jean Gray about her five inch tranny vangina, I started to think… maybe there's something wrong with me. Am I bipolar? Schizophrenic? I mean, what sick person thinks it's ok to do and say whatever they want?

Have you ever seen that episode of South Park where Cartman pretends he has Tourettes so that he can be allowed to curse in public? After living life long enough without a filter, he eventually finds he can't stop himself from saying his darkest secrets. Maybe that's my problem. I curse and fornicate and indulge myself in whatever pleases me, and then I'm surprised when I black out in front of celebrities and word vomit all over them. That's why after my last Comic Con experience I was trying to be good, trying to replace "mother fucker" with "mother trucker" in my everyday speach. The more I tried, the more my spirit died.

On Saturday, September 16, 2017 I drove an hour away to Secaucus, NJ for Fan Fest and prepared mentally for how to act. I was running late, arriving closer to noon instead of the 10:30am start time. My friends Travis, Heather and Michelle were already there having spent the night at a nearby hotel so they could get up at sunrise and be among the first to enter. When I arrived, they had already gotten Robbie Amell and Brandon Routh's autographs. They were about to watch a panel so I decided to take that time to explore by myself and figure out a gameplan. What I knew was that Stephen Amell would be there Sunday, I had a handful of celebs I wanted to get done on Saturday (Robbie Amell, Katie Cassidy, Brandon Routh, David Mazouz and Robin Lord Taylor), and I only had $500 to spend for shopping and celebs.

Right off the bat I learned something quick about this convention; there was basically no shopping to be done. This convention was so small that the entire shopping area consisted of three small vendors selling Funko Pops (see, I told you they were the convention autographing staple), two small shirt vendors, and maybe a handful of people selling artwork. To put that into persepective, that's about ONE ISLE of shopping at any other convention. It was about 1/10 of what Philly Comic Con offers and 1/30 of what New York Comic Con has. At first, this upset me. Did they really think people were only showing up to this convention to talk to celebrities? Half the fun of these events is the shopping. I had mentally given up just as quickly as I had arrived.

Then I remembered my $500 budget. The most autographs I've gotten at one convention is four celebs (Philly Comic Con 2017). At this show I was hoping to get almost ten autographs from six celebrities. With the average price of autographs being $50, that doesn't leave much money for photo-ops or shopping. Since I already bought most of my Funko Pops in advance to have ready for the convention, I didn't need anything new to get signed. If there were no vendors selling cool things, then I wouldn't feel bad passing up on those cool collectibles because I'm too poor to bring a more flexible $1,000 budget. No shopping meant I could spend almost the entire $500 on celebs and do some real damage. Once I figured this out, I headed right for the autographing area at the far back wall of the show floor.

The first celeb I saw was David Mazouz, little Bruce Wayne from the show Gotham. I've never met a teenage celeb before and I was nervous I would immediately be arrested for harassing a minor. I could tell he was a nice guy from the way he smiled and greeted fans, so I took a deep breath and got in his line. Ten minutes later, I was at the front. The sign said $40 for an autograph, $40 for a selfie or $70 for the combo. Being one of the smaller celebs at the show and one I imagine will be around for many years to come (since he's only 16 years old), I figured I'd skip a picture this time around. He'll be much hotter in a few years, I'll do it then. For now, I went up and shook his hand and told him he has the coolest job in the world. He agreed and took my Batman Unmasked Funko Pop from me. I told him I hope he is the first of many Batmen I can get to sign it and he said that was a great idea. I told him to stay humble and left.

Ok, that was pretty harmless. I was feeling proud of myself for not harassing a child because, you know, that's something I have to struggle not to do. Things like that don't come easily to me. Knowing that I probably had a limit to staying classy, I figured I should keep things moving. Next up was Robbie Amell, the one person I was most excited to meet at this convention. Much to my disappointment and to his protection, he was signing autographs with his wife, Italia Ricci. She was stunning, he was gorgeous and I didn't know if I wanted to kill her or join in on their romance. They had just gotten back from professional photo-ops so their line wasn't full yet.

$40 autograph, $30 selfie or $60 combo. I gave the assistant $100 so I could get a picture and two autographs. Robbie and Italia took turns helping each other. If someone was there for Robbie, Italia took the picture, and vice versa. I gave Italia my phone and she took the picture of me and Robbie horizontally. Just before she handed it back I said, "Oh, I was hoping for a vertical picture so that I can get this whole work of art in the shot." I waved my hand over Robbie's statuesque frame and she laughed. As Robbie was signing my custom "Team Robbie" hat and my Firestorm Pop, I told Italia how lucky she was to be married to Robbie and the two laughed. I also told Robbie he was the hotter Amell and said I'd see him again on Sunday for the Amell family photo-op. They were both so sweet I figured I'd leave before I offended them.

Next up, Robin Lord Taylor (Penguin from the TV show Gotham). His line was massive about an hour earlier but had been cut off so he could do photo-ops. However, they cut it off too soon so he had extra time before pictures. This allowed me to get in a very short line with only a five minute wait. Sometimes you can avoid massive lines if you try again in a little bit and this is one of those times where it paid off. $40 autograph, $40 selfie or $70 combo. Since there was no shopping at this event, I saw this as a chance to get an extra picture I didn't previously think I'd get. I told Robin that I'm happy there are gay actors working in comic book shows and that he was the only celeb I was buying a picture from (a lie).

I didn't mean to lie, I just wanted him to feel good. I could tell Classy George was starting to fade so I had to act fast. I handed Robin my Funko Pop and he signed it. Then he asked where I lived. I have never been asked that before by a celeb. I told him I live near Philadelphia and he said he lived in New York. I said I'd be in NY in October for Comic Con and he winked at me. I felt like he was trying to tell me something and I wondered if I was going to have a foursome with him in October with both of our partners. I'm not against this prospect but I'm also not a mind reader. I get very awkward around other gay men because I don't know what they're thinking or who wants to bang who. I gave him another hug, felt a nice squeeze on my back, and knew we'd have sex together one day. I said I'd see him in October and went on my way.

Next up was Katie Cassidy. Again, I got to her line just as she was returning from photo-ops so there was only a few people ahead of me. Since she was one of the bigger celebs, she was charging $50 for an autograph. I took one look at her and, although she was beautiful, she was barely recognizable. She was BONE THIN, a far cry from the healthy looking young woman that starred in Monte Carlo in 2011. I decided a picture wasn't worth the extra $30 since I didn't know this version of Katie and I had already spent over $200 in under two hours. I told her assistant I wanted just an autograph and started to hand him $50. Instead, he asked for my Black Canary Funko Pop and put a post-it-note on it saying "autograph." Then Katie flagged me down (she seemed to be in a rush), and I went over to her. I started gushing my love to her and said, "I didn't know you had any weight to lose but you are so skinny!" Ugh, I'm so stupid.

I know, I know… you shouldn't talk about a woman's weight. My filter was slipping fast but Katie rebounded nicely. "Oh, well I do lots of spin classes," she said and gave me a big hug. I was so relieved she didn't allow me to be a dirtbag who had the audacity to talk about her figure and allowed me to just be a nice guy who told someone they were looking slim. She must have been going for that effect because she was happy with the result. If she was losing weight because of, say, battling cancer than maybe my comments wouldn't have sat as well. As it was, she took it as a compliment and thanked me. I walked off and looked down at my Funko. I was sad she signed it with a black marker since the Pop is black, so the autograph didn't stand out. Then I saw the $50 still in my hand. Katie has pulled me away from the assistant before I could pay and nobody noticed. I looked around and didn't see any security chasing me down.

If I had asked for the $80 autograph/selfie combo then they definitely would have made sure to collect my money. I took this as a gift from God and decided to splurge on the next celebrity: Brandon Routh. I had always known I was going to get two autographs from him but decided to tag on a selfie purchase. It was perfect timing too because Travis had just joined up with me after attending a few panels earlier. This meant I could have him take the picture instead of an assistant. If a friend is there to hold the camera, they can take multiple pictures. This has less to do with scoring "free pictures" and more to do with making sure you get at least one picture that looks great. This line required a longer wait but Brandon was well worth it. I immediately told him he should still be Superman and he thanked me. Then I told him I didn't understand why nobody liked his Superman and he seemed less pleased. Oh no, my filter was fading!

I handed the assistant $120 ($70 combo plus $50 second signing) and then handed Brandon my two Funko Pops (Clark Kent and Todd Ingram). He signed both and got up to take a picture with me at the booth. Travis took my phone and started taking pictures. This is where I blacked out. Suddenly, the people in line start laughing. Brandon's assistant starts laughing. Travis is rapid fire taking pictures. I look up and Brandon thanks me for coming. I walk off with Travis and snatch my phone from him. There's about a dozen pictures and they clearly tell a story. I start with a smile, lean in closer, SMELL HIS ARMPIT, throw my head back and roll my eyes in bliss, and then rest my head back on his shoulders as if to cuddle. I immediately take the pictures and turn them into a slideshow, which I have now watched like a hundred times.

Travis and I headed back to the "shopping" area and picked out a few new Funko Pops before going back to the hotel. Then I also grabbed one of the few event exclusive shirts available ($25) that said "A hero in the streets and a villain in the sheets." I mean, how could I not buy that shirt? It was basically made just for me! Finally, we left the convention for the day. After five celebrity sightings and some shopping, I had spent about $400 and I still had another full day of the convention. You'd think this meant I had blown my whole load early and would have nothing fun to tell you about the subsequent 24 hours, right? No, not even close. There was Stephen Amell's private party that evening, hosted by his Nocking Point wine company, with the promise of more celebrity sightings. Wine + George + Celebs = you'll have to wait and see!

Check back next week to see how Heroes and Villains Fan Fest concludes. I'll give you a quick post credit teaser, too, if it helps. What does George (that's me), $20 worth of weed and Stephen Amell's assistant have in common? Well, it just might be the single best convention experience ever to come out of a poor little degenerate like me. Stay tuned!