They Shoot Oscar Prognosticators, Don't They?
Three Billboards Heads to Best Picture Race After TIFF Win
By J. Don Birnam
September 19, 2017
BoxOfficeProphets.com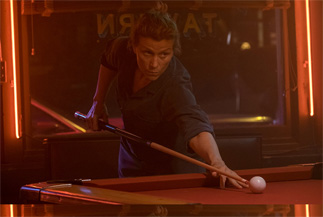 ---
The dark humor analysis of small town woes, Three Billboards Outside Ebbing, Missouri, was announced as the winner of the coveted People's Choice Award at the Toronto International Film Festival, placing it squarely in the Best Picture conversation and signaling the official kick-off of what promises to be a nail-biting awards season campaign.

As you likely know, past winners of this award almost always get a Best Picture nomination, and they include La La Land last year and Room the year prior. Although a win is harder to come by from a Toronto award alone (12 Years a Slave and The King's Speech both did it), the name of the game is to get in to the lineup and take your chances there. At the very least, it is a sign of competitiveness amongst the contenders, an indication that the movie is having a positive reception amongst audiences, and that still matters to some degree in the awards conversation.

Coming in second and third respectively were the Tonya Harding dramedy I, Tonya, and the gay love story Call Me By Your Name, which I discussed in our last column. Both are obvious crowd pleasers and should find some traction with Oscar voters. Meanwhile, the people behind films like The Shape of Water have to be disappointed. It scored top accolades at Venice and was received positively at Telluride, only to not even place with audiences in Toronto. Still, last year's Moonlight did not connect with Toronto audiences and still won it all.

In other categories, the documentary Faces Places took the top prize, making that a surefire contender for that category at the Oscars. The James Franco satire The Disaster Artist won second place at the People's Choice midnight madness series, pretty much ending any silly awards conversation against what will be a niche movie and nothing else.

So it seems that we really have a wide-open Best Picture race in our hands, with no obvious contender emerging from these ashes. That does not mean that one cannot sprout up in New York next month (think of the Richard Linklater Last Flag Flying), or that voters will not coalesce around something we have just not noticed yet. But for now, it is anyone's game.

I'll take a look now at some of the other TIFF movies I saw and what we can expect their Oscar chances to be.

Mother!: Too Divisive To Figure Seriously?

Darren Aronofsky's Biblical allegory has divided audiences to the core since its release on Friday, pretty much dooming any chances it has at serious Oscar consideration. It is too bad, because the movie has generated more chatter and debate than most other Oscar films have in the last few years. The story is purportedly about Jennifer Lawrence fending off home intruders as her permissive husband, Javier Bardem, lets hordes of them in, starting with Michelle Pfeiffer and Ed Harris. Things go wacky, as they do in Aronofsky's films, but the director proves once more that he is not afraid to push the envelope in his craft. Many people, even most, may not connect with what he is telling us, but that does not mean that Aronofsky's vision is not worth admiring on its own. At least he has the courage to get there.

Buoyed by a superb performance by Lawrence as well as impeccably artistic craft, the movie deserves more consideration than it will likely get at the Oscars. A shutout is what I expect, but here are some of the potential categories in which a crafty branch could sneak it in.

Oscar potential: Best Actress (Lawrence); Best Supporting Actress (Pfeiffer); Best Editing; Best Sound

Three Billboards Outside Ebbing, Missouri: Clearly a Force to Be Reckoned With

The big winner at TIFF, meanwhile, is a much easier, much more accessible story about a woman who loses her daughter tragically and takes matters into her own hands when the small-town sheriff department does not solve the murder as fast as she would like. With a thankless performance by past winner Frances McDormand, the movie examines at least superficially themes about race, police brutality, good vs. evil, karma, and doing the right thing. It refuses to show clear good and bad guys - indeed, the main antagonist, a deputy sheriff played superbly by Sam Rockwell - is surprisingly sympathetic, while McDormand's character is surprisingly dislikable.

The supporting cast, including last year's breakout star Lucas Hedges and Woody Harrelson, seems tailor-made for a SAG ensemble nomination, given that it also includes Peter Dinklage. The story is dark, funny, and admittedly moving. It is not challenging at a profound level, but it definitely has some horrifying moments that enable us to call it lite-plus. It is definitely a contender to look out for.

Oscar potential: Best Picture, Best Director, Best Actress (McDormand), Best Supporting Actor (Rockwell), Best Screenplay, Best Editing

Breathe: Sweeping Epic Could Help Andrew Garfield In Weak Field

In a weak Best Actor field, it is anyone's game to fill up the roster of actors who will likely lose the top prize to Gary Oldman come February. In the directorial debut by Andy Serkis, star and last year's nominee Andrew Garfield could find himself back in the list of five for the second consecutive year.

In this film, he plays a British man who is paralyzed by polio and confined, seemingly, to bed for the rest of his likely short life. But, determined to struggle against this cruel condemnation, he struggles for an alternative with the help of his wife, played by Claire Foy. What follows is a moving tale of survival, perseverance, and determination. It is inspiring, moving, and tear-jerking. It also includes sweeping landscapes (the first third or so is set in Kenya), has a working score, and includes period costumes. It is the type of feel good epic that would go all the way back in the day when movies like The English Patient won. Today, it is likely not even a contender, but it could also be the Lion of the year's race, an undoubted crowd-pleaser that leaves everyone sobbing.

At the very least, Garfield should have no trouble getting in.

Oscar potential: Best Actor (Garfield), Best Screenplay, Best Score, Best Cinematography

The Current War: Another Weinstein Miss?

Speaking of Best Actors, Benedict Cumberbatch is at it again with the semi-biographical film about Thomas Edison, The Current War. There, he plays the surprisingly dislikable Edison as he squares off with George Westinghouse (Michael Shannon, playing himself again), as the two battle for control of the electrical grids of American towns and beyond.

But for such an interesting story, the movie is strangely devoid of creative energy. The motivations behind the characters, both hard to connect to as it is, is never offered, and the movie just proceeds as a series of vignettes, told as if representing small tiffs between the two. There are great costumes and sets, a sweeping score, and good camera work. A supporting cast that includes Tom Holland shows up, but most of it adds up to really nothing. I would be surprised to see this as a serious contender in any category but it does have Harvey pushing it, so it seems like a nod here or there should not be impossible to come by.

Oscar potential: Best Actor (Cumberbatch), Best Score, Best Costumes, Best Cinematography, Best Art Direction

Roman J. Israel, Esq.: Denzel At Most

And is if you needed more evidence that the Best Actor race is very weak this year, look no further than Denzel Washington's legal drama, Roman J. Israel, Esq. Trying to capitalize on quirky characters like Dustin Hoffman's in Rain Man, the fictionalized story follows a supposedly activist attorney and his goings about after he loses his law partner and has to work for a bigger corporation. But while Washington gives it his best, the movie never coalesces around a coherent theme, and it certainly never actually makes you root for Roman as the good guy against the machine. Instead, you see little of his dedication to others, and a lot about his dedication to himself.

The movie is by Jon Gilroy, who directed Nightcrawler, and as such is also a story about Los Angeles. But it is a step back for the visionary director, who is unable to repeat the zeitgeist of that movie in this much clunkier story that I suspect will not figure at all in the awards race, except maybe if the lack of options boosts Denzel in.

Oscar potential: Best Actor (Washington)

If you like what you read follow me on social media. Twitter @jdonbirnam and Instagram @awards_predix.