Weekend Wrap-Up
Mother! Flails and Reminds of Ugly Summer; It Dominates Again
By John Hamann
September 17, 2017
BoxOfficeProphets.com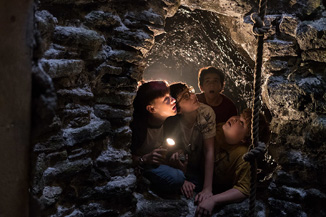 ---
Anybody else still coming to terms with the $123.4 million pulled in by It last weekend? By an R-rated horror flick in September?

Despite all the contradictions, we weren't dreaming. It pulled in $6.3 million more than was estimated last weekend ($117.2 million), moving it past Shrek the Third and Hunger Games: Mockingjay Part 1 to become the 27th biggest opener of all time. The misguided estimate wasn't probably all that wrong; it likely just didn't anticipate the massive swell of good word-of-mouth, which made Sunday play more like a mini-Saturday. Reality should come this weekend, right? Remember Jason Voorhees and the terrifying 80% fall for the rehash of Friday the 13th in its second weekend? The bigger they come the harder they fall… right?

Well, I think we need to park our horror movie biases this weekend, as the clown appears to be staying in charge while becoming Halloween's favorite costume by a country mile (if you don't like clowns, I would stay home on Halloween, really). So with summer shaken off with a blockbuster horror release, the new, hot film of the weekend is – another horror movie? Jennifer Lawrence returns to her beau Darren Aronofsky in Mother!, which doesn't look like quite as much of a straight ahead scare fest as It. Lastly, Lionsgate opens American Assassin, a new vehicle for Michael Keaton, and a film that keeps Taylor Kitsch and Dylan O'Brien from hitting the food bank.

Number one – again by a good old fashioned country mile – is It, Warner Bros. and New Line's well-made, well-marketed horror flick, that was made with the R-rating in mind, just like Deadpool (you know… for kids!). Without trying to fit a round ball in a square hole, the filmmakers of It have hit the sweet spot, and are now driving people to the theater through the image of a very, very scary clown. It made $35 million over the Monday-to-Thursday period, very close to Deadpool's $38 million. Friday came and all bets were off. Would It follow its horror brethren and take the big dive? Or would it play like a well-reviewed blockbuster that falls 50-60% in its second weekend?

The follow-up Friday amount came in at $19.2 million ($3 million more than Deadpool – a film that opened $10 million higher). First off, yes, that is a 62% drop compared to the opening Friday, but of course we have those pesky Thursday previews getting in the way, $13.5 million worth. If those are pulled out from last Friday's $50.4 million opening day, the drop from $37 million isn't so bad at all. This weekend's Friday figure shows us that 62% is likely the worst that It will see this weekend.

It's overall weekend score came in at an out-of-this-world $60 million, breaking another record for best second weekend by an R-rated film, besting Deadpool's $56.5 million. The second weekend take put It in the same ballpark as Toy Story 3 and The Hunger Games, and It also beat Wonder Woman's $58.5 million second weekend. Tracking estimates were looking for $50 million for the second weekend of It, so beating tracking by $10 million on a second weekend estimate is the absolute definition of ludicrous. Apparently, racking firms had put too much horror in their It recipe and not enough blockbuster. Be real for a second. Theater owners have been starved by Hollywood over the summer. How closely do you think they are checking ID's for this creature-feature that stars a bunch of kids?

The weekend-to-weekend percentage drop for It came in at a stellar -51.4%, considering that horror films are equated with the big second weekend drop. Four of the ten biggest drops for films on over 2,500 screens were horror – Friday the 13th (80%), The Purge (76%), Texas Chainsaw 3D (76%) and A Nightmare on Elm Street (72%) – and obviously, these are all remakes except The Purge. The remake of It changes the canvas from TV to film where anything goes, and Warner Bros. and New Line have an extremely lucrative property, and hopefully won't blow it by turning what should be two films into three.

It cost the movie's owner Warner Bros., the distributor New Line, and producer Rat Pac/Dune Entertainment a comparably tiny $35 million to make, so like Deadpool ($58 million budget) It was likely making real money after two days of release when looking at worldwide figures. The domestic gross is towering over the movie's budget, as it stands at $218.7 million already. Overseas is the surprise for me. It brought the overseas total up to $152.6 million this weekend, giving It a worldwide score of $371.3 million after only 10 days of release. The question on everyone's mind is how big will It get? Deadpool made $363 million domestically, but its holds in its later weekends won't happen for It (I don't think). I do think we will have our first $300 million domestic horror film though, and a sequel that can debut amazingly. It is one of those very special movies that doesn't come around very often. Treasure It. See It.

For everyone who thought Mother! was going to come in second, you are plain wrong. I guess Jennifer Lawrence doesn't draw them like she used to two years ago? Lawrence has been replaced by the even sexier Michael Keaton (and Taylor Kitsch and Dylan O'Brien, I guess) in American Assassins, which takes the silver this weekend. Compared to It, American Assassins's weekend is downright pale, as it had an opening day of $5.8 million, which led to a weekend gross of $14.8 million, and carrying a whiff of the scariest summer in the box office record book. Out to 3,156 venues, Lionsgate chose to go quite wide with this one, and I guess it paid off. Lionsgate likely sold off any foreign rights it could on American Assassins, further reducing its financial risk ($33 million budget - plus marketing of course).

For Michael Keaton, this is enough to keep the roll going, I think, as it gets him past The Founder (blame Weinstein not Keaton). At IMDb, he has nothing listed between American Assassins and Dumbo, which comes out in 2019 by way of Tim Burton – reuniting Keaton and Burton for the first time since Beetlejuice in 1988. Really, though, American Assassins is O'Brien's film, his comeback after breaking a leg making the upcoming Maze Runner threequel. This kid is a nose away from stardom, but he needs to find something bigger than AA or even The Death Cure, as that franchise feels like its heading towards the Divergent zone – where it eventually hits the cliff, and is never seen or heard from again (imagine the car going off the cliff, and the driver yelling, "we are going to turn the franchise into a TV shoooowwwwww'"as it plummets to the beach below and explodes into a zillion tiny pieces).

American Assassins had to do it on star power, as it didn't have much else going for it. Reviews weren't great, but if you were expecting high art from a Dylan O'Brien film, you should check your head. RottenTomatoes has a score of 35% fresh at the time of this writing, with "top critics" at a slightly better 38%. The Cinemascore was decent at a B+, which may help this one stay relevant as It counter-programming next weekend. Now, before we move on, consider that American Assassins had about half the positive reviews that Mother! has, but a much, much better Cinemascore.

Mother! is third, earning only $7.5 million and floundering below American Assassins. Mother! is directed by Darren Aronofsky (PI, Requiem for a Dream, Black Swan), so one would expect a brilliant film from a great director. Aronofsky goes more for true horror this weekend, versus the thriller Black Swan, for which Natalie Portman won an Oscar, and from which Fox Searchlight made $329 million against a $13 million budget. Following the Black Swan script, Aronofsky brings in his fangirl Lawrence, who jumps in without reading it. Now it's got an award winning director, an award winning writer, and an award-winning actress – however, only one of those three has read the script. IMDb's short form synopsis says, "A couple's relationship is tested when uninvited guests arrive at their home, disrupting their tranquil existence" – but that's not all there is to it, right? The odd marketing just made this one odder, so instead of audiences attending in droves, they decided to stay away.

Obviously, it didn't help that It was pounding around like a 5,000-foot Godzilla clown, vacuuming up all the horror dollars that were out there. Paramount picked a terrible release date, as a simple Google search would have showed the foothold that It already had when they chose the release date. Reviews were actually pretty good – currently at 68% and dropping, as Middle America and web reviewers get a hold of Mother! – but "top critics" were much higher at 76% fresh, indicating the strain between critics who review for a living and those that just like to see a good movie. That was shown brilliantly by the Cinemascore, which came in an F, the lowest grade you can get, and one seen even less than the rare A+. Word-of-mouth stands to be disastrous, as this will not be getting the Black Swan legs that were predicted for Mother! prior to release. I wouldn't be surprised if it failed to make its $30 million budget back (plus marketing costs). Last, that likely means no trip to the Oscars for JLaw, as her next big hope is Red Sparrow, which isn't opening until 2018.

The rest of the top ten is a sad sack of retirement home losers. Last weekend's second place film, Reese Witherspoon's Home Again, drops 38% and earns $5.3 million over the weekend. It was made for $12 million and has now earned $17.1 million. Former three-time winner as top flick, The Hitman's Bodyguard, earned $3.6 million this weekend and fell 26%. That one has earned $70.4 million at the domestic box office against a $30 million budget.

Wind River got a nice build up and peaked at $6 million over Labor Day weekend, but has since come back down to earth, this weekend earning $2.55 million. The good news, though, is that the $11 million film has now earned $29.1 million. Annabelle: Creation didn't get hammered as badly by It as one might think – last weekend dropping 47%, and this weekend 35%, with a gross of $99.9 million. It's going to need another day or two to crack $100 million.

Overall, It continues to make the box office comparable versus last year, but had it tanked, we would still be in the ugliest streak since Jesus was kid. The top 12 films this weekend earned $103.7 million, way up from the $75 million earned last year when Sully led for the second time, and three promising openers all failed to punch above $10 million. Next weekend brings two biggies in the Kingsman sequel and The LEGO Ninjago Movie, and another horror title in Friend Request (not a great title, sorry). These three will have to compete with year ago totals that included The Magnificent Seven's $34.7 million and Storks' $21.3 million.