Weekend Forecast for September 8-10, 2017
By Reagen Sulewski
September 8, 2017
BoxOfficeProphets.com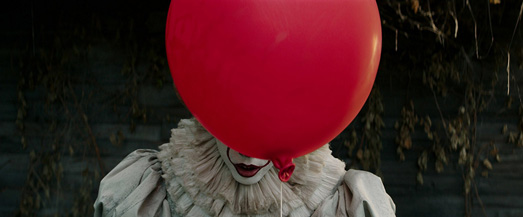 ---
Last weekend avoided an ignominious record, thanks to an unusually large holdover over Labor Day Weekend. As we enter into the fall season, the horribleness of August gets left quickly behind, and the other kind of record, the good one, is on the line right away.

September's opening weekend record is a measly $48 million, held by none other than Hotel Transylvania 2, while the "fall" record (basically, September plus October) is $55 million, held by Gravity. Both of those marks seem set to be smashed this weekend with one of the more reliable genres out there, horror.

A remake of Stephen King's coulrophobic classic It is set to dominate the weekend, hitting the big screen following a 1990 miniseries that was... OK. Adapting about half of King's doorstop of a novel, it's the story of seven young teens in a Maine town (here set in the late '80s, so cue the Stranger Things comparisons) that is seemingly cursed by a clown named Pennywise who lives in the sewers and specializes in kidnapping children. After one of the seven's younger brother is taken, this group (the "Loser Club" thanks to their outcast status and some heavy bullying in school) set out to try and rid his toxic influence from the town forever.

While it's one of King's best and scariest books, its biggest strength is its coming-of-age passages, something he was especially strong at writing at the time (pair this with Stand By Me, though with more overt horror and supernatural tendencies). Director Andy Muschietti (of Mama fame) seems a natural choice behind the camera, while Cary Fukunaga (of True Detective) as one of the film's writers also points to a strong potential. The film's trailers seem to show that they've captured the creeping dread of the book while still pairing this with real characters and the portrait of a sick little town. King's long been able to point out the rot behind the facade and this is one of his better efforts.

The cast is mostly a group of unknowns, with Bill Skarsgard looking like an effective Pennywise. The kids in the cast are naturally less accomplished, although Finn Wolfhard of Stranger Things is recognizable. Of course, if you're going to a horror film because of a specific child actor, we should probably talk over here in this room.

It is the rare prestige horror film and comes with blockbuster hype. Now, we just got out of a summer that had a miserable performance from a Stephen King adaptation, but where The Dark Tower went light on content, turning seven books into one 90 minute movie, It gives the material some breathing room leaving space for a natural sequel (my suggestion: Itt). Reviews are also pretty spectacular and have definitely started to build its hype. Depending on how you define horror, I don't think we're looking at a record for that genre, but a very strong showing of about $63 million could be in store.

The lone other new wide release is Home Again, a wish-fulfillment rom-com starring Reese Witherspoon. Following her divorce from Michael Sheen, Witherspoon brings home three aspiring young filmmakers, starts sleeping with the cutest one, and lets the others dote on her now awesome lifestyle and oh yeah, her ex still adores her. Meanwhile, the trials and tribulations of the champagne set become monumental.

It's directed by Hallie Meyers-Shyer, daughter of Nancy Meyers, and it has all the same attributes of Meyers' middle-of-the-road films like Something's Gotta Give and It's Complicated, just 15 years earlier in age group. And while the rom-com may not totally be dead, it's on life-support, and this appears to be a rather dismal edition of it. I'd expect just $7 million this weekend.

Despite a tick up thanks to there just being nothing else, don't expect last weekend's holdovers to show us much of anything. The Hitman's Bodyguard was an unlikely three-weekend winner (doing so with only $55 million in the bank) and took in just over $10 million last weekend. Watch for a big fall to around $5 million and a destination of about $75 million domestic.

The only other real hope for relevance is Wind River, which expands slightly. The acclaimed thriller has brought in about $20 million so far, sneaking under the radar and could build further if an awards buzz materializes (though we're still a little far out for that). $5 million is possible, though it should fall just short.