September 2017 Box Office Forecast
By Michael Lynderey
September 7, 2017
BoxOfficeProphets.com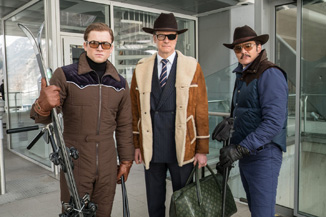 ---
Stephen King's It will plunge through the first half of September 2017 with an iron-clawed hand and gaping red-tinted jaw, though the month's two big sequels could try and put up a fight. Elsewhere down the theatre hall, Oscar season begins in full, and I think this month can break the nomination deficit of recent Septembers.

1. It (September 8th)
With apologies to Ronald McDonald, Stephen King's It stars perhaps the most famous clown in modern pop culture history, and hits the big screen for the first time, after a long, dry, summer, and months of trailers, ads, stills, and mounting anticipation. One line from the poster has become so famous that I can already imagine the Scary Movie parody, wherein the murderous clown encounters an obese child, and pronounces "you'll float too!" before taking it back ("in your case, no guarantees").

King's work has inspired innumerable adaptations, many successful, all interesting in one way or the other. This It is based on King's 1986 book, and is thus basically a remake of the 1990 mini-series that seems to have been an essential part of the childhood of much of the North American millennial population (though I didn't see it until two months ago, oddly). The various frightful tracking estimates for It 2017 - $50 million opening! No, $60 million!, and onwards - reflect a pent-up desire to revisit ghoulish younger years on the big screen.

The mini-series was a reasonable entertainment with a perfect format for two nights of airing, split into halves, the first combining scenes of adult It survivors and their childhood flashbacks, and the second restricted only to the grown-ups' plight. The film focuses only on the kids, with a second one featuring their adult versions slated for production soon enough (let the fancasting begin, of course).
The setting of late 1950s Americana is moved forward in time about 30 years, though the clown still haunts King's trademark Maine, where, as the material suggests, he has lived since time immemorial (that's a lot of frightened dinosaurs who floated, too). A group of plucky and socially disadvantaged children must again unite to combat the hissing Pennywise, and so this is also the rare R-rated horror film specifically starring the genre's most protected class of victims, children. The role played by the late Jonathan Brandis (RIP) is essayed here by Jaeden Lieberher, the plucky child actor who stood up to Bill Murray in St. Vincent and most recently defeated abusive stepfather Dean Norris in The Book of Henry, which was fascinating if overly nutty. I think Jaeden has what it takes to save the world again. The rest of the kids are mostly newcomers, except for Finn Wolfhard of Stranger Things, who is here thrust back into the 1980s.

The new It is directed by Andy Muschietti, previously of Mama, the 2013 horror film in which a punk-rock Jessica Chastain fought off a ghostly grotesque (spoiler: it was a draw). The mini-series' Pennywise was played by Tim Curry in one of his top five most memorable roles (a complement to both his career and the film, of course), and here, the role is taken over by Bill Skarsgård, whose work has thus far been restricted mostly to television and Swedish films, and who should get a nice bump out of this role, even through all the make-up (Will Poulter had been cast before the original director left, indicating that the clown's age was always going to ring closer to pubescent).

Given all the craziness in the world today, It may well outgross Mama's entire run in three or four nights; especially with a visual style and flash advertising that reminds me of The Texas Chainsaw Massacre, the 2003 remake from New Line Cinema, the studio that's also behind It (shoutout to the recently deceased Tobe Hooper, director of the original Chainsaw). There've been a lot of remakes since, but none have picked the right material at the right time quite like it.

Opening weekend: $73 million / Total gross: $151 million

2. Kingsman: The Golden Circle (September 22nd)
Studios seem to have pegged September's fourth frame as a weekend that wouldn't look too out of place in the middle of summer, and so we get a pair of sequels to some of the biggest surprise hits of recent years.

The first Kingsman was a parody and collage of such English preoccupations as the private school system, the James Bond mythos, and intractable class boundaries. All of that is boring, of course, but the movie made it kind of fun, if a little nasty, and so North America carried it from a $36 million first weekend to a $128m total.

If you liked that film, then the team is all here, again. Matthew Vaughn re-directs. Breakout star Taron Egerton is the lead, now a more seasoned spy, with a bigger pair of glasses. Mark Strong is the always reliable assister, and, oh, Colin Firth returns, with what I assume must be one heck of an explanation (he was shot point-blank in the face, and now wears an eye-patch, which does make a certain amount of sense).

The setting moves from English crypts and manors to the United States, though is boringly devoid of any incendiary and topical political references. We do get Halle Berry, who's been almost totally absent from the screen for too long, in what I hope is a juicy role; along with Jeff Bridges, Channing Tatum, and Julianne Moore as other Americans, some good, some bad, all potential cannon-fodder for Vaughn's fondness for violent action (lots of eye patches to be handed out for part 3).

Kingsman: The Golden Circle was moved from a June release date and into September, which is okay, now that Summer doesn't seem to inspire any more consumer attendance than, say, winter, spring, fall, or any other seasons that may be common around your neck of the woods. The first film was a reasonable hit playing opposite the more richly attended Fifty Shades of Gray (which finished with $162 million). They're both back this year, of course, but Kingsman, Jr. has a chance to overtake the spawn of S&M's $114m total. The trailer opens with some vintage Frank Sinatra, the reviews could be good (or they could hate it), and the last action film blockbuster was practically months ago.

Oh, and despite what I said, Kingsman is actually opening on the very last day of summer. It still counts.
Opening weekend: $41 million / Total gross: $125 million

3. The Lego Ninjago Movie (September 22nd)
The year's second Lego movie switches over to mocking and / or precisely re-enacting a whole new set of genre tropes, as Dave Franco stars in the Chris Pratt role, voicing a western apprentice living in an Asian metropolis (um....). The teen (?) discovers that he is the chosen one, genealogically speaking, as the son of a Very Important Person (voiced by Justin Theroux, who is also important), and will with any luck fulfill the destiny prophecy holds for him (for more information on this plot element, the very special young man who rather easily shakes up a conflict that long predates him, see The Dark Tower, Spider-Man, Kingsman, and any number of films released in the last three months alone. This happens a lot).

The dad looks like a particularly demonic transformer, but doesn't seem nearly as rude, and the son is just lucky to take more after mom (she's voiced by Olivia Munn). There's a punchy supporting cast assembled here, in the tradition of other CGI behemoths - Jackie Chan in a mentor role, Michael Peña and Abbi Jacobson as warrior siblings, Fred Armisen as the weird one, and so on. Newsmakers Chris Miller & Phil Lord directed the first Lego movie, and as with its first spin-off, The Lego Batman Movie, they at least return to produce.

Their Lego movie made a lot of money ($257m!) for discernible reasons that are nevertheless still alien to me, while Lego Batman grossed $175 million, and was thus successful enough to end up only the fifth lowest grossing Batman movie (yes, in this tally, aside from the obvious sequels, I'm counting 1966 Batman as well as Batman: Mask of the Phantasm, which was just about the only film in the franchise that the Lego version failed to sneak in a reference to - for shame!).

Naturally, I'd assume Lego 3's box office will trickle down just a bit more, though probably not so much so as to not guarantee this September a rare-for-the-month collection of three $100m grossers (the entirety of last September-October felt deprived, at just one of those $100m films). CGI animations cashing out September have a healthy tradition, including but not limited to the Cloudy with a Chance of Meatballs films and the less attention-hounding Boxtrolls, and indeed this latest but far, far, far, far, far, from last entry in the Lego cannon should sail ahead as smoothly as we'll have it.

Opening weekend: $38 million / Total gross: $120 million

4. Battle of the Sexes (limited September 22nd; wide by Halloween)
The title could refer to any number of confrontations, or perhaps all of them, but Battle of the Sexes recounts the infamous May 13, 1973 tennis match in Ramona, California, viewed by some 90 million, as Billie Jean King and Bobby Riggs, two tennis greats who shared a profession but not a gender, faced off to the death (should I spoil it? Should I? Ok. She won).

Like mother! and Strong, the film will play the Toronto Film Festival, and probably represents the higher floor of box office for Oscar gold seekers this month. I did not look much into the 1973 press coverage of this sport war, but the film positions it like an epic culture-media battle between a hard-working and book-smart woman and a loud, chauvinistic press hound (... this is topical, right? Well, not anymore). The battle is re-enacted by Jonathan Dayton and Valerie Faris, the directing pair who previously shepherded Little Miss Sunshine and the less illustrious Ruby Sparks. Emma Stone throws on a pair of eye goggles as King, while Steve Carell stomps on some ungainly hair contraptions as Riggs; he replaced Will Ferrell in a role that would have certainly dovetailed with Ferrell's comic persona of a feckless coward with too much false confidence (although I'm sure Carell can feign gender-based hostility, too). Sarah Silverman and Alan Cumming provide support, among others, but I'd look out for Martha MacIsaac, Stone's co-star from their legendary Superbad (2007), who appears here just in time for a ten year reunion.

I'll reasonably assume that reviews will be positive, and the film is advertised with enough star power, comic heft, period flare, and indie credibility to play well for a good couple of weeks. Right before the more demanding Oscar contenders get here.

Total gross: $52 million

5. American Made (September 29th)
Tom Cruise reteams with Doug Liman to play real-life 1980s narcotics runner and DEA conjugant Barry Seal, who met his end about three months before Tom Cruise shot into the stratosphere with Top Gun (no, that fact has no particular resonance, other than the lesson that becoming a huge movie star is a better career choice than a tawdry drug dealer). Sarah Wright plays the edgy love interest and Jayma Mays is the quirky, nice one Seal leaves behind (or so I'm guessing: typecasting), while George W. Bush is portrayed as a supporting character ("miss me yet?").

The film trailer plays like a kind of outlaw drug caper with bursts of action and a hint of comedy, or at least satire, somewhere along the tonal lines of American Hustle or The Big Short. On a positive note, after film critic screenings under the cover of darkness, the film has already received solid reviews, right along or just above the three star range (out of four!). This is good news, because with this title, Cruise is breaking his usual one-film-a-year standard by reappearing so very soon after June's The Mummy. It's his chance to make things up to us.

Opening weekend: $15 million / Total gross: $45 million

6. Flatliners (September 29th)
Flatliners dutifully replicates the title letter by letter, though it is actually billed as a sequel to the Joel Schumacher film, with Kiefer Sutherland reprising his role, all the better to help explain the plot with. In 2017 as in 1990 before it, medical students scientifically shock each other into death's embrace, take in a view of the afterlife, and then make their return (... or... do they?). Flatliners was more than respectable in August 1990, opening with $10 million and finishing with $61 million (believe it or not; such legs were not atypical then). It was also one of Julia Roberts' first big movies, reasonably sandwiched in between Pretty Woman (a juggernaut!) and Sleeping with the Enemy (a bad habit). Ellen Page headlines this time as the lead instigator of ghostly troubles, with a hodgepodgic cast that includes Nina Dobrev, James Norton, Diego Luna (who was in last year's biggest movie... yes, that franchise again), and Kiersey Clemons, who's getting more and more genre work these days.

On the one hand, in a month so thoroughly dominated by a specific horror film with a very short title, Flatliners certainly has competition. On the other, the release date, between IT (the film) and Halloween (the holiday), is reasonable; and given its credentials and advertising, Flatliners ought to play like your friendly neighborhood Screen Gems teen-aimed thriller, with a likely PG-13 rating and Ringesque ghosts vanishing into the walls and re-emerging from every manner of crevice to let us know they're still angry.

Opening weekend: $14 million / Total gross: $43 million

7. mother! (September 15th)
This should be the first of the Toronto Film Festival's Oscar season entries to begin a theatrical release.
The title may poke more at comedy, but mother! should get at horror or thriller all the way, especially considering it comes from the surprisingly unprolific Darren Aronofsky, making his first film since 2014's underseen and effective Noah, which itself was his first film since Black Swan in 2010. From the plots of these titles and others, we can deduce that mother! may involve obsession, familial strife, mental torment, and a slab of body horror.

The setting here is a country home, where outside assistance is scare, and pregnancy is in the air. Star Jennifer Lawrence fights malevolence on her own, surrounded by a cast of suspects: Ed Harris and Michelle Pfeiffer as instigators of an unknown evil, Javier Bardem as the husband who maychance to join them, and supporting roles filled by both Domhnall and Brian Gleeson, and Kristen Wiig, who I assume will use her poker-faced gallows delivery to elicit its most logical intent: horror.

Lawrence remains one of the biggest (and youngest) movie stars of the present day, and while each and every one of her space explosion and dystopia-hating films have grossed at least $100 million (yes, even Passengers was dragged across that finish line, kicking and screaming), her recent dramas have hit a somewhat lower threshold. Still, mother! seems an interesting early fall horror story, the kind whose look and feel inspires every preview write-up to name-check Rosemary's Baby (done), though a few sneakier ones will mention Nicole Kidman's Birth (2004), a much less sinister film that's mostly faded from collective memory, sadly.

I may be low-balling the total here by a multiple of at least 2. These weird fall movies are hard to predict.

Opening weekend: $5 million / Total gross: $33 million

8. American Assassin (September 15th)
American Assassin is a film version of the late Vince Flynn's 2010 novel, with Dylan O'Brien, one of our younger action stars, cast as Mitch Rapp, a CIA recruit with a past that includes an above-average amount of dead parents, girlfriends, and household pets. One, some, or all of those untimely demises were the result of conspiracy by unwholesome individuals, and I presume it is Mr. Rapp's ultimate fate to confront the horrible people and bring the circle of life all the way around.

O'Brien, a genial actor with a flair for sarcasm, here plays off Michael Keaton, as a helpful mentor who will probably turn out to be a dastardly villain harboring an elaborate plot (just guessing, I swear!), while Taylor Kitsch marks a return to genre films as another, even more mysterious, assassin. O'Brien has starred in two Maze Runners over similar September frames, carrying at least one of them over the rainbow and past $100 million. His source material here would seem to have less die-hard teenage fans, while the story reminds me of other thrillers about junior entrants into the covert business of the CIA, like Jack Ryan: Shadow Recruit (2014), or perhaps even simply THE Recruit (2003), and the ingredients - action, international locations, beautiful women, screenplay complications - could on paper just as easily star Jason Statham.

Having said that, the casting has promise. I have faith that O'Brien can stamp the material with some of his quirky star power.

Opening weekend: $9 million / Total gross: $28 million

9. Stronger (September 22nd)
The recent film Patriots Day covered the April 2013 attacks on the Boston Marathon and their immediate aftermath. Jeff Bauman, who famously lost his legs in the bombings, was unmentioned in that film, a fact Stronger rectifies by telling his story of recovery and adjustment.

The role is another big physical change for Jake Gyllenhaal, who plays Bauman with the help of special effects. He continues his line-up of dedicated transformations (Nightcrawler and Southpaw in particular), and delves into another role, like his Demolition and Moonlight Mile, about the day-to-day recovery from tragedy. Tatiana Maslany plays Bauman's girlfriend Erin Hurley, later his wife (should I have issued a spoiler alert?), and the film is directed by David Gordon Green, a perceptive indie filmmaker who had veered wildly into raunch comedies a few years ago (remember Pineapple Express and Your Highness, even through a hazy cloud of cannabis? That's the guy); Green is now settling back somewhere into the middle of the Hollywood spectrum, as the maker of studio dramas like the underrated political thriller Our Brand Is Crisis (that's an increasingly relevant title).

I forecast $100 million dollars for Patriots Day, a number I don't regret calling, although not exactly the correct one (it finished with $31 million, even with an 81% fresh Rotten Tomato, and whip sharp-efficient direction by Peter Berg. I don't get it.). Stronger might not have the large scope or stacked cast of Berg's film, but it's got a decent chance to outgross it.

Opening weekend: $8 million / Total gross: $26 million

10. Home Again (September 8th)
Reese Witherspoon headlines this featherweight romantic comedy about three straggling and struggling young filmmakers who through some collection of circumstance end up residing in the upscale, multi-million dollar home of a Los Angeles divorcée and her small children; at that point, the woman embarks on an affair with the visitor who looks most like a classic matinee idol.

Home Again is directed by Hallie Meyers-Shyer, whose mother is Nancy Meyers and whose film seems to look enough like Meyers' stories of the problems of the rich and problemless. Here, Witherspoon is the female lead, of course, and the visiting lads are played by Nat Wolff, currently busily scribbling in the notebook of death in Death Note; Jon Rudnitsky, formerly of SNL; and Pico Alexander, who was memorable as the fraternity president in Philip Roth's Indignation, and who in this film more or less serves the same function as Brad Pitt did to Geena Davis in Thelma & Louise.

Home Again appears to be opening as a sort-of counterprogramming to the red-nosed, cackling elephant in the room, in the way romantic comedies used to face off against Marvel movies on the first week of summer, until roughly seven years ago or so, when their makers understandably just gave up. Reviews for Home Again could be fair enough, and Witherspoon has star power, and more than enough charm, to carry a first world wish-fulfilment fantasy like this to a respectable high.

This fact, I endorse: I dig Meyers' movies, and have only sympathy for the next generation.

Opening weekend: $5 million / Total gross: $23 million

There wasn't a particularly vibrant amount of content on the first weekend of the month, September 1st, although Tulip Fever did open on a bunch of screens, after a long and hardy road through years, release dates, and unwelcome terrain. And so at last, last weekend, 17th century Dutch painter Dane DeHaan finally seduced nobleman's wife Alicia Vikander, while said blue blood (Christoph Waltz) properly scolded at the conduct of these horny post-teenagers. The film led the count for new releases on September 1st (at a cool 765), but did not lead the weekend. The film to watch is, still, Annabelle: Creation, which is fighting to take itself over the line to $100 million. If it doesn't, as I've obsessively written here before, August 2017 will be the first August since 2000 not to launch a single $100 million grosser, something I've yearned to see for my entire adult life.