5 Ways to Comic Con: Part Two
By George Rose
August 24, 2017
BoxOfficeProphets.com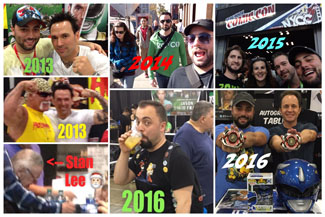 ---
Here we go, friends, the lightning round that recaps all of my convention experiences from 2012-2016. Buckle your seatbelts and get ready to speed your way through the history with Comic Con that led me to 2017's shit show where I asked Phoenix about her tranny vagina.

Convention #1: New York Comic Con; Sunday, October 14, 2012 (read 5WTCC Part 1)

Convention #2: New York Comic Con; Sat/Sun, October 12/13, 2013
For my second convention, I went again with Travis and Heather, along with Heather's mother, Michelle, who is the coolest/geekiest mom on the planet. We decided to make this Con a two-day affair so that we could spend more time shopping. Saturday was amazing. We figured on the first of the two days we should shop and get as much as we can before things sell out. That way, maybe we could also find something to get signed by one of the celebrities doing autographs on Sunday. On that Saturday, the stars aligned. Somehow, the crowds were half as big as in 2012 and there were more medium-sized shirts available to people of my stature. I quickly learned that small/medium women's shirts and medium/large men's shirts sell out the fastest over the four day convention period. My $300 clothing budget was blown within a few quick hours (shirts can be found for $20-25 and hoodies $50-70).

Sunday was a disaster. Turns out, Saturday 2013 was half as big as Sunday 2012 because Sundays are FREE KID DAY. Suddenly the chaotic charm I felt in 2012 changed to Sunday disdain in 2013 as noisy kids and distracted parents caused traffic jams galore. The cruel gods then tempted me with the prospect of meeting the Green/White Power Ranger with a perfectly timed autographing appearance. This was my second Con so I was determined to walk with at least one signed piece of memorabilia. Funko Pop figurines had yet to become a Con staple so I had no idea what to search for on the shopping level to have Jason David Frank sign. After almost two hours searching for The Power Rangers Movie DVD and time running out, I finally found a the only Power Rangers Complete TV Series DVD box set left in New York. Retail Value: $50. Cost at Vendor: $110. That's the price you pay for not prepping for the Con.

After spending $110 on the DVDs I rushed to the lower level of the Javits Center and waited to meet Mr. Frank. He was just as gorgeous as he was in my childhood but now covered in the tattoos I find so attractive. The booth next to Jason's belonged to another childhood legend of mine, Hulk Hogan. At one point, both celebrities were on breaks behind their booths, then they both came out, noticed each other, shook hands, then flexed together and went on their way. Professional photographers captured the picture. Everyone in line scrambled to get their cameras with most missing their chance. Except for me. I'm a picture whore with my camera attached to my face at Comic Con and it was this moment here that forever justified gluing myself to my camera. It was glorious and erotic and… over in the time it takes make a Megazord. The line started to move, cash was paid to an assistant, Jason shook my hand, asked for my name, signed the DVDs, took a picture and NEXT! I felt used like a one night stand but it was still a worthy climax. All the jealous nerds around me asked me to text them a copy of the Hulk vs Green Ranger snapshot I captured and I said I would. I never did though. I mean, geeks are cool and all but people are still psychopaths, you know?

Towards the end of our day, Travis, Heather and I noticed crowds starting to congregate and screams began to thunder. We avoided the exit as originally intended and followed the sounds of cheering fans on overdrive. We pushed, shoved, gave dirty looks at parents and whispered curse words to the children we had to avoid stepping on. The clouds began to part and the sun peeked out. My eyes followed the rays of light down from the heavens, along the curves of a rainbow to the ground where Comic Con's ultimate treasure would be found. There he was, waving at fans. Santa Claus… I mean, Stan Lee. The line was too long to wait for an autograph, there was no time to shop for another piece of memorabilia, and if the price I paid for a Power Rangers DVD was any indication I imagined the Comic Con gypsy sales vendors were charging a premium for Stan Lee merchandise. We thanked the gods for even the briefest appearance of the mythical Stan Lee and left Free Kid Sunday with smiles on our faces

Convention #3: New York Comic Con; Sunday, October 12, 2014
This is the convention we do not speak of. This was a one day Con for us. Travis was battling cancer just months before he and Heather were set to get married so he couldn't come with us because of chemo treatments. Our friend, Chris, came as Travis' replacement but we were all too sad and irritated with Free Kid Sunday to enjoy ourselves. With only one day of shopping on the worst day possible, plus the addition of Chris who was new to the Con so he lollygagged more than we would have liked, Heather and I knew this would not be a Con to remember. Except… Travis sent Heather to the Con with treats for us. Medicinal treats. Treats we were only supposed to eat half of. I may be a semi-upstanding gentlemen now in my 30's but I was rather curious in my 20's. To keep it short and classy, I will say that the dosage of cookies we ate gave us a high more comparable to shrooms than weed. Plenty of people smoke weed at Comic Con. Shrooms, however, should not be taken. Weed cookies that give you shroom-like highs should not be taken. This Con was a big, burned-out bust. All I remember is being scared, paranoid, sweaty and lost. Everything and everyone started to look the same and I'm pretty sure I stood in the middle of a shopping intersection spinning in circles for like ten minutes. At least Travis has a good laugh when we told him. He deserved it.

Convention #4: New York Comic Con; Sunday, October 11, 2015
Another year, another Free Kid Sunday. This time Travis was back and cured of cancer (he's the closest thing to a superhero that I'll ever know) and this was about the point where my fiance and I had only been dating about six months. He doesn't care for pop culture beyond a few TV shows but wanted to see what my Comic Con fuss was all about. Heather and I knew that with Travis still getting his strength back and Joe, my love, having 0% interest in shopping that we were destined for another Sunday disaster. Many cigarette breaks broke up the day and slowed down the shopping. No celebrities were met; Joe's theory that, "Being at Comic Con sounds a like like being stuck in a Hot Topic for eight hours" ultimately became forever true to him; and every attempt to spend my hard earned cash on unnecessary memorabilia was met with, "But think of the trips we could take if you didn't waste your money." For all the reasons that led Joe and I to get engaged, having Comic Con in common is not one of them. I tried explaining that Free Kid Sunday is what slowed us down and if things moved quicker we would have had more time for celebrities and photo ops. He told me he loved me but would never return again.

Convention #5: Philadelphia Comic Con; Thursday, June 2, 2016
After four years of taking the train an hour and half to-and-from the New York Comic Con, I finally gave the smaller Philly Con a chance. I was nervous since the venue was a fraction of the size but it… was… AMAZING!!! New York is so big that usually there are repeats of the same vendors. It turns out you don't need two giant t-shirt huts, a dozen shops selling the same Funko Pops and celebrity autographs/photos two levels away from the shopping floor. Smaller location + all shirts available Thursday + no free kids or shitty parents + only a 30 minute drive + A MOTHER FUCKING BAR = the best Comic Con yet. Thursday is always the worst day for celebrity sightings but this proved to be the most lucrative and efficient shopping spree yet.

Convention #6: New York Comic Con; Sat/Sun, October 7/8, 2016
Where my first Philly Con would prove to be one of my most bountiful, this last New York Con would prove to be my most productive. After several one-day Cons that made me choose between either celebrities or shopping, I decided to finally prepare in advance for the ultimate celeb encounter. My target: Alan Tudyk. For all the nerdy work he's done in Hollywood, he has become one of my favorite stars since his super streak of Disney voice work: 2012's Wreck-It Ralph, 2013's Frozen, 2014's Big Hero 6, and 2016's Zootopia & Moana & Rogue One. He is Disney's vocal good luck charm and the world's hottest ginger.

I found a Funko Pop of King Candy (my favorite of his characters) online for $40 from China. Everywhere else it was selling for $90. I got it two months in advance and the box arrived in great condition. I wore my Big Hero 6 t-shirt and purchased a matching hat so that I could take a picture in appropriate attire. I planned to get the autograph first and the picture second so the signed Pop could be on display to verify the autographs authenticity. Everything I planned worked PERFECTLY! What I didn't plan for was falling in love with Alan. When I walked up to his booth, he smiled and my knees went weak. He liked that I had a rare Funko for him to sign and he said he loved voicing the character. I did my impersonation of King Candy and Alan smiled again as he told me how impressed he was. Then he did the voice back at me and we started to laugh. It was, without question, my favorite moment of any Con yet.

What I didn't plan for was an appearance by the Blue Power Ranger. Aside from the Green/White Ranger, Blue was my favorite. I liked that he was smart and I have a huge boner for guys in glasses. Luckily, Funko Pops had just recently exploded as one of Comic Con's most popular collectibles and the Power Ranger series had just come out. I had no trouble at all finding a Blue Ranger figurine for $10 (the going rate for the standard 4" toys) and was quickly able to get it signed. I've always been fascinated by David Yost, the actor who plays Billy. He is a gay man a little older than I am so he was also at the tail end of the 90's gay struggle. He was bullied during filming and used his earnings from the show to go into one of those camps that turns gay guys into straight lumberjacks. Since that's a ridiculous concept, it should go without saying that the camp's efforts failed. I wanted to thank him for paving the way for gay geeks like me but I worried he didn't find me attractive, so I pretended to be all butch and just walked away. Turns out, sometimes the right thing to say is nothing at all. If only I had been so nervous and hesitant at my next convention. Instead, my Philly 2017 Con would be my most shocking yet.