Weekend Wrap-Up
Hitman's Bodyguard Exceeds Expectations
By Kim Hollis
August 20, 2017
BoxOfficeProphets.com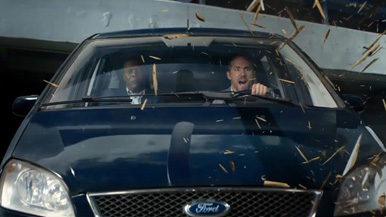 ---
It could have been so much worse.

Our two new wide releases this weekend included The Hitman's Bodyguard and Logan Lucky, and there was no reason to think either one of them would provide much intrigue at the box office. Instead, thanks to some canny marketing and an interesting pair of actors coming together, at least one of them came in well ahead of what tracking had indicated it would make.

Yes, The Hitman's Bodyguard is our #1 film at the box office this weekend, despite industry predictions of a debut in only the mid-teens. Instead, the Lionsgate feature got started with $21.6 million, a really solid first weekend compared to its overall lean budget of $29 million. Most of that budget likely went to the salaries of stars Samuel L. Jackson and Ryan Reynolds, two of the stars of the Marvel Universe.

The Hitman's Bodyguard actually overcame somewhat mediocre reviews to achieve its weekend in the sun. At Rotten Tomatoes, The Hitman's Bodyguard has a fresh rating of just 38%, and only 27% from top critics. Its Cinemascore, on the other hand, was a B+, so clearly audiences at least found a little something to like. Ads that were running on ESPN made it feel like a must-see, so it clearly connected with its intended audience. Considering the films due for release in the coming two weeks, it will probably hang around as one of the few decent options.

That puts last weekend's winner Annabelle: Creation down to second place, no surprise given the genre. Annabelle 2 declined 56% from its debut weekend total down to $15.5 million. Honestly, horror films actually can see much steeper drops in weekend two, so this hold is a welcome relief for Warner Bros. So far, Annabelle: Creation has earned $64 million domestically, and has a super-strong international tally of $96 million. The first Annabelle had a worldwide total of $256 million, so Annabelle: Creation is already well on its way to at least matching that number.

Third place goes to Logan Lucky, director Steven Soderbergh's return from retirement. Let's be clear that Logan Lucky was never really intended to be a big box office performer. Soderbergh doesn't usually bring those kind of results outside of the Ocean's 11 series. Still with an $8.1 million weekend, Logan Lucky should at least bring in enough dough to make its $29 million budget investment seem worthwhile. The film had a 93% fresh rating at Rotten Tomatoes but only a B Cinemascore, which is kind of a typical result for Soderbergh. Critics often love him, while audiences find him befuddling. Daniel Craig' and Salma Hayek's presence may at least make for some decent international box office.

Now in its fourth weekend, Dunkirk falls to fourth place as it earns $6.7 million. Christopher Nolan's latest masterpiece is the early leader in the clubhouse for Oscar, though that can obviously change as the prestige films start opening in the fall. Dunkirk has now earned $165.5 million domestically and $227 million internationally. It was down 38% for the weekend, but still has some gas left in the tank since there is really no competition worth considering in the coming weeks.

Last weekend's new release The Nut Job 2: Nutty By Nature rounds out the top five as it falls 39% to $5.1 million. Honestly, there wasn't much reason to even make this film unless you consider the fact that we are now on the eighth film in the Alpha and Omega animated series (though obviously all sequels went direct-to-video). Open Road Films might be able to continue down a similar path with the Nut Job franchise, although theatrical releases are clearly not justified. So far, The Nut Job 2 has earned $17.7 million in North America.

Yet another needless animated film is in our sixth spot. The Emoji movie continues to hang around simply because the top ten is more or less bereft of any sort of quality product. This weekend, Emoji declined 33% to $4.4 million, bringing its domestic total up to $71.7 million. It also has $54 million from international venues. Given the slight $50 million budget, Sony is probably okay with the box office results, but it's only just barely a win.

On the other hand, Sony is certainly thrilled with the re-start of their Spider-Man franchise. Although it hasn't reached the heights of the original Sam Raimi series, it has still overcome the bad associations with the Amazing Spider-Man. Spider-Man: Homecoming had the best hold of all non-expanding films in the top 12, falling only 29% to $4.3 million. Its domestic total now sits at $314.1 million, along with $410 million from overseas venues. It's currently the fourth best performer for 2017 domestically and the seventh best internationally.

Girls Trip crosses the $100 million mark as one of the more pleasant surprises of the summer. Another $3.8 million brings the comedy's total up to $104 million, and it even has about $11 million from overseas venues. Our ninth place film is The Dark Tower, which has been a disaster for Warner Bros. Another 52% weekend-to-weekend decline gives it a three-day total of $3.7 million, and a domestic tally of $41.6 million. It does have $30 million overseas as well, but this Stephen King adaptation is going to be remembered as a failure.

Finally, our tenth place film is an expanding one. The Weinstein Co.'s Wind River expanded 694 venues and earned $3 million in the process. This is yet another example of a team-up of MCU heroes, in this case Hawkeye (Jeremy Renner) and the Scarlet Witch (Elizabeth Olsen). Of course, they're not playing those characters but rather agents who are trying to solve a murder on the Wind River Indian Reservation. Wind River had a tiny $11 million budget, and the film's current total is $4.1 million. It's 87% fresh at Rotten Tomatoes, so it may have a good shot at continued success.

As far as overall box office goes, we continue the streak of awfulness. This year's top 12 earned $81.6 million, WELL behind last year's $119 million. Things aren't going to get better next weekend, as the biggest opener is the Weinstein Co.'s Leap (aka Ballerina), which has already earned $56 million overseas. Problem is, it has no support whatsoever and only 2,000 or so venues. The other two new films include Birth of the Dragon, a Bruce Lee biopic that has met criticism due to casting of Caucasians in an Asian character's role, and All Saints, a faith-based film debuting on only 800 or so screens.

In fact, we're all just waiting for It. No, really. The adaptation of Stephen King's novel is supposed to be super scary and is coming up in two weeks. We all float down here!