Weekend Forecast for August 18-20, 2017
By Reagen Sulewski
August 18, 2017
BoxOfficeProphets.com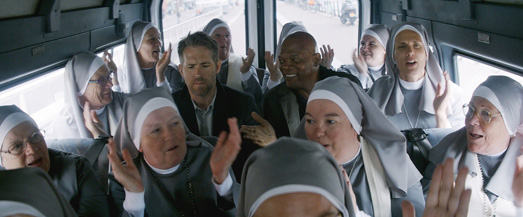 ---
It's a real "dog days of summer" weekend, as a couple of genre films with limited prospects hit the theaters, though one is particularly notable for the return of a legendary director to mainstream filmmaking.

But first, the film with slightly better odds for the weekend – The Hitman's Bodyguard. Ryan Reynolds stars as the World's Greatest Bodyguard, assigned to escort the World's Greatest Hitman (Samuel L. Jackson) to the International Criminal Court to testify against a notorious European dictator (Gary Oldman) in return for the release of his wife (Salma Hayek). Wacky hijinks ensue in this Midnight Run knock off, which could work, in theory, given the notable charm of the two leads, both of whom have action credibility (Seriously, Safe House, which this seems to be the comedy version of, is better than you remember).

Unfortunately, casting isn't everything, and the rest of the stuff around the leads seems to be lacking. Our director is Patrick Hughes, best known for The Expendables 3, aka the one that basically killed that franchise off, and the writer has only one other script under his name, a Bruce Willis-Josh Duhamel DTV film that you've never heard of, and which this film appears to be a comedic rework of. So while Reynolds and Jackson may be game for this, they're not working with the A material.

In some ways, this looks like a bit of a throwback to '80s buddy comedies where they decided to throw two funny people together with the idea that they'd work it out on set. These things tended to star John Candy or Chevy Chase and they ... sometimes worked. This appears to be one of those forgettable, not working ones, and with its late August release, isn't being shown much confidence by its studio. I'd expect a weekend take of around $15 million. Hey, at least it looks better than R.I.P.D.

Four years after "retiring," Steven Soderbergh returns to big screen filmmaking with Logan Lucky. Okay, so four years barely counts as a retirement and he was working on other stuff anyway, but with how prolific he is, that's probably 12 films we missed out on. Anyway, he returns to his heist roots here, with Channing Tatum and Adam Driver playing a pair of medium-wattage bulbs who come up with a plan to rob a NASCAR race. Also along for the ride are Daniel Craig, having the time of his life as a bank vault expert (currently in-car-cer-a-ted), Riley Keough, aka Elvis' granddaughter, Katie Holmes, Seth MacFarlane, Hilary Swank and a whole mess of NASCAR cameos.

While Soderbergh has excelled at "prestige" and niche pictures, he's also been a consummate entertainer throughout his career, and Logan Lucky seems to have him at his noodling best, firing left and right at genre conventions and dosing everything up with screwball energy. It's an exciting return, not just for that, but also for the way in which he has come back – securing financial and creative independence from the studios by selling all the rights first, and keeping the budget to a bare minimum. So while these sorts of heist films (see also: this summer's Baby Driver) are not typically that much of a hit on opening weekend, it's the kind of film that can build a following. I'd look for about $12 million this weekend.

Returning films of relevance are thin in number this weekend. Annabelle: Creation performed well in its opening weekend, nearly matching the start for its predecessor despite that film nearly killing this sub-franchise in the cradle. Thank good reviews for once, but this should still get the big horror drop, falling from $35 million to $13 million.

Dunkirk continues to hang on about a month out from release and has an outside shot at $200 million – perhaps an Oscar re-release? - and should see about $7 million this weekend. Meanwhile, The Nut Job 2 had one of the worst ultra-wide openings in history, if not the worst, barely cracking $8 million despite 4,000 venues. It can maybe hit $5 million this weekend, but I wouldn't bet strongly on it, and thus ends this Korean animation invasion.