5 Ways to Comic Con: Part One
By George Rose
August 16, 2017
BoxOfficeProphets.com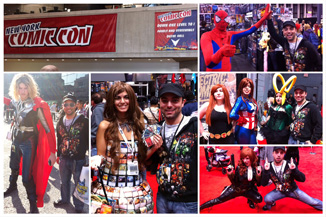 ---
Here we are, folks. As of this latest version of the article, I am adding this new introduction to the original introduction while on the first day of my family vacation. Today is Thursday, August 11, 2017. Technically, Friday at 12:45 a.m. I'm a few tequilas deep. Things are about to get messy and, no, I don't mean down at the Jersey Shore. I mean at the box office.

First up we have Annabelle 2, the sequel to the spin-off of the true-life ghost stories (sounds like something I've probably seen 1,000 times already now). Then we get Logan Lucky, the heist movie about cars or something from a beloved director (I thought I enjoyed that a few weeks ago when it was called Baby Driver). Then there's Leap!, a French-Canadian animated film about a ballerina in Paris (insert Terrance and Phillip fart sound here). Then we get Unlocked, the CIA blah blah blah starring Noomi Rapace, Toni Collete, Orlando Bloom and John Malkovich (I'm sure most of you don't remember half of those people). Then we finally get hope on September 8th with It, the not-campy horror version of the classic Stephen King scary story.

That's right, summer is over. Dead and done. August is basically the new Hollywood dumping ground. Not the gold-plated toilet that Donald Trump gets to poop on. I mean the brutally abused tourist shit factory that are the Seaside, NJ port-a-potties. So, since I am starting my three-day family vacation and have nothing to look forward to at the movies for the next month, I am taking you on a 5 Ways To Prep vacation and am officially unveiling the ALL NEW, semi-sexual, I mean bi-annual, I mean probably less often than you think but more often than you'd like... FIVE… WAYS… TO… COMIC CON!!! Sit back, relax and get ready to experience a five-part story told over the course of the next month about superheroes, love, heartbreak, heroism, embarrassment and sexual harassment. Definitely sexual harassment.

The following article was originally written on June 6, 2017 and is rated R. These next five articles are not suitable for children or for the faint of heart. Or virgins. And now, the moment you've all been waiting for, the first of five feature presentations. Enjoy!

"COMIC CON!!!" That's all I said for the week prior to the big event in Philadelphia on June 1st and that's all I would go on to say for several days after. Comic Con (aka a Comic Book Convention) is basically a super nerdy Christmas where people of all ages, races and genders can congregate together to worship our one common god-like entity, Pop Culture. Comic books are the one true leader of the pack, with demi-gods such as comic book-related movies, television shows and graphic novels being the offspring of the divine source material. We come, we pray, we worship and we shop like crazy mother fudgers (no, that's not a typo). People buy for others and themselves alike, purchasing everything they want and seldom things they actually need. But isn't that what Christmas is all about?

The Santa Claus of Comic Con (and, really, comic books in general) is Old St. Stan Lee. He spreads his merry cheer throughout the land, providing stories for the kids and gifts for all. However, Stan Lee can't get around the entire world in one night, not even with the help of eight tiny little Rocket Raccoons pulling his sleigh or a red nosed Rudolph lighting the way. Stan Lee is old now but somehow continues to show up to the festive Comic Con with the jolly excitement of a ten-year-old first-timer. Every chance he can, he tries to take pictures with the families and sign autographs. This fan service takes up lots of his time because he is a beloved icon of the genre; instead of cramming Christmas into one night there are several stops in many cities across the country spread out over the year. This mega tour of love and creativity and commercialism is known as Comic Con.

The biggest of these Cons is in San Diego, with East-coasters like me getting to enjoy stops along the way in cities like New York and Philadelphia. What once was just a comic book convention has exploded into a pop culture phenomenon. Comic books became movies and TV shows, which then also made appearances at Comic Con. Other nerdy shows/movies caught onto the fandom surrounding the event so non-comic book shows/movies decided to start releasing comic book mini-series that might have only had a few issues, just to say they could appear at Comic Con. Now, it is basically a free-for-all orgy of everything that the internet decides is cool and geeky. I'm ok with this. I'm all for inclusion; if some random store vendor at Comic Con feels like selling samurai swords or statues of dragons, and the sales from that barely relevant brand help continue the Con coming forever so I can buy Marvel crap for years to come, that's totally fine by me. Keep the peace, keep the love and keep on Con-ing!

I began my journey with Comic Con in 2012. Living in New Jersey I am sandwiched between New York and Philadelphia. I can bounce around between the two for any sort of concert or event. My friends Travis and Heather invited me to go with them to the New York Comic Con for my birthday (NYCC is in October each year). I don't even know if Philadelphia Comic Con was around back then, if New York got it first because it's a bigger city or what/when the cities each took on the challenge of hosting one of these circuses. What I do know after five consecutive years of Con-ing is that New York is huge, draws an increasingly larger crowd each year and requires lots of your time. Philly is much smaller, has less vendors and celebrities, and is a walk in the park compared to New York. For now, that is. It's never long before the masses catch on.

2012 was my first Con. I went for one of the four days; traditionally the event runs Thursday through Sunday. Thursday is usually 4pm-9pm, Friday 10am-7pm, Saturday 10am-7pm and Sunday 10am-4pm. This can change depending on the city or year but this has been the average of my experiences with the days seemingly getting longer each year. In 2012 I went to New York on a Sunday and it… was… MAGICAL!!! As I entered the giant doors of the entirely glass Javits Center, I looked around in amazement. There were people dressed up in the most glorious of garments, ranging from the costly and elaborate cosplay professional couture designs to the bargain bin Party City costumes. I even saw one woman wearing a dress made entirely out of Magic the Gathering cards, another secret nerdy former obsession of mine.

Everyone is welcome at Comic Con. There was no judgement among the crowd, at least not out loud to someone's face. Those that were dressed up were more than happy to take pictures with anyone who asked, as this was less of a "We're the same real life version of these characters that you see at Disney World" and more of a "We spent a lot of time and money perfecting these cosplay costumes so please take a picture and make me Insta-famous" situation. Cosplayers are always happy to pose and I am more than willing to get joyously obnoxious right beside them. Everyone was happy, groups seemed to naturally funnel into peaceful and patient lines, and the sound of cameras flashing and children cheering was the music in my ears. I was home and this was Christmas morning with my family.

And with the holiday season comes a broken bank. I spent hundreds of dollars on myself and for others; don't forget, it was in October so actual Christmas was only two months away. Shirts, glassware, comic books, toys, jewelry, hats… you name it. The Avengers movie had just come out and I was on a Marvel high. Being 100% Greek means I have an inherent fascination with gods so Thor was my favorite Avenger and the target goal for most of my spending. I got a Thor hat, beer glass, t-shirt, wall decal and keychain. Being my first Con, I was on a relatively small budget. I seriously underestimated the amount of different brands and memorabilia that would be available, and even though each year I bring more money it's never enough.

Thor would prove to not just be the one I spent the most money on. He would also prove to be my greatest villain at this very first Comic Con of mine. The concept of women dressing up as male superheroes was a new one to me and one I've grown very fond of. Caitlyn Jenner had yet to rip the door right off the transgender conversation (2015 was three years away) so at the time I viewed this nerdy attempt at acceptance to be both beautiful and inspirational. I met a few girls dress up as Loki and Captain America and was immediately jealous. I could already envision myself dressing up as a male Harley Quinn in the future with little black shorts and red tank top and a mixed mohawk! But with great gender transforming comes great responsibility.

At one point I ran up to a tall, skinny women dressed up as Thor and begged her for a picture. I knew it was a woman because there was no bulge in the crotch region of her cheap looking costume. There weren't many layers of material to suggest much time or money spent on the costume, and nothing to protect the crowd from seeing your dick if you had one. I would know. Every man in a cheap lycra costume became the fixation of my eyes as I searched their bodies for ball sacks and butt cracks. I told her I loved that her and other cosplay women were helping to shepherd the gender-bending movement by dressing as Thor. She told me she was actually a man and hunched over in heartache. Instead of objectifying the woman by looking at her tits to confirm, I checked the crotch again right in front of her. Nothing. Just sadness. I asked if we could still take the picture and he/she obliged. This is the first of many inappropriate situations I would find myself in over the years. It was not, however, the last time I looked for a bulge.

The Con is more than just merchandising and autographs and, yes, even some of the completely ridiculous situations I still have to tell you about. It's about finding your brotherhood of super nerds, discovering the Comic Con hero within and making friendships that will last a lifetime (I was in Travis and Heathers wedding in 2015). It takes many conventions and endless patience from your friends to master the arts of the Con. They've grown so big over the years with so many types of pop culture now showing up, you may just find yourself at one in the near future. Let me be your guide into the convention that now rules my world. Follow me on this journey, my friends, as I take you down the five-part road that is: 5 Ways to Comic Con!