Weekend Wrap-Up
Annabelle: Creation Leads Quiet August Weekend
By John Hamann
August 13, 2017
BoxOfficeProphets.com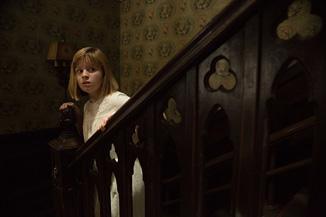 ---
Thank goodness we have Annabelle: Creation opening this weekend, or the box office would be in even more trouble than it is.

Following a series of mistakes that have included The Dark Tower entering the scene last weekend, and others like Kidnap, Valerian and the City of a Thousand Planets, and Wish Upon flopping and flailing, the box office is in full-on horror show mode. Now, more mediocre debut this weekend and only drag things down further compared to last year. Sure, the box office has taken "success time outs" for current top 10 films like Dunkirk and Spider-Man: Homecoming, but numbers are otherwise sinking dreadfully versus last year's results. This weekend's results are not going to help things overall. Despite an admirable debut for Annabelle: Creation at $35 million, more damage is done by unsettling results for The Nut Job 2: Nutty by Nature (shocking that no one saw it with that title), and The Glass Castle, a downbeat drama that opened in only 1,461 theaters. Let's throw some lipstick on this pig and have a look at the results.

Our number one film is Annabelle: Creation, a movie that is born from The Conjuring series of films, an often well-revered franchise, save for the original Annabelle film (29% fresh at Rotten Tomatoes). This prequel of Annabelle got started with a hot $4 million in Thursday night preview sales, setting the stage for a possibly dominant weekend, as the horror flick earned about a quarter of what last weekend's number one film earned all weekend – on Thursday alone. With slow sales overall, Annabelle: Creation had the playpen to itself and could dominate the biggest screens in theaters everywhere. The combined Thursday/Friday for the James Wan produced film came in at $15 million, pretty much on par with the last Annabelle, which took in $15.5 million on opening day. Annabelle earned $2.1 million from Thursday previews, which means the Friday-to-Friday comparison was lower for the prequel, and could be an indication of legs going forward.

Over the weekend, Annabelle: Creation earned $35 million from 3,502 venues, a very solid start for any horror title. Creation easily beat the $30 million tracking estimate and fits in with the franchise, as 2014's Annabelle opened to $37.1 million, The Conjuring 2 opened to $40.4 million in 2016, and the original Conjuring debuted with $41.9 million in 2013. Bad horror franchises are often going straight-to-video by the fourth film; good franchises are different. A franchise like Saw had its series peak at the third film with $33.6 million, but the fourth film was not far behind at $31.8 million. The Insidious franchise had a small opening for the original at $13.3 million, but followed with a second chapter that earned $40.3 million on opening weekend. The third chapter dipped to a $22.7 million open, and the fourth Insidious film will open in January.

Annabelle: Creation is another hit in the franchise for Warner Bros. and New Line, no matter where it finishes. The film cost only $15 million to make (plus the advertising dollars for the incessant TV ads), but as $15 million was its opening day number, I'd say the studio will be happy with the result. Annabelle could also see some decent legs. The film was 68% fresh at Rotten Tomatoes, and the Cinemascore was a healthy for horror B, matching the last film, but failing to meet the A- earned by the two Conjuring films. The previous Annabelle also earned an amazing $172 million overseas, so the party is just getting started for the scary doll and her victims.

The rest of the top ten is a sad batch of films, either too old to get it up (in the box office rankings), or too lame to have any staying power. Dunkirk, after spending two weekends at number one, now has two consecutive weekends at number two, as the war film was one of the few holdovers that put up much of a fight. The Christopher Nolan flick earned another $11.4 million, dropping 33% in its fourth frame. Dunkirk has lifted its domestic gross to $153.7 million and has accumulated a mighty $210 million overseas.

Third spot goes to The Nut Job 2: Nutty by Nature, sequel to the 2014 animated release. The first film got lucky and fell into a $19.4 million opening weekend, finishing third behind the original Ride Along and Lone Survivor. That weekend, The Nut Job was first animated film since Frozen opened nine weekends earlier, which left boys yearning for something new. This time around, the sequel was not so lucky. The Nut Job 2 earned only $8.9 million for Open Road Films over opening weekend, which made another mistake by sending the film out to 4,003 venues – it had an average of only $2,232. Reviews were horrible (as expected) coming in at 11% fresh, but the Cinemascore wasn't terrible at a B+. This one cost $40 million to make, a number it will never see domestically, and given the original earned only $56 million overseas, it is doubtful it will ever find financial redemption. It's pretty simple – the only studio that can make money off a dud like Cars 2 is Pixar.

Fourth spot goes to The Dark Tower, which jumps out of the top floor window and zooms down to fourth this weekend. After opening to $19.2 million, the movie based on the Stephen King series of books drops 49% and earns only $7.9 million (ouch). That's got to be hurtful for Sony, as after last weekend they were probably still hoping they could match the domestic gross stateside and make up the rest overseas. That likely won't happen now, as it has a domestic gross of only $34.3 million and an overseas gross of less than $10 million.

The Emoji Movie is fifth, and after earning $12 million and dropping 50% last weekend, the animated Sony film was at it again. This weekend it earned $6.6 million and fell 45%, as it starts to dig the hole it can crawl into. It has earned more than its $50 million production budget stateside, as that number sits at $63.6 million, but it is struggling overseas, having picked up only $13 million over there.

Sixth is Girls Trip, one of the few good news stories in the top ten this weekend. Now in its fourth weekend, Girls Trip earned another $6.5 million, as it moves very close to the $100 million domestic mark. Girls Trip has pulled in $97.2 million so far and has turned into the comedy success story of the summer. Overseas, Girl's Trip has earned $8.4 million.

Seventh is Spider-Man: Homecoming, which hits a big mark this weekend. Homecoming earned another $6.1 million in its sixth weekend. It dipped 31% compared to last weekend, but crossed the $300 million domestic mark, becoming the fourth Spider-Man flick out of six released since 2001 to hit that mark. The domestic total is at $306.5 million and is joined by a $396 million haul overseas.

Eighth is Halle Barry's Kidnap, which got started with a not-bad $10 million last weekend. This weekend, the thriller earned $5.2 million and declined 48%. It's going to have a tough time making money, but its $19.4 million domestic take is close to matching its $20 million production budget.

Ninth is new release The Glass Castle from Lionsgate, a drama that barely made a blip on the box office radar. The Brie Larson/Woody Harrelson film earned only $4.9 million as Lionsgate put the film out to only 1,461 venues. The film is 50% fresh at RottenTomatoes, so it will be difficult for the studio to expand this one with any success.

Atomic Blonde is tenth, as the Charlize Theron thriller takes a quicker exit than I expected. This weekend, Atomic Blonde earned $4.6 million and fell 44%. The $30 million Focus Features release has made $42.8 million on the domestic side, and has surpassed $60 million worldwide.

Overall, the box office continues to suffer. The top 12 earned an ugly $103.9 million, about a million miles away from 2016's top 12, which earned $158.7 million – led by the second weekend of Suicide Squad and the breakout Sausage Party. Next weekend, the box office should continue to flail, when the openers include The Hitman's Bodyguard and Logan Lucky with Channing Tatum.