Weekend Forecast for August 4-6, 2017
By Reagen Sulewski
August 4, 2017
BoxOfficeProphets.com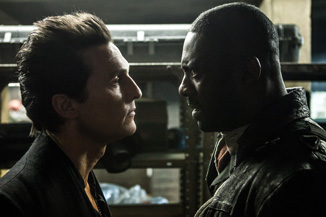 ---
A summer movie season that's been less than spectacular in its returns heads into the home stretch, but it doesn't look good for turning things around, and it would appear we are mostly spent.

The first weekend of August can be a spot for a late, leggy film with some buzz to become a surprise blockbuster, with Guardians of the Galaxy being just the latest example of that. This week's lead-off film in this spot, The Dark Tower, might have been a candidate for this once upon a time, but has run into the hard wall of reality on release.

Rumored as a film since the days when I first started following box office in the early '90s, and back when it was only three books, The Dark Tower is an adaptation of Stephen King's magnum opus about The Gunslinger and The Man in Black, a science-fiction/fantasy/horror/action blend that's been hailed as some of his greatest work (and at times, some of his worst). This film, which condenses eight books into 95 minutes of story in kind of reverse Hobbit, is actually being called a sequel to the books, a description that actually makes a kind of sense if you know the series.

Roland (Idris Elba) is the last of a kind of supernatural law-enforcement force in a parallel universe. He's tasked to defend the Tower from The Man in Black (Matthew McConaughey), who wants to tear it down to destroy all creation, across all universes. A young boy from Earth, Jake, is psychically linked to Roland and the Tower, and finds a portal across. There, and back on Earth, the two battle against his army of darkness in an ultimate (?) battle of good and evil.

A quick hit of a film like this in comparison to the book series might actually make sense, and in an age of bloated blockbusters could be a bit of a relief. That is, if reviews actually had it as being any good. On screen, Danish director Nikolaj Arcel's version hews more toward "Generic Fantasy Movie," stripping all that is unique and memorable from the books, making it more into the YA style fantasy adventure movies of late like The Maze Runner or Divergent. I, for one, smell the work of King of the Hack Writers Akiva Goldsman. It's a sad conclusion to this development hell, though there's perhaps still the TV series to come. For opening weekend, look for a rather dismal $22 million or so.

Expanding into wide release is Detroit, a film by Katherine (Zero Dark Thirty) Bigelow about the riots in that city in 1967, and in particular a raid on a hotel in search of snipers that resulted in the death of three black men. The film follows a bit of cinema verite style, putting viewers in the middle of the conflict and the extreme tension between the rioters, citizens, and army and National Guard members tasked with keeping peace and/or control over the situation.

Starring John Boyega, Anthony Mackie, John Krasinski, Jack Reynor and Will Poulter, along with a large cast of relative newcomers, Detroit looks to be a powerful if difficult film to watch, for its stark portrayal of race relations and how far, or not, that we have come. It's a possible contender come awards season, though reviews point out a lot of flaws with its storytelling.

With nerves on this subject already a bit raw with recent incidents between police and black communities, this might be a tough sell to wider audiences. However, it's already performed strongly in limited release, with $350,000 last weekend on just 20 screens. As it goes to over 3,000, we could be seeing a bump to around $12 million this weekend.

Also technically in release but... well... is Kidnap, which sees Halle Berry back in the action genre as a mother in pursuit of the people that took her son. It's essentially a long chase scene boosted by a bit of star power, and seems to be a marginally competent exploitation film, with a suspiciously short 82 minute running time (near the bare limits of what's able to be called a feature). This is the kind of thing that has a better life at midnight festivals and on basic cable, and should see $4 million this weekend.

Dunkirk grabbed the top spot for a second weekend in a row with $26 million, passing the $100 million mark. Its drop-off wasn't exactly leg-worthy, but its financial success is enough at this point that we can safely shove this one into the Oscar races with gusto. Look for about $15 million this weekend.

It beat out The Emoji Movie, staving off the apocalypse for one more weekend, as that movie had a mini flop with a $24 million opening. In the future, studios may want to reconsider that whole "T.J. Miller Charm Offensive" PR tactic, and also, you know, not making a soulless hackwork of a product placement movie. Look for this to have an uncharacteristic drop for a family film to around $11 million.

Girls Trip had a solid second weekend, defying a lot of genre expectations, and is poised now to be a small breakout hit. The raunchy comedy should have a solid third weekend of about $12 million, and is on its way to the $100 million milestone.

Atomic Blonde was a fair failure relative to its hype, opening to just $18 million. The "sexy lady Bond" marketing didn't push it over the hump, and even its novelty couldn't boost it. A drop to around $9 million is in store here.

Spider-Man: Homecoming isn't quite the success of some of the other MCU films, but as the second reboot of this character, it's definitely a big step in the right direction. The true payoff will be in whatever sequel they come forward with, as this inches toward $300 million. Give it $7 million here.