Weekend Wrap-Up
Dunkirk Narrowly Sinks Emoji Movie: A Nation Rejoices
By John Hamann
July 30, 2017
BoxOfficeProphets.com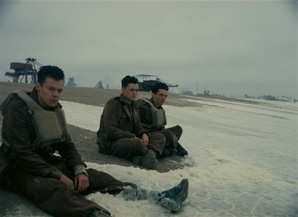 ---
It didn't look like it was going to be an iconic showdown this weekend, but that's exactly what happened, as GOOD faced off versus EVIL for the number one spot at the box office.

The good this weekend is last weekend's number one film Dunkirk, looking to repeat up top and hold on to as much of that $50.3 million opening weekend gross as it can. Given that 92% fresh Rotten Tomatoes score, and A- Cinemascore, it had the public with it going into its second frame. Facing off with the World War II film is The Emoji Movie, a title I am still grappling to understand what you do with for 84 minutes. I watched The James Corden Show the other night (he stars) and Anna Faris was guesting. During the show, the question came up as to what the movie was about. There was an uncomfortable silence to start, followed by a "do you want to answer?" back and forth, before Corden squeezed something out. The Emoji Movie is 6% fresh and earned a B Cinemascore (!!), a score that does not occur in kids' films. While good and evil stared each other down, Atomic Blonde also opened, and while it may have missed its $20 million target, it did debut better than John Wick's $14.4 million, and we know how that all turned out.

It was terribly, frightfully close this weekend, but I am happy to report that Dunkirk is our number one film, earning a classy $28.1 million, down a fantastic 44% compared to last weekend. As Kim Hollis reported in BOP's Friday Box Office Update, The Emoji Movie was number one for a day, joining crazy news around the firings at the Trump White House and McCain's voting choice on the health care bill – it was a nutty day. The Emoji Movie blasted off with $10.1 million on opening day, taking in $900,000 from Thursday previews and the remainder on Friday. If you are like me, you were hoping that was the peak, and the rest of the weekend would slide downward. That's what happened with Cars 3, another film that no one should see, as it earned $19.6 million on Friday, $18.4 million on Saturday and $15.6 million on Sunday. If it had followed that pattern it would earn about $27.5 million. However, given the reviews and word-of-mouth indicated by the Cinemascore, we had to hope it would be even worse.

By Sunday, The Emoji Movie had picked up $25.7 million over three days, still far too much for a film that should be kept in the same warehouse as the Ark of Covenant. I am not going to try and describe something that eludes me, but from what I've read, it is a rip off of Inside Out, this time taking place in a phone instead of a child's brain. Sony spent $50 million on this one, not realizing it was money better spent on just about anything else. Still, depending what happens over the next few weeks, they will likely make money off it, if overseas children are as forgiving as their North American brethren. Reviews are actually humorous to read, so if you have some time, wander over to RT and at least read the excerpts. I don't like The Smurfs or the idiot Chipmunks, but this is worse as it's about nothing, and not the cool Jerry Seinfeld version of nothing. I beg you to keep your kids at home or go see Despicable Me 3 again instead.

Dunkirk rode the wave of good word-of-mouth and Christopher Nolan love, as the film has received a ton of free advertising through news pieces and general interest. It is owning IMAX, which is showing a special 70MM version of Dunkirk at 31 theaters across the US and charging an average of $15 per ticket. In some markets, the price per ticket is even higher than $25. The Friday-to-Friday drop was high at 60%, but compares the second Friday to an opening day that contained $5.1 million in previews. Nonetheless, Dunkirk was able to storm back over the rest of the weekend.

Dunkirk is working across demographics and crossed the $100 million mark this weekend. It now has a domestic total of $102.8 million after 10 days. Overseas, Dunkirk is seeing a slower rollout, but has already earned $131.3 million internationally, putting it in an easy position to make up that $100 million production budget and significant advertising costs. Next weekend will be key for Dunkirk, as it faces off against the last of the summer blockbusters in The Dark Tower, but advertising for the Stephen King adaption has been sketchy and desperate of late (Good v Evil – who uses that for a theme for anything these days?) so I am expecting a critical drubbing for that one and an open field for Dunkirk in weekend three.

Finishing third is Girls Trip, as the Queen Latifah comedy upends the expected third place slot reserved for Atomic Blonde. Word-of-mouth is carrying Girls Trip, as it saw a Friday-to-Friday drop of only 47% (remember those previews), as it finished about $1 million behind the Charlize Theron actioner on Friday, before coming back over the rest of the weekend. Girls Trip finished the weekend with a score of $20.1 million, dropping only 36% in the process. Trip cost only $19 million to make, an amount it earned in a day and a half, so with a gross to date of $65.5 million, Universal is once again cashing in this summer. Universal is proving that films don't have to cost hundreds of millions of dollars to be a big hit (although that worked for Fate of the Furious). They only need to be good films released at the right time (see: Split, Get Out, and Fifty Shades Darker). Where Girls Trip goes from here is unknown, but it should crack the $100 million mark domestically (in about two weeks or so).

Atomic Blonde opens in fourth, and given the hoopla on this one leading up to release, I have to wonder if there isn't a little studio disappointment with this result. Atomic Blonde came up with a $7.1 million opening Friday, including $1.5 million from previews. Given that Friday was really $5.6 million, it makes sense that the weekend kicked out at $18.6 million. As stated above, that's more than John Wick debuted to ($14.4 million), so director David Leitch is moving up. It does join the top five biggest Focus Features releases ever, behind only Insidious Chapter 2 ($22.7 million), London Has Fallen ($21.6 million) and Burn After Reading ($19.6 million), but getting ahead of The Boxtrolls ($17.3 million) and Coraline ($16.9 million). Atomic Blonde was made for $30 million, $10 million more than John Wick, but I bet this one plays better overseas.

At Rotten Tomatoes, Atomic Blonde came in at 75% fresh, with 97 of 130 critics finding something to like. Top critics were only slightly higher at 78% fresh. The Cinemascore was an unfortunate B, though, and while I haven't seen the film yet, I understand there is some challenging structure to this one, which again might make it play better in Europe. It hits the UK on August 9th, but given the domestic opening and the small budget, Atomic Blonde should do quite well.

Spider-Man: Homecoming is fifth and has a bit of a better hold than its 50% decline last weekend and the 62% drop it saw in the weekend following its $117 million opening. In its fourth frame, Spidey earned $13.5 million and fell 39%, but it brings its domestic total up to $278.4 million. Homecoming has now blown past the two Amazing Spider-Man movies, but doesn't look like it will get past any of the Tobey Maguire versions (Spider-Man 3 is third with $336.5 million). Overseas, the Sony/Marvel release has now earned $355.4 million, making the $175 million investment (before marketing) a good one.

Sixth is War for The Planet of the Apes, which continues its freefall. After dropping 63% in its second weekend, War fell another 50% this weekend, earning $10.4 million. The domestic total is now at $118.7 million, so the overseas amount is going to have to be huge, or this $150 million production is going to lose money for Fox.

Despicable Me 3 finishes seventh this weekend, and with another fair sized drop of 41%, the third film in the series might finish as the lowest domestic earner of the franchise, but it's going to be close. This weekend, DM3 earned another $7.7 million. That brings its domestic total up to $230.4 million – it will never catch Despicable Me 2 – as the whopper of the series earned $368 million on the domestic side (and $600 million plus overseas). The original earned $251.5 million stateside, and while the third film will likely earn slightly more, the fact that it's even close to the original is really a sign of summer 2017 at the box office. The third Despicable Me has done well overseas, earning $588 million, easily beating the original's $291 million and not far off the second film's $602 million overseas take.

Eighth is Valerian and the City of a Thousand Planets, which after a floppy $17 million open, takes a bullet to the forehead this weekend. Valerian fell a hurtful 60%, earning only $6.8 million, which makes it a money loser with its $200 million budget, but it doesn't set a record for the size of the second weekend drop. The total now has hit $30.6 million, and the outcome is a shame given Besson's efforts in bringing this to the screen.

Ninth is Baby Driver, which has quietly had a great run. This weekend it earned $4.1 million, falling 33%. Since its second weekend, weekend-to-weekend declines for Baby Driver have been low: 37%, 33%, 30% and 33%. Baby Driver cost $34 million to make, and to date has earned $92 million on the domestic side, and it should hit $100 million. Overseas has been slower going, with a gross to date of $47 million.

Tenth is Wonder Woman, which continues to hold on in its ninth weekend. This time around, the Gal Gadot flick earned another $3.5 million, down 23%. The domestic total has hit $395.4 million, and the global amount has crossed the $785 million mark.

Overall, the box office is healthy overall, but in terms of totals doesn't hold a candle to last year, as there is no big hitter, like Jason Bourne last year opening to almost $60 million. The top 12 this weekend pulled in $142.7 million, whereas a year ago the top 12 came in at $179.6 million. Next weekend brings The Dark Tower, which I don't have a whole lot of confidence in, and Kidnap, a new thriller with Halle Berry.