Weekend Wrap-Up
Dunkirk Leads Three New Releases to a Combined $100 Million
By John Hamann
July 23, 2017
BoxOfficeProphets.com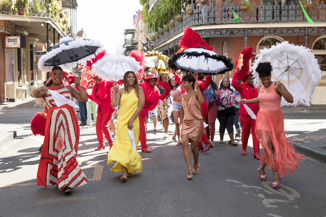 ---
First off, let's get things started with a bang: Dunkirk opened to $50.5 million, and Girls Trip was hot with $30.4. Both films earned more than expected. Valerian and the City of a Thousand Planets picked the wrong weekend to debut and struggled with $17 million.

Just like last year over the same weekend, three opening titles at the box office had to combine their strength to provide a decent summer number. The problem is that the box office once again either equals or lags the year previous, leaving us in the constant state of failure. It would be so nice to say "enough already," chuck this summer in the garbage, and move on to Oscar season.

But wait. Before we get too morose over the constant summer failures, let's have a closer look at what happened this weekend, as most of the openers were strong, top 12 totals were decent, and no sequels were released. What's that, you say? Hollywood released three major films this frame, and none of them were a remake or had a roman numeral or a colon attached. How can we not have a weekend with a title like Studios Spend Too Much Money 6: Gotcha Again Sucker? We have to go back to March to find a weekend where three films opened on more than 2,000 screens, and none of them were sequels. However, that weekend in March gave us the disasters CHiPS and Power Rangers, and the only new idea that weekend, Life, which was a rip off of an Alien movie. - In the end, all of them floundered and all lost money.

This weekend is similar as openers include Dunkirk, the recounting of the nasty World War II battle, Valerian and the City of a Thousand Planets, which was previously a comic book, and lastly Girls Trip, which feels a lot like Bridesmaids, a "Tyler Perry Presents" flick and The Best Man all swirled into one. The really odd thing is that we get this batch this weekend, followed by Atomic Blonde and The Emoji Movie in the following frame, and then three more originals on August 4th, before getting back to normal in the following frame with two sequels (both with colons!) and an original title.

Our number one film of the weekend is Christopher Nolan's Dunkirk, which lit it up at the box office. With end-to-end action, great reviews, and that Chris Nolan "thing," previews were big, earning $5.1 million. When combining those previews with Friday's business, opening day came in at a very solid $19.8 million, showing the strength of this release. Considering that Warner Bros. was looking for an opening between$35 and $40 million, I'd say that was an impressive first day, considering that Dunkirk's overseas business was going to drive profits on this one.

Variety loves to remind us about Nolan's last film, Interstellar, and its $47.5 million opening weekend versus its $165 million production budget, flirting with the idea that the space epic was a disappointment financially. In actuality, Interstellar opened on November 7, 2014. It had earned $150 million prior to the end of the month (three weeks) and wound up earning $500 million overseas. Nolan draws his own crowd like no other director working today. That title used to belong to Quentin Tarantino, but making only five films since 1997 does not endear the fanbase. Nolan's last five films have averaged $717 million worldwide, and if you've ever heard a Nolan fan debate the ending of Inception, you know what I'm talking about.

Dunkirk is going to be a similar performer compared to Interstellar, but it should do even better in the end. It turned its opening day of $19.8 million into a weekend gross of $50.5 million – a solid number considering that this is Oscar bait being released in July, doesn't have any focused star power, and is structurally different that a lot of films. I thought adding Harry Styles was a great idea – the matinee idol throwback – but I thought it added more to the film than the box office. Dunkirk cost Warner Bros. $150 million to make, and critics believe every penny is up on the screen. Dunkirk is 92% fresh at Rotten Tomatoes, with many believing we have the film to beat for Oscar out in release already. Audiences were a little unsure, with the Cinemascore coming in at an A-. Overseas, where Dunkirk is likely to really shine, the war film took in $55.4 million, putting it in a position to reap huge rewards for the studio, especially if it finds some legs domestically.

While Dunkirk did great this weekend, Girls Trip is the real winner. The comedy cost Universal only $19 million to make, and it had an opening day gross of $11.7 million (combined with Thursday previews, of course). After a summer of terrible comedy results, great reviews and excellent word-of-mouth pushed Girls Trip out of Tyler Perry mode and into something much, much bigger. It easily outgrossed that production budget by the end of the weekend, pulling in $30.4 million over three days. That weekend total outdoes films likes Bridesmaids ($26.2 million opening) and Bad Moms ($23.8 million), and matches films like Think Like A Man ($33 million opening) and The Best Man Holiday ($30.1 million opening). Legs should be strong – the 89% fresh rating got audience's attention pre-release – and the A+ Cinemascore could make it a breakout hit and drive it forward for a long time to come.

Spider-Man: Homecoming is third this weekend and is our top holdover, which is bad news for both Valerian and War For the Planet of the Apes. This weekend, Spidey's third, the webslinger earned another $22 million – so while the third place ranking is great, the weekend-to-weekend drop of 50% is higher than Sony would have liked. The domestic total has now hit $251.6 million, and combined with overseas results, Spidey easily crossed the half-billion worldwide mark this weekend. It cost $175 million to make, and marketing costs were heavy as well. Nonetheless, it will still make money.

War For the Planet of the Apes hit a bit of a cliff and fell hard from its $56.3 million opening frame. In its second frame, the well-reviewed Matt Reeves flick earned another $20.4 million but fell a hard 64%. The last film in the series, Dawn of the Planet of the Apes, repeated at #1 in its second frame, and fell only 50%, earning $36.3 million. War, against its $150 million budget, has earned $97.8 million after two weekends of release, and has another $52 million from overseas theaters.

Valerian and the City of a Thousand Planets is fourth, and if there is a disappointment this weekend, this is it. Luc Besson's much hyped and hoped for independent science fiction release did not have a breakout weekend and was not the vision that many hoped for. Besson's $200 million plus film had a North American opening of $17 million – a number whose expectations only went lower as opening weekend approached. Had the film itself been better (it is currently 54% fresh at Rotten Tomatoes), I think it would have opened to more. It also might have performed better if it had a bigger star attached to it, like Bruce Willis in Fifth Element.

I have never quite understood Dane DeHaan as a leading man – he's more Luke Skywalker than Han Solo. Cara Delevingne I get - she has presence; he does not. North American audiences were cool on it (B- Cinemascore), so It will be interesting to see how Valerian does overseas. Still, my feeling is that Luc Besson cashed out on it early, selling the distribution rights like a Lionsgate release and reducing the impact if it nosedived. STX ends up wearing it in North America, given it likely had to cough up the marketing budget stateside. I am sure that there will be much more on the fate and finances of Valerian over the weeks to come.

Despicable Me 3 is sixth and continues to be another Universal cash cow, as the studio is having a banner year, releasing Fate of the Furious, Get Out, Split, and Fifty Shades Darker this year. In its fourth weekend, Despicable Me 3 earned another $12.7 million and dropped a decent 34%. It has picked up $213.33 million domestically, and has passed the half-billion mark overseas, against that tight budget of $80 million.

Baby Driver and The Big Sick continue to thrive this weekend, earning $6 million and $5 million respectively. Baby Driver brings its total up to $84.2 million, and The Big Sick moves up to $24.5 million.

Wonder Woman continues its big ride despite being out for eight weekends of release. The Warner Bros./DC film of the summer picked up another $4.6 million and declined a small 32%. Wonder Woman has now hit $389 million on the North American side and continues with equal amounts overseas.

Wish Upon is tenth. The discarded horror flick earned only $2.5 million and fell 55%. The $12 million Broad Green release has now earned $10.5 million.

Overall, the top 12 films earned a fairly healthy $174.2 million, but the box office still struggles to gain any hold on last year, as the 2016 top 12 pulled in $183.6 million. Next weekend should be fun, as Charlize Theron goes all John Wick in Atomic Blonde, and Sony releases The Emoji Movie, which is just another sign I am getting old.