Weekend Wrap-Up
Warring Apes and Spider-Man Try To Keep Summer Streak Alive
By John Hamann
July 16, 2017
BoxOfficeProphets.com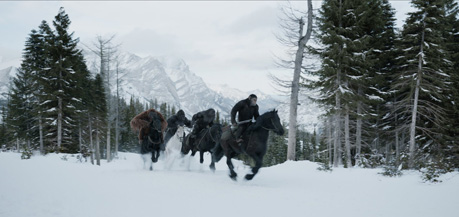 ---
Could this be the weekend the box office needs badly – on a roll following Spider-Man's romp last weekend?

The top five films at the box office this weekend have a lot going for them: A Rotten Tomatoes average fresh rating of 88%, A strong Spider-Man movie prepped to hold after a debut of $117 million last weekend, critical drool around War for the Planet of Apes, and the large expansion of indie darling The Big Sick, which was pulling with it incredible word-of-mouth. This should be it! Possibly a domestic weekend that hammers last year when the Ghostbusters reboot flopped, and one that sets a new tone for the last month and a half of summer earnings. If you were hoping for a blowout frame at the box office, let me burst your bubble right now: Spider-Man Homecoming dropped a not very Marvel-ous 61%, and War For the Planet of the Apes barely beat the original's $54 million opening. That leaves us again looking to next weekend and hoping that Dunkirk, Valerian or Girls Trip can somehow figure out how draw audiences to theaters, as the box office continues to fall away from previous years.

The number one film at the box office this weekend is War For the Planet of the Apes, the much advertised and talked about third film in the latest apes trilogy. The box office news on Thursday felt very good – War earned a strong $5 million from previews, potentially setting the table for a big weekend. That was a million more on Thursday than the last film in the series did, and Dawn of the Planet of the Apes went on to earn $72.6 million over opening weekend. That means the third film should open even bigger, right? Not so fast. Even with the million-dollar cushion from Thursday, the opening Apes film fell way behind the second film for the combined Thursday/Friday, with Dawn earning $27.6 million, and War finding only $22 million. All of a sudden, there was a 20% deficit for War compared to Rise, and the opening day for the third film was only $2.5 million bigger than the original. War for the Planet of the Apes cost $60 million more to make, too.

These Planet of the Apes films started with a fairly light tone in the James Franco original, and even had some fun in the first half of the film. Yes, it goes a little dark in the second half, but compared to the second film, it was almost a comedy. That's why the original was able to earn more than three times its opening weekend domestically – picking up $176 million after opening to $56 million. The original had a budget of $93 million, and had it not earned $300 million plus overseas, there would never have been another film. The second film, a darker, more dense film from Cloverfield director Matt Reeves, did what it needed to keep the franchise alive. It out-opened the original and managed to earn more both domestically ($208.5 million) and abroad ($502 million) to justify an increase in budget to $170 million – almost twice what the original cost. It was still profitable and added another film to the box set, so, naturally, the third shows up this weekend. The problem is, Apes was going to have an opening weekend more like the original and a budget more like the sequel.

The weekend take for War of the Planet of the Apes came in at $56.5 million. As stated above, that's only $1.7 million more than the original, which opened to $54.8 million. Tracking was looking for $60-$65 million, not far off of this estimate, but War still came in under it. A decade ago, a film with a $150 million production budget (and huge marketing costs) and this kind of debut would be in serious trouble, but as this column has stated all summer, overseas business will bail out the less than stellar domestic sales, and Fox will likely again end up just fine with their investment – as the overseas revenue is being reported at $46 million today.

While I am negative towards the audience response to this release, and feel that War For the Planet of the Apes flew under what it could have done by $10-15 million, I think it's important to remember that a $55 million opening still puts any film into the top 30 biggest openers for July (top 30 in May is $70 million). It's been a tough summer for distributor Fox – Alien Covenant died out with $74 million domestic and $230 million worldwide, against a budget just short of $100 million, and they released some smaller films like Diary of a Wimpy Kid: The Long Haul (likely lost money or broke even), Captain Underpants (same result), and Snatched, which was a loser for the studio as well. Fox will be back in a big way next summer, with a Deadpool sequel and another crack at a Predator reboot.

Sony's Spider-Man was something special last weekend, wasn't it? I hope you enjoyed it, because it appears to be over, or at the very least, the Homecoming is heading for a hard landing. As Kim Hollis reported yesterday in the BOP Friday analysis, Spidey dropped a scary 73% when comparing first Friday to second, but given large preview amounts that is somewhat understood. The question was whether it would recover over the remainder of the weekend. The Guardians sequel fell 70% when comparing first Friday to second, but recovered for a weekend drop of 55.5%. Wonder Woman had a Friday comparable drop of 59%, but then turned that into a weekend drop of only 43%. The Friday doesn't tell the whole story, but the weekend outcome shows Homecoming playing more like a sequel than an original. Whether that is due to Spidey's appearance in Civil War or the fact that this is the third webslinger flick released in the last five years is responsible for that behavior is the question.

The first Spider-Man, the Tobey Maguire original released in 2002, opened to a very similar $114.8 million, and with no Thursday previews, not much competition in its second weekend, and most important, no franchise fatigue, Sam Raimi's Spider-Man was able to hold with a 37.5% drop and have an amazing weekend at $71.4 million. At the time, that was the best second weekend ever. More recently, less fatigued franchises like Guardians of the Galaxy Vol.2 posted a $65.3 million second weekend, and Wonder Woman earned $58.5 million in weekend two, still the 25th second-best frame ever. Overseas, Spider-Man: Homecoming has picked up $261.1 million, making the $175 million budget almost an afterthought.

Despicable Me 3 finishes third and has a much better hold than its 53% drop last weekend. This weekend, Gru and family earned $18.9 million, giving it a better decline of 44%. The Universal/Illumination product's domestic total to $188 million, while the overseas number has hit $431 million – all against that puny $80 million budget.

Fourth is Edgar Wright's Baby Driver, which is having a great run. Baby earned another $8.8 million and fell 33%. The $34 million Sony release has now earned $73.2 million stateside and $22 million overseas.

Fifth is The Big Sick, and after expanding from a tiny 326 venues to a comparatively massive 2,597, tracking was looking for the indie dramedy to potentially crack $10 million this weekend. It must have been a little under the weather, as it did not come close, earning $7.6 million, giving it an increase over last weekend of 113% (but keep in mind the venue count change). Lionsgate is distributing for Amazon, which picked up The Big Sick at last year's Sundance Festival for $12 million. This deal is similar to the one Amazon did last year for Manchester by the Sea, which became Roadside Attractions' biggest hit after Amazon paid $10 million for the rights. Currently against that $12 million investment, The Big Sick has earned $16 million at domestic cinemas, and could stick around for a while.

Wonder Woman is sixth, despite being in its seventh weekend of release. This time around, the Warner Bros./DC Comics release earned $6.9 million and dropped 30%. The Gal Gadot starrer has earned $380.7 million domestically and is sneaking up on Guardians of the Galaxy Vol. 2, which has about about $387 million in domestic sales. Overseas, Wonder Woman has matched its domestic gross, and has a worldwide cume of $765 million.

Broad Green's Wish Upon flopped this weekend, earning only $5.6 million over three days. The $12 million film's 20% fresh rating tells it all, as does the C Cinemascore. Avoid at all costs.

Cars 3 is eighth, earning $3.2 million this weekend. That's a decline of 41% for the Pixar release, and the second lowest earner ever for the Pixar brand now has a sad $140 million. Ninth is Transformers: Made For China, which picked up another $2.8 million and fell 56%. Domestically this one has $124.9 million, and is easily being out-grossed by China alone, which has $220 million plus in ticket sales.

Tenth is the Will Ferrell miss The House. The comedy earned $1.8 million and fell a woeful 62%. Its domestic total is an embarrassing $23.1 million.

Overall, what looked like it could be a breakout frame wasn't, and the box office will have to look again to next weekend for some hoped for improvement. This year, the top 12 earned $159.4 million which isn't bad. Last year, The Secret Life of Pets' second weekend was enough to give the top 12 $155.4 million, as the Ghostbusters reboot held it from breaking out. Next weekend again could provide a spark: Luc Besson's Valerian and the City of a Thousand Planets opens, as does Chris Nolan's massive Dunkirk, and the well-reviewed Girls Trip, a comedy with Queen Latifah and Jada Pinkett-Smith.