Weekend Forecast for July 14-16, 2017
By Reagen Sulewski
July 14, 2017
BoxOfficeProphets.com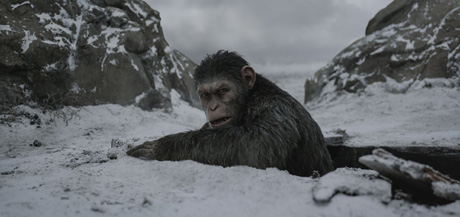 ---
So, it's now two weeks in a row that Hollywood's sequel culture has spat out two movies that are actually good. You know, if you guys start making this a habit, we're only going to expect more and more from you.

Six years ago, another Planet of the Apes series probably seemed like folly of the highest order. And yet here we are, where the third entry, War for the..., is legitimately one of the more highly anticipated movies of the summer, thanks to an unusually strong sense of narrative and theme. Turns out that taking the premise seriously actually makes a difference – and then a bravura performance from one of the greatest actors in a generation helps too.

Andy Serkis continues to be the MVP of this series, with his motion-captured turn as Caesar, the first artificially intelligent ape. The franchise tells the story of his struggles to establish a safe ape collective society away from the remaining bands of surviving humans, struggling themselves in wreck of a post-apocalyptic society (brought on by the same thing that made the apes intelligent in the first place). In War, the battle becomes more pitched and even sided, as a blood thirsty military man (Woody Harrelson) attempts to reestablish human dominion over the world. This leads Caesar to organize for what could be a final battle between ape and human, or at least the last resistance of humanity if it fails.

What's kept this franchise strong is its commitment to a strong character line through Caesar, as well as eye popping effects, which truly make you believe in the reality of the situation and boggle at the audacious leaps that the movie is making in equating (and contrasting) these newly intelligent creatures and man.

The first two films have found a niche in the middle ground of blockbusters – not $100 million opening weekends, but solid earners just the same, and now in the world of heavy international box office, their action-heavy and easily dubbed nature makes them an easy sell elsewhere. Indeed, Dawn earned a pretty spectacular $700 million worldwide, and this is even more action heavy (as many have pointed out, these are basically Westerns at this point – about a man (ape) pushed too far). With strong reviews and a great pedigree, I see a strong opening weekend of about $77 million.

Once a mainstay of summer, the rom-com is basically an endangered species at this point, with that space taken over by weepy teen romance movies (and not even really then). The Big Sick isn't quite the traditional version of this genre, but it'll do since it's apparently of pretty high caliber. Kumail Nanjiani's first big starring role, it tells the mostly true story of his relationship with his now-wife Emily Gordon (who co-wrote the script but doesn't star).

The culture clash is the obvious hook of the story, with he and Zoe Kazan dealing with the difficulties of an inter-racial relationship that neither of their families really has an appreciation of. This might just be a bland "fish out of water" comedy except that it takes a turn when Kazan's character comes down with a mysterious, serious illness. The trauma and stress forces her family to come closer and understand Nanjiani and something bigger builds out of it. A bit of a buzz film since its debut at Sundance earlier this year, it's been building through preview screenings and a fairly aggressive PR campaign. Reviews are fairly ecstatic about the film, and Nanjiani's profile has built over the past few years, from his "funniest guy in a 30 second cameo" status through to Silicon Valley where he carries about 20 percent of the comedy load.

Also starring Holly Hunter and Ray Romano, it's not a film that's running off star power, which also gives it a chance to be something of a leggy film, as it can beat expectations. Its start should be fairly low, though, with around $11 million.

Indie horror film Wish Upon presents us with about the umpteenth version of the "careful what you wish for/monkey's paw" story to hit the big screen, to decreasing effectiveness. Joey King stars as an unpopular teen whose father (Ryan Phillippe, man, we're old) presents her with a magic box that grants wishes. She uses these wishes to vault up the social ladder with wealth and power and friends, and nothing can go wrong from there, right? Right?

And that's when the killings began. The consequences of getting everything you want are terrible and unimaginable, so it would have us feel, and this leads her to try and rid herself of the accursed thing before it's too late and she loses everything she actually care about in gruesome and blood-spattery ways.

Reviews savage the film as trite and unimaginative, and probably worse, that it's far too tame for real horror fans. With these factors in mind and a weaker studio to support it, it's probably headed for a meager weekend of around $6 million.

Spider-Man: Homecoming surpassed some expectations with a $117 million weekend, which 15 years later surpasses the original Spidey movie's opening weekend, which really kicked off this run of comic movies. Spider-Man 3 still holds the opening weekend record for this character, but I don't think anyone's really pointing at that as an object to emulate, and Homecoming really represents a reformation of the character's reputation. Bringing Spidey back into the Marvel fold and the MCU has revitalized his power as a box office figure, and proves that you just need people who care about story and character. Legs will be hard, considering the initial buzz kicked in before opening weekend, but a strongish $63 million should be in store.

Despicable Me 3 took a tumble with a $33 million weekend in its second frame, as fanaticism over Minions gives way to yawns over Gru. While we will see Minions 2, I have my doubts about Despicable Me 4. Give this $15 million this weekend on its way to a little under $200 million domestic.

Baby Driver, meanwhile, showed something in the way of legs with a drop of a little more than a third. The stylish heist flick has an outside shot at $100 million now if it can keep this up, giving Edgar Wright his first huge hit as a director. Give it about $8 million this weekend. Wonder Woman keeps on going as well, and should find about $7 million this frame as it strides towards a possible $400 million domestic.