Weekend Wrap-Up
Spider-Man Comes Home to Marvel
By David Mumpower and Kim Hollis
July 9, 2017
BoxOfficeProphets.com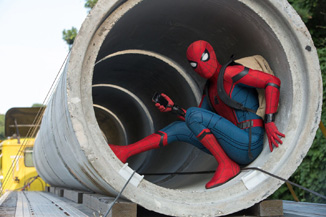 ---
An engrossing box office debate began a couple of years ago. What would happen if one studio systematically destroyed a known property but then handed its caretaking over to a different, more trusted brand? Would movie audiences forgive the property for its prior failings or would they hold a grudge? This weekend, consumers finally settled the issue, as a $175 million production entered the marketplace and promptly dominated the competition.

In the immortal words of U2, Spider-Man enjoyed a sort of homecoming.

Yes, Spider-Man: Homecoming is the number one film in North America this weekend, but that outcome was always a foregone conclusion. What's important here is the opening weekend total of $117 million. In combination with another $140 million earned overseas, Sony's already effectively in the black on Spider-Man after a few days of release, not that this was ever a concern.

How strong is this performance? Well, that depends on where you stand on the topics of comic book movie fatigue in general and Spider-Man specifically. On the former topic, 2017 has undeniably been a phenomenal year for comic book movies thus far. Wonder Woman is 92% fresh at Rotten Tomatoes and will be the subject of box office analysis in just a moment. Guardians of the Galaxy Vol. 2 is 81% fresh at Rotten Tomatoes and currently stands as the number one film of the year. Even if superhero fatigue is a real concern, it hasn't played out in recent months.

That leaves the discussion about the character in the weekend's number one movie more about branding. As Tim Briody mentioned yesterday, Spider-Man was the first movie ever to open to $100 million. Its 2002 performance inflation-adjusts to $174.4 million today. Over the past 15 years of mega-openings, 45 other movies have joined Spider-Man in the $100 million openers club, the rarefied air of movie box office.

The latest one is Spider-Man: Homecoming, which is something of a surprise to box office tracking services, most of which pegged the film in the $90 million range. Sony poor-mouthed the film even more, saying that they expected only $80 million over three days. The explanation for these lowball estimates is that Spider-Man has been a dying brand for a while, at least in movie theaters.

After the high point in the franchise, Spider-Man 2, Spidey's had exactly one good weekend. That was the opening of Spider-Man 3, which became the first film to break $150 million in three days. Its $151.1 million was a dazzling display for 2007 and would still be described as such today. Adjusting for inflation, Spider-Man 3 earned $194.1 million, which would qualify as the fourth biggest opening ever. Basically, the last three paragraphs reflect that Spider-Man was once the most powerful franchise in the industry.

Then, Sony cast Andrew Garfield. Okay, that's a cheap shot. Tobey Maguire's jazz hands in Spider-Man 3 led to some horrific word-of-mouth, as the film earned "only" $336 million domestically. That sounds solid on its own until you notice that the movie grossed only $185 million after opening weekend. It…wasn't well received. Then, Garfield showed up in an ill-conceived reboot attempt only a decade after the original and merely five years after Spider-Man 3. It's the equivalent of a Twilight reboot debuting next week…and nobody wants that.

The Andrew Garfield era is the shame of Sony. Sure, he's a fine actor who was recently nominated for an Academy Award (no, really!), but he was a terrible, terrible, TURRible Spider-Man. His two titles grossed $262 million and $202.9 million, respectively. If you're not sure how bad that is, understand that Spider-Man 2 earned $373.6 million, and Spider-Man is the largest winner in the franchise to date, with $403.7 million. Yes, EVERY Spider-Man movie to date has earned less than its predecessor. That's the textbook definition of a dying franchise. Extending the thought even more, the Spider-Man franchise went from $400 million to barely $200 million in exactly four films. Sony killed Spider-Man in a way that the Green Goblin never could.

The news that Sony was going to cast yet another Spider-Man and try to reboot yet again, only three years after The Amazing Spider-Man 2 was an announcement understandably met with skepticism. But Sony had an ace in the hole. They had brokered an agreement for their formerly iconic character to cameo in an upcoming Marvel movie, Captain American: Civil War. People actually WATCHED that film. They even liked it, something that hadn't happened with a movie featuring Spider-Man since 2004! The new kid, the one Tony Stark called Underoos, showed some skill. That wasn't the important aspect, though.

Spider-Man was officially a part of the Marvel Universe. The jazz hands and Andrew Garfield years of shame were a thing of the past. Now, Marvel and its visionary leader, Kevin Feige, were the caretakers for the teen webslinger. Spider-Man fans had hope again! And that's what made this weekend's debut so interesting. Sony systematically destroyed everything that people might love about Spider-Man movies. They were every bit as nonchalant about the sequels as one of their other film franchises, The Smurfs….and that series had a new release this year that you've already forgotten.

Marvel's different. Marvel movies are universally great. Sure, everyone has their favorites, and a few don't quite live up to the rest of the library, but the next truly bad movie in the Marvel Universe will be the first. Spider-Man being a part of the Marvel Universe means that the Spider-Man movie is good, at least in theory. And that leads to the question that people within the industry have debated since Captain America: Civil War came out in May of 2016.

Would consumers harbor a grudge at Sony for destroying something that they love? Or would they give the benefit of the doubt since Spider-Man: Homecoming is a Marvel movie? The answer became obvious in recent weeks as buzz started filtering in. Early reviews were glowingly positive. Even a BOP writer who doesn't like Marvel's offerings adored the latest Spidey movie.

Ultimately, the film wound up with a 93% fresh score at Rotten Tomatoes, making it the best-reviewed comic book movie of the year, a title that Wonder Woman seemed to have locked up. Spider-Man: Homecoming is actually one of the best reviewed comic book movies ever. Its current score is actually one point higher than The Avengers!

Movie-goers today are media savvy, and early reviews do have a dramatic impact on box office, something that wasn't true just a few years ago. The news that Homecoming is a quality movie heightened its opening weekend performance. The film opened to $50.5 million on Friday, meaning that it would beat both Garfield offerings with Friday/Saturday box office alone. Its final weekend estimate of $117 million is enough to claim second-best Spider-Man opening to date.

More importantly, the franchise is redeemed. Marvel's staff reveres Spider-Man as a character and clearly took Sony's failures personally. They worked hard to craft a memorable movie that combines superhero action with teen angst. Fittingly, they brought onboard John Frances Daley, a member of the Freaks and Geeks cast, to help with the latter. Spider-Man: Homecoming has amazing authenticity and a sublime performance from Michael Keaton, the first (major) movie Batman as a plausible working-man villain. Audiences ate it all up, giving the film an A Cinemascore. With glowing reviews and otherworldly word-of-mouth, the latest Spidey flick is certain to join Guardians of the Galaxy Vol. 2 and Wonder Woman in the $300 million club.

Sony's succeeded in bringing Spider-Man back into the limelight, almost by accident. They should do whatever Marvel asks of them moving forward to keep the character popular, and the same is true of their upcoming Sinister Six project. Corporate moviemakers can't be too proud to ask Marvel for help in turning their iconic characters into great movies. It's a lesson Fox needs to learn with X-Men, a franchise that's currently in its death throes due to a couple of thoroughly mediocre recent offerings.

All of that is a side issue, though. What matters for Spider-Man: Homecoming is simple. Spider-Man is back, and movie audiences told Sony this weekend that all is forgiven…as long as they continue to play nice with Marvel. Kevin Feige might be the most important person in live action cinema today.

With Spidey hogging all the attention, Despicable Me 3 falls to second place with a 53% drop to $34 million. With a current domestic total of $149.2 million, it's pacing well behind Minions and Despicable Me 2, but still has a significant lead over the original film in the series. Remember that the budget for DM3 was only around $80 million, so this latest film in the franchise is obviously going to be a moneymaker for Universal well before home video revenue or merchandising are counted in the mix. The overseas box office total is just short of $300 million, giving Despicable Me 3 a worldwide cumulative gross of nearly $450 million.

Third place goes to Edgar Wright's Baby Driver, which held up pretty well in the wake of its fanboy-driven, slightly holiday inflated debut. The TriStar production earned $12.8 million in weekend two, down 38% from last frame. So far, the well-reviewed, stylish film has earned $56.9 million, which means that it is not only Wright's highest earning film of his career, but it has also almost doubled the amount of his previous top earner, Scott Pilgrim vs. the World. With $14 million from international venues, this $34 million project should be quite profitable.

As already mentioned, Wonder Woman is shaping up to be the #1 movie through the summer. The Warner Bros./DC joint venture added $10.1 million to its coffers, a 36% decline from last weekend. That brings the running total for the Patty Jenkins-directed film to $368.8 million, and it continues to run strong, having yet to fall out of double-digit earnings. The overseas revenue sits at $377 million, giving Wonder Woman a worldwide total of $745.8 million. It's coming up on Guardians of the Galaxy for second place domestically in 2017, and it currently sits in fourth place on the worldwide chart.

Transformers: The Last Knight continues its rapid descent down the charts, as this franchise just isn't doing it in North America anymore. It fell 63% down to $6.3 million, and it lost almost 900 theaters in only its third week. The current domestic total is $118.9 million, which would mean utter doom for this $217 million budgeted nonsense; however, it has tallied $376 million from international revenues, which means that its nearly $500 million worldwide gross may be enough to keep Transformers going a little while longer. Let us all join together in weeping for humanity.

Sixth place goes to Pixar and Disney's Cars 3, another film that is suffering due to audiences tiring of seeing the same characters onscreen over and over again without a significant reason to keep telling their stories. Cars 3 earned just $5.6 million in weekend four, and it is certainly failing to follow the trajectory of a typical Pixar release. So far, the domestic total for Cars 3 is $133.7 million, and it adds another $60 million from limited release overseas. Given its $175 million budget, Disney's not going to be super pleased with the results on this one, but at least they have that all-precious merchandising revenue to count on.

Next up in seventh is the Will Ferrell/Amy Poehler disaster that is known as The House. This comedy from Warner Bros. puts Ferrell on a troubling trajectory, one that has to have studios wondering if he's still a name that brings people to theaters. That theory will be tested with a sequel to Daddy's Home that arrives later in 2017, as the Mark Wahlberg pair-up gets a Meet the Parents-style follow-up featuring Mel Gibson and John Lithgow. In the meantime, The House made just $4.8 million in weekend two, down 45%. Its running domestic total is $18.6 million, and there's not much fuel left in the tank despite its short time in theaters.

A pleasant summer surprise sits in eighth place, as The Big Sick continues to get a lot of positive indie cred thanks to amazing reviews and outstanding word-of-mouth. The Kumail Nanjiani/Emily V. Gordon rom-com based on their real-life experiences earned $3.7 million after gaining 255 venues. It was up 121% from last weekend, and now has a domestic total of $6.9 million. Look for this one to continue a strong run throughout the summer.

47 Meters Down continues to hang around in the top ten thanks to a generally weak slate of summer releases. Now in its fourth weekend, 47 Meters Down earned $2.8 million and fell 39%. The $40 million-budgeted film from Entertainment Studios has now earned $38.5 million and will probably be a satisfactory result from them once they've collected ancillary revenue from home video.

We close out the top ten with another smaller scale release in The Beguiled, Sofia Coppola's remake of the 1971 Clint Eastwood film directed by Don Siegel. The 2017 edition earned $2.1 million this weekend, down 34%. Its overall domestic total sits at $7.4 million, which is perfectly fine for a release from Focus Features. Its budget was right around $10 million, and it should continue to play for a bit longer even without consensus rave reviews (they're good but not great).

Looking at the top 12 films overall, they finished the weekend with $201.5 million. That's a little bit behind last year's $209.1 million, which had The Secret Life of Pets and Mike and Dave Need Wedding Dates combining to open for about the same amount as Spider-Man: Homecoming. It did have a stronger group of holdovers, though, including Finding Dory, which earned more than $20 million in weekend four. Next weekend brings the well-reviewed War for the Planet of the Apes, which continues the solid critical performance of that franchise, and Wish Upon, a horror film from Broad Green Pictures that reminds you very literally to be careful what you wish for.