Weekend Wrap-Up
Despicable Decent, Baby Driver Revs It Up
By John Hamann
July 2, 2017
BoxOfficeProphets.com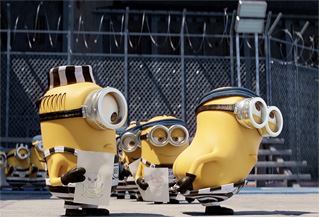 ---
Maybe we needed more Minions.

Anyone hoping that a Despicable Me 3 breakout was going to liven up the summer box office is going to have to wait until next weekend for Spider-Man: Homecoming. The Illumination/Universal product did not break out this weekend. The better news is that smaller entertainment for adults actually worked. Films like Baby Driver, The Beguiled, and The Big Sick worked to different degrees, which is somewhat rare in the height of summer. Edgar Wright's Baby Driver finally gives one of the better directors working today (Shaun of the Dead, Hot Fuzz, The World's End, Scott Pilgrim vs. The World) some box office success, and given its strong reviews and Cinemascore, there is no reason this can't be the alt-hit of the summer. The other good news in the top ten this weekend? Wonder Woman. The DC property enjoys one of the bigger fifth weekends ever - bigger than Beauty and the Beast, Iron Man, and Rogue One: A Star Wars Story.

There were more than a few that were hoping that Gru, his girls and the Minions might break the box office out of its slump, what with the first two Despicables and Minions averaging $85 million opening weekends, and 2015's Minions starting with $115 million. However, franchise fatigue is either settling in or is on the horizon, as this is the third Despicable Me/Minions movie released since July 2013. Despicable Me 3 got started with $4.1 million from previews on Thursday. Despicable Me 2 offered no comparison, as it opened on a Wednesday, but it was a step down from Minions preview amount of $6.2 million, which is the record for an animated film. This alone foreshadowed a debut below $100 million, and the combined Thursday/Friday take at $29.2 million sealed it. With kids out of school, there was no wild 4.0 weekend multiplier coming to save the day, but at least with July 4th landing on a Tuesday, barbecues and fireworks weren't going to cause a hole in the box office. Minions had a Thursday/Friday of $46 million, Despicable Me 2 opened on a Wednesday, and had a $30.5 million Friday on its way to an $83.5 million three-day, and the original had an opening Friday of $21.3 million, as it moved toward a $56.4 million three-day. At this point, things were neither bad nor good for Despicable Me 3 after previews and its first Friday.

After one day, the third film was behaving like the second Despicable Me, save for the almost $60 million the second film earned before it even got to opening weekend, as it opened on a Wednesday. The question was what impact the Wednesday opening had on the second film's Friday-to-Sunday. Despicable Me 2 dropped 4% on Saturday compared to Friday. Minions opened on a Friday, and if you pull the $6.1 million in previews from the Friday, the drop is just slightly smaller than Despicable Me 2. So how did the third Despicable Me flick behave? Quite a bit worse, actually. The third film earned $24.4 million on Saturday, off 16% from the Friday figure. The weekend estimate for Despicable Me 3 came in at $75.4 million. This is an okay start for the Universal/Illumination effort - particularly given the $75 million budget - but doesn't show growth in the franchise.

The Despicable Me series now looks a bit like Shrek. That franchise started with $42.3 million, rose to $108 million with the second film, and then the third film opened to $121.6 million. The comparison works if we compare Shrek the Third to Minions, and Shrek Forever After to Despicable Me 3. Forever After dropped sharply to $70.8 million, losing $50 million between the third and fourth films, and film quality might have been to blame. The third Shrek film fell sharply from the second at Rotten Tomatoes (88% for both Shrek and Shrek 2, Shrek the Third was 41% fresh), and that quality did not recover enough with the fourth film (58% fresh). The Shrek Cinemascores show the same problem, as Shrek the Third dropped two spots from the A's the first two films received, and the franchise couldn't recover. Despicable Me 3 earned a 62% fresh rating at Rotten Tomatoes, well down from the first two Despicables at 81% and 73%, but was up from the 56% rating that Minions received. On the Cinemascore front, the Despicable franchise has always had A's and A-'s, and this one is no different, recording an A-.

Overseas, Despicable Me 3 has been out in a few markets prior to this weekend, and expanded further this frame. The overseas total has already hit $116.9 million, as it will seek to match the second film's $600 million international total. If it can get there, DM3 will look to best Minions $823 million international total. For Universal and Illumination, cost control continues to serve this franchise. Despicable Me 3 was made for only $75 million, half of the cost of the last two Shrek films, which came out in 2007 and 2010 at a cost of $160 million and $165 million respectively. Should the overseas result prove similar to Despicable Me 2, there should be another $1 billion in earnings from the one picture. Keep in mind that for about the cost Disney paid to make Pirates of the Caribbean: On Stranger Tides ($300 million plus, BEFORE marketing), Universal and Illumination have put out four films, and if the fourth earns a billion, the running total will be $3.7 billion – and those are just the theatrical revenues. Forget the massive merchandise sales.

Second is Baby Driver, Edgar Wright's latest and most critic-friendly film to date as Shaun of the Dead's 92% fresh rating is forced to second. Baby Driver, which has an eclectic cast that includes Ansel Engort (The Fault In Our Stars), Kevin Spacey, Jon Bernthal (Shane from The Walking Dead), Jamie Foxx, Lily James (Cinderella), and Jon Hamm, combines music and fantastic car chase scenes to potentially become the must-see of the summer. Sony chose to give Baby Driver a heads start against the competition, opening the film on Wednesday. The Tuesday preview alone told us Baby Driver was catching on, as it earned $2.1 million on a lonely Tuesday, which pushed the Wednesday up to a very strong $5.7 million. The Thursday came in at $3.3 million, not far off the standalone Wednesday, which would have been $3.6 million without the previews. Baby Driver had more than $9 million in the tank before it got to its opening Friday, all against a tight budget of only $34 million.

The Friday was reported at $6 million, which guaranteed a mid-$20 million five-day opening, a big success for a flick like this. Often these types of films have a ton of buzz heading into release, but still fizzle at the box office. The biggest weekend for Quentin Tarantino's Hateful Eight was a mere $15.7 million despite a year's worth of buzz, and Edgar Wright's own Scott Pilgrim vs The World was a flavor of the week (for a solid month), yet it opened to only $10.6 million in 2010. Given the Friday, Baby Driver was not only going to be the biggest opener of Wright's career, it was going to be in the mix with his biggest earners, as Scott Pilgrim was the biggest to date at only $31 million. The question was whether Baby Driver would be front-loaded due to the critical word and buzz surrounding it. The Saturday number was reported at $7.7 million, and the three-day at $21 million, which meant a $30 million five-day total for Baby Driver and a huge leap forward for Edgar Wright.

Critical and commercial success rarely go hand in hand, but with Baby Driver, that is exactly what we have. Rotten Tomatoes had only five negative reviews out of a possible 191, giving it a 97% fresh rating. The Cinemascore came in at an A-, very strong for this sort of film. Baby Driver could easily stay in play for a large part of the summer. The only big issue it has is that Sony went quite wide right off the top, opening the film at 3,226 locations. Overseas, Baby Driver is opening only in the UK and a few other smaller markets this weekend, and will roll out around the globe over the summer. Scott Pilgrim earned half of its global take in the UK, so Baby Driver will be looking to have a strong start there this weekend.

Third is last weekend's domestic disaster, Transformers: The Last Knight, which opened to $44.7 million last weekend. On its second Friday, Transformers 5 fell 70%, and that wasn't because of Thursday previews over opening weekend (this one opened on a Wednesday). The weekend came in at $17 million, off a nasty (but beautiful) 62% compared to last weekend. The $217 million release now has a domestic total of $102.1 million, but it will likely be bailed out given the fact that the overseas total has easily crossed the $325 million mark already.

Fourth spot goes to the impenetrable Wonder Woman, which continues to be a force at the box office after five weekends of release. The longer it plays, though, the more it has to fight for its screen count, as the Warner Bros./DC Comics release lost 529 screens this weekend. Still, Wonder Woman finished as the 15th biggest fifth weekend ever, earning a still amazing $16.1 million. Because of those lost screens, Wonder Woman dips 35%, but considering the Gal Gadot release already had $330 million in the tank before the weekend began, who is going to complain? The domestic take has now hit $346.6 million, with the overseas total running at $361 million.

Fifth is Cars 3, which gets absolutely devastated by Despicable Me 3. The third Cars film earned $9.5 million and dropped a wild 60%. The total now for the Pixar/Disney release stands at $120.7 million, as it will need another weekend to get out of the Pixar basement, currently occupied by The Good Dinosaur with a Pixar-brand low of $125.2 million. It may get out of the basement, but will always be bottom two, as the second lowest Pixar film is Cars 2, at $211.7 million, a number the third Cars film will never reach domestically.

Sixth is The House, the latest in a series of failed comedies to hit the box office recently. The Will Ferrell/Amy Poehler comedy earned $9 million over its opening frame, despite being out to 3,134 venues. The marketing was terrible, reviews were terrible (17% fresh at Rotten Tomatoes), and even the Cinemascore was terrible at a B-. The $40 million comedy will be a memory in only a weekend or two.

Seventh is 47 Meters Down, the thriller with sharks and Mandy Moore. 47 Meters Down earned another $4.7 million this weekend and was off 34%. The total now for this small $5 million flick has hit $32.6 million.

Eighth is Sofia Coppola's latest flick, The Beguiled, which was out to four theaters last weekend and expands to 674 this frame. The film, which stars Nicole Kidman, Colin Farrell, Elle Fanning and Kirsten Dunst, earned $3.3 million this weekend, giving it a decent but not spectacular venue average of $4,836. The movie is 77% fresh at Rotten Tomatoes, and will have to rely on word-of-mouth to compete.

Ninth is The Mummy, as the Tom Cruise flick hits its death throes domestically. The Mummy earned a lean $2.8 million this weekend, and fell 54%, leaving the Universal flick with a sad domestic total of $74.5 million. The $125 million film is literally being bailed out overseas, where it has already earned over $275 million.

Tenth is Pirates of the Caribbean: Dead Men Tell No Tales, another of our overseas bailouts. Pirates 5 earned $2.4 million on the domestic side this weekend, dropping 55% and bringing the North American total up to $165.5 million. Overseas though, the $230 million film has earned over a half billion dollars.

Finishing just outside of the top ten is The Big Sick, which opened on only 71 screens, but still managed to earn a powerful $1.7 million. The comedy is 9'7% fresh at Rotten Tomatoes, and could have a wild ride throughout the summer.

Overall this weekend, one might think the almost $100 million one-two of Despicable Me 3 and Baby Driver, plus a lame weekend at the box office last year, would put the box office on top for once. Unfortunately, the top 12 films this year earned $171.9 million, whereas last year, despite Tarzan tanking and leaving Finding Dory on top for the third straight weekend, that top 12 took in $182 million. Next weekend brings the next great hope for box office resurrection, as Spider-Man: Homecoming debuts on more than 4,000 screens.