Weekend Wrap-Up
Transformers Cools Another Summer Box Office Weekend
By John Hamann
June 25, 2017
BoxOfficeProphets.com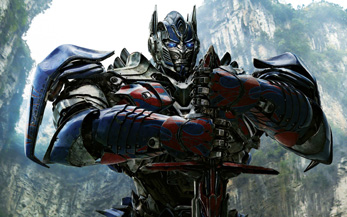 ---
Another epic blockbuster with a $200 million+ budget, another epic disappointment for summer 2017. When will the madness stop?

The last month has not been kind to the box office, save for Wonder Woman. Pirates of the Caribbean 5, Baywatch, The Mummy, It Comes at Night, Cars 3, and Rough Night have been failures at the domestic box office of all shapes and sizes, with a few of the bigs (POTC5, The Mummy) saved by overseas audiences. This weekend we throw another log on the fire, as Transformers: The Last Knight opens lower the previous four films, showing just how awesome The Fast and Furious is doing after eight movies. The Paramount release – usually an absolute juggernaut at the box office – scared all other wide releases away this weekend, giving some of the holdovers a chance. What it really did was allow Wonder Woman to continue to roll, and potentially open the door a little for Edgar Wright's Baby Driver, Will Ferrell's The House, and of course, Despicable Me 3.

When the first Transformers hit in 2007, it was an odd duck, opening on the Monday prior to a July 4th Wednesday. It accumulated a huge $84.9 million before it got to its first traditional weekend, like it was shot out of a cannon The original's opening weekend is listed at $70.5 million, but since opening day, it had amassed $155.4 million. That was $5 million more than its production budget, and a franchise was born. The original finished domestically with $319.2 million, and earned another $390 million overseas, creating a huge win for Paramount and Hasbro. The sequel, Revenge of the Fallen, hit in 2009, earning $62 million on its opening Wednesday, had a Friday to Sunday of $109 million, and 5-day of $200 million. The second film earned $402 domestically and $434 million overseas, against a higher $200 million budget. The third film, Dark of the Moon, opened to $97.8 million, and finished with $352 million domestically, and $1.1 billion worldwide. Nothing that happened domestically with Dark of the Moon mattered, as it earned $771.4 million overseas, against a $195 million budget. Paramount and Hasbro didn't even have to release it domestically to earn a profit.

The fourth film, Age of Extinction, earned "only" $100 million over its opening weekend, and fizzled domestically with $245.4 million, barely eclipsing the $210 million budget. Had the 4th film not been released overseas, it would have been considered a failure. Instead, it had its biggest international take of the series, pulling in $858 million. China alone took in $320 million, and the global take finished at $1.1 billion, notably slightly less than the previous film globally, because of the large drop off in the States. Critically, all were disasters except the first, which finished at Rotten Tomatoes with a 57% fresh rating. The rest, in order, finished at 19%, 35%, 18%, but on the other hand, Cinemascores never dipped below a B+. Paramount and Hasbro bet another $217 million on the fifth film, The Last Knight, knowing that domestic gross could crater further, as long as the overseas amounts stayed strong.


On opening day, The Last Knight's domestic future was told. It earned $15.7 million on Wednesday, less than half of the last film's opening Wednesday ($37.7 million), and about 1,000 years away from the second film's first day, which came in at $62 million, and even lost out to the original's $27.9 million. You can see that Transformers peaked domestically with the second film, and then dropping heavily with each new film. The second day for the current film, The Last Knight, was immistakably bad, as the Thursday finished with $8.1 million, an amount the last film didn't sink to until day 13 of its run. The Last Knight had only $23.8 million prior to Friday, where the previous film had $64.8 million and Transformers 2 had $91.1 million. Over its first two days, Transformers: The Last Knight was being virtually ignored domestically, and would have to hope that the weekend would bring the kids out.

The Last Knight's Friday continued to be comparably miserable finishing the day with $13.6 million. The previous film opened on a Friday, and pulled in $41.9 million, but was lifted by $9 million from previews. Transformers 5 wasn't even close to the original's first Friday, which came in at $22.7 million, and was its fourth day of release as it opened on Tuesday. The lowest opening weekend for a Transformers movie was the original's $70.5 million, and The Last Knight didn't have a shot of getting there. The Michael Bay film had a series-lowest three-day opening weekend of only $45.3 million, and another series low for the five day at $69.1 million. This puts a new level of bad out for Summer 2017, and while studios are still raking in cash due to overseas markets, I have to wonder how domestic theatre owners are feeling, as you can't sell popcorn to tumbleweeds. We know the domestic weekend was terrible, so Paramount and Hasbro would be looking overseas for confirmation their $210 million expenditure was going to be fine.

Regular readers of this column will know that I say a blockbuster like this needs to earn three times its production budget globally, so with domestic potentially coming in as low as $150 million, overseas would need $450 million minimum to ensure Paramount breaks its ugly streak of domestic disturbances. The Last Knight will have no problem turning a profit – it earned $196 million overseas this weekend, setting the high point for the studio. Transformers 5 was huge again in China, earning an amazing $123 million, putting it on track to beat the $320 million earned by Transformers 4.

The studio needed the overseas bailout, as Paramount has released five films this year, and their current domestic number one is Baywatch. Yes, Baywatch with its $57 million domestic gross had been its number one film domestically, despite being unable to earn more than its $69 million budget. Other Paramount domestic notables this year are xXx: The Return of Xander Cage ($45 million), Ghost in the Shell ($40.5 million), Monster Trucks ($33.4 million) and Rings ($27 million). The only one of those that fought back with a strong overseas gross was Xander Cage ($300 million overseas), thanks to a gross in China of $164 million. The studio was counting on Transformers, as three of their next five releases are Oscar bait, Mother! with Jennifer Lawrence and directed by Darren Aronofsky, Suburbicon, directed by George Clooney from a script by the Coen Brothers, and Downsizing from Alexander Payne. Bigger releases include a Cloverfield movie and Daddy's Home 2, sequel to the 2015 movie that everyone was screaming for.

Cars 3 is second. The Disney/Pixar release got off to a somewhat slower than expected start last weekend with $53.7 million, so the studio would be looking to hold strongly this weekend. That didn't happen. After a Friday at $7.6 million (off 61%), Cars 3 was only able to pick up $25.2 million this weekend, leaving it with a 10-day gross of $99.9 million. Cars 3 was expensive to make at $175 million, and it doesn't have the overseas following that some other Pixar releases have. Cars 2 earned $370 million overseas, so Cars 3 will need to do better than that if it wants to see a theatrical profit. The overseas gross sits at $41 million, which means it will have some work to do going forward.

Wonder Woman continues to be the queen of the box office, the lone flower in a sea of mud. This weekend, the Gal Gadot hit earned another $25.2 million, dropping only 39%. It crossed the $300 million mark on Friday, its 22nd day, and now has stateside gross of $31.4 million. That's two days slower than Batman v Superman's race to $300 million, but Diana and friends will easily outgross the Ben Affleck misfire. The overseas gross also crossed the $300 million mark this weekend, leaving a large mark on the summer 2017 box office. Wonder Woman is one of the few blessings for domestic theatre owners.

47 Meters Down is fourth, as Entertainment Studios adds 200 more theaters to its run this weekend. The move helped somewhat, as the shark film earned $7.4 million this weekend, dropping 34%. Some say this one cost about $5 million to make, so its domestic gross of $24.3 million has to be satisfying for the upstart studio.

All Eyez on Me is fifth, as the biopic about Tupac fades quickly. Eyez earned another $5.9 million this weekend and fell 78%. Eyez cost Lionsgate $40 million to make, so it is going to need some help from above. Sixth is The Mummy, which continues its descent. It earned $5.8 million this weekend and dropped 60%. The domestic total now sits at $68.5 million, but the overseas has reached $274 million against a $149 million budget.

Seventh is Pirates of the Caribbean: Dead Men Tell No Tales. The Johnny Depp starrer earned $5.2 million and declined 42%. Its domestic total has hit $160 million, but the overseas take is a massive $517 million, all against its $230 million budget. Eighth is Rough Night, the latest failed comedy a la Bridesmaids. After opening to only $8 million, the chick flick falls 41% to only $4.7 million this weekend. The budget here is $20 million and the domestic tally is $16.6 million – so the studio (Sony) might be okay, but the stars with heavy backends (ScarJo) will come up empty.

Ninth is Captain Underpants, which picked up $4.3 million and now has a domestic tally of $65.7 million against a budget of $38 million. Fox will have to wait for some more overseas help if this one is going to work. Tenth is Guardians of the Galaxy Vol. 2, now out for eight great weekends. Guardians 2 earned another $3 million and fell 41%. The total for the Marvel behemoth has hit $380.2 million on the domestic side, and has crossed $470 million overseas.

Overall this weekend, the top 12 films earned a not great $135.3 million. Last year, a holdover – Finding Dory – took top spot at the box office as Independence Day 2 faltered with a $41 million open. The top 12 last year took in $180.9 million, making this year look foolish. Next weekend brings Edgar Wright's Baby Driver which is currently 100% fresh at Rotten Tomatoes. It opens on Wednesday, followed by Despicable Me 3 and The House on Friday. Despicable Me 2 earned $143 million over its first five days, so maybe, just maybe, Gru and the girls can provide a highlight to the summer box office.