Weekend Wrap-Up
Cars 3, Tupac and a $120 Million Top 3 Drive Box Office
By John Hamann
June 18, 2017
BoxOfficeProphets.com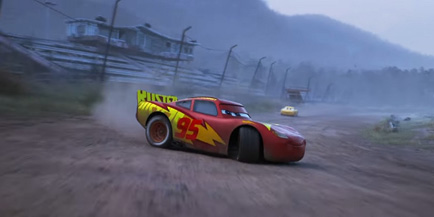 ---
Tupac rises and saves the box office – not a headline one might to expect to read in column about box office.

Two weekends ago and looking forward to this weekend, my money would have been on Rough Night for a second place finish behind Cars 3, and not All Eyez on Me, the Tupac Shakur biopic that takes the name of his last album. The R-rated, 2 hour 20 minute feature felt long, but audiences responded leaving a surprised Wonder Woman tumbling to third on Friday night (but this is Wonder Woman, and you can't keep a good woman down for long).

Openers this weekend included Cars 3, which was looking to land near the debut of the first two Cars films. The original opened to $60 million, and the sequel debuted with $66 million, so the trend appeared to be going up. The other opener, 47 Meters Down, a shark movie, did much better than its title, distributor and minor screen count (2,270) would have predicted. What was likely a goal to just make the top ten quickly became a shot at staying in the top five and ahead of the Tom Cruise domestic disappointment The Mummy.

Our number one movie of the weekend is Cars 3, which joins only Toy Story as a Pixar trilogy (hopefully it will stop here. I have never seen one of these, but I have seen literally everything else in the Pixar canon). These Cars flicks seem to draw the same audience every time. The original Cars earned $19.7 million on opening day, and the first sequel improved on that by taking in $25.7 million. The third Cars release waned a bit on Friday, pulling in $19.5 million. This shouldn't be too much of a surprise, considering the second film opened to more than the original, but its domestic gross was $50 million less than the original. Kids and families had figured out that the Cars franchise didn't deliver Pixar's best product – critics again weren't overjoyed with a Cars release. The first Cars movie was the critical favorite at 72% fresh, the sequel then bottomed out at 39%, and the third rose to average at 65%. Every other Pixar theatrical release has earned a fresh rating of 75% or higher, but the Cars series goes 0 for 3.

The weekend box office result reflected those dismal scores, as the third entry was not able to compete with the first two Cars releases. After $2.8 million in previews and a combined Thursday/Friday of $19.5 million, the weekend was estimated at $53.5 million, the lowest Pixar opening weekend since Ratatouille debuted to $47 million in 2007. Pixar has now had two films open on the bottom shelf of their portfolio in the last two years, as The Good Dinosaur opened to $39.2 million in November 2015. Following the opening, sales should be brisk, as like the original, Cars 3 earned an A Cinemascore, beating the A- that Cars 2 earned.

Can this version of Cars earn the $191.5 million the second Cars film made? I doubt it, but the overseas amounts have grown since the mini-franchise began, with the first making $218 million overseas, and the second film hauling in $370 million. The budget for Cars 3 was a serious $175 million, but less than the sequel's $200 million budget (before advertising). An overseas disappointment will end this franchise, solid toy sales or not, as the Pixar brand is not used to this level of failure.

Finishing in a very strong second is Wonder Woman, which is lighting the box office on fire. The DC product fell only 31% Friday-to-Friday, earning $11 million to start its third weekend of release. That embarrasses its DC/WB brethren, as Man of Steel, Batman v Superman and Suicide Squad were all earning about $6 million at this point in their runs. With a weekend take of $40.8 million, Wonder Woman comes out of nowhere, recording the 11th best third weekend of all time, beating major films like Avengers: Age of Ultron's third frame ($38.9 million) , as well as Zootopia's ($37.2 million). The weekend drop came in at 30%, an outstanding hold compared to last weekend. The domestic total is already at $274.6 million – it took Batman v Superman 20 days to hit the $300 million mark, Wonder Woman will be close to that, and it didn't have the $166 million opening frame that BvS did. Overseas, Wonder Woman has pulled in almost $300 million, easily turning its $149 million production into a profit for DC and Warner Bros. The question now is how do you position Wonder Woman in the DC Universe to take advantage of the popularity?

All Eyez on Me, the biopic about Tupac, finishes a healthy third this weekend after taking down the powerful Wonder Woman on opening day. Tupac got started at Thursday previews, earning a remarkable $3.1 million on Thursday night. Expectations were for a debut in the mid-teens, and this kind of preview had to make a few people at Lionsgate quite excited. The combined Thursday/Friday came in at $12.8 million, almost guaranteeing the lately beat up distributor a return on the $40 million production budget. The weekend was estimated at $27.1 million, and while this is not Straight Outta Compton's $60 million open, everybody involved has to be happy with this result. Eyez has a no name star, a first time director known for music videos, and really not much else – the audience simply responded.

Given the number of rookies involved with All Eyez on Me, it is likely no surprise that critics weren't thrilled. It currently has a 24% fresh rating at RT, however with only a total of 28 reviews. The Cinemascore on the other hand, is where the good news lives. Eyez earned an A- Cinemascore, very close to the A that Compton earned. Lionsgate has been shrewd with the marketing here, as this one will likely not play well overseas. The studio does have room to expand the film domestically.

The Mummy is fourth – barely – as Tom Cruise's domestic nightmare continues to flail. After debuting to only $31.7 million last weekend, the Universal release tumbled by 56% when comparing opening weekend to sophomore. This weekend it earned only $13.9 million, and with a domestic gross to date of $56.5 million, most studios would be panicking. Universal will likely make out okay given the overseas gross to date of $240 million, leaving the overall at around $300 million. The Mummy cost at least $125 million to make (some say more) so if it can eke out $400 million from the worldwide marketplace, Universal will do just fine.

Fifth is 47 Meters Down, the new shark movie distributed by Entertainment Studios, its first theatrical release (normally, the company distributes syndicated TV shows). The shark movie du jour was expected to be completely washed over by audiences, with tracking looking for only $5 million, so weren't they surprised when 47 Meters Down had a first day gross of $4.5 million from 2,270 venues. The weekend came in at $11.5 million, a strong start for this low budget Dimension pickup (now The Weinstein's are selling the moneymakers). Reviews were actually pretty good (54%) considering the subject matter, but audiences seem to hate it, as it records a C Cinemascore. I'm not ready to toss this one out yet, so we will see how it behaves next weekend.

Pirates of the Caribbean: Dead Men Tell No Tales is sixth, and like The Mummy, it is a big film fading away. This weekend, Pirates 5 somehow earned $8.5 million, off 21% from last weekend, despite dropping 65% and 52% the previous weekends. The Johnny Depp misfire has now earned $150 million domestic, and gets bailed out by its overseas gross that has grown past $500 million.

Seventh is Rough Night, as another female-centric comedy with promise fails to open well. Snatched debuted to $19.5 million, which Rough Night can only dream about. The second consecutive turd from ScarJo opens to only $8 million, as audiences failed to buy into another try at Bridesmaids. Thankfully for Sony, Rough Night somehow managed to cost only $20 million, so the pain shouldn't be too bad.

Eighth is Captain Underpants, as it survives the Cars 3 onslaught. The Captain earned $7.4 million this weekend, off 40% from last weekend. The Fox release has now earned $58 million at the domestic box office.

Ninth is Guardians of the Galaxy Vol. 2, which picked up another $5 million and dropped only 21%. The Marvel behemoth has now earned $374.9 million stateside, and has $470 million in overseas grosses. Tenth is It Comes at Night, the latest horror flick. This one earned $2.6 million this weekend, and drops 56%. The A24 release has now earned $11.1 million.

Overall this weekend, the top 12 films earned $182 million, and while a bit stronger than expected, it was still well back of last year when the 12 earned $226 million thanks to Finding Dory's $135.1 million debut. Next weekend, the only opener is Transformers: The Last Knight, which opens on Wednesday.