Weekend Forecast for June 16-18, 2017
By Reagen Sulewski
June 15, 2017
BoxOfficeProphets.com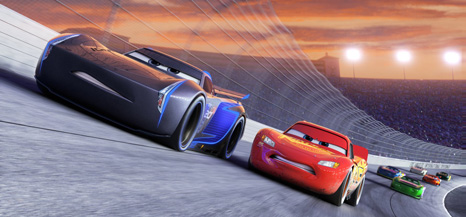 ---
A good sign of the end of the early summer movie season is the move away from single films that dominate the weekends to a shotgun approach to the release slate, trying to give something to every demographic. There's still a strong favorite for the weekend, but it's a fairly packed one.

The first ever miss for Pixar came with Cars 2, a rather naked play for merchandising money, turning the well-meaning if just average sports movie with a message into a giant mess of a spy thriller parody with anthropomorphic cars, in a universe that makes absolutely no sense unless it's the aftermath of Maximum Overdrive. It was Pixar acceding to its basest instincts, including promoting sidekick character Mater to lead, a decision that would make as much sense as a new Star Wars film entitled "Revenge of the Jar-Jar." It was, at the time, their most disappointing box office performer ever (granting a bit of a leash to A Bug's Life, and though it's since been surpassed in that regard by The Good Dinosaur), which may have forced a bit of soul-searching. This weekend Cars 3 arrives in a bit of "back to basics."

Lightning McQueen is now the seasoned veteran of the racing circuit instead of the hot-shot rookie of the first film, but when he suffers a tremendous accident (hinted at in the unexpectedly dark teaser trailer), he's forced to return to his training in order to get back to the sport he loves. Meanwhile, a young female racer is attempting to break a barrier in the Cars world by making it to the top of the podium herself, under McQueen's tutelage.

A good bunch of the original Cars voice cast returns, and is supplemented by Kerry Washington, Nathan Fillion Jennifer Lewis and Armie Hammer as the new big thing on the block, though there's no Paul Newman in the bunch to lend this the authority and prestige he could (Chris Cooper makes his best level attempt at this). Instead, it's a nice enough but formulaic film with astounding technology, and which pitches itself at some of the youngest audiences that Pixar can conceivably go for. This should bounce back (at least critically) from the bizarre misfire of Cars 2, although the opening weekend may not improve on that five year old mark of $66. Indeed, it should probably come in around $58 million or so.

Female-driven comedy takes another shot at it this weekend with Rough Night, a bit of a Bridesmaids/Hangover/Very Bad Things mashup, starring Scarlett Johansson, Kate McKinnon, Zoe Kravitz, Jillian Bell and Ilana Glazer (of Broad City). At Johansson's bachelorette party in Miami, things quickly go off the rails with the death of the stripper they hire for entertainment. Panic sets in quite quickly.

Leading with raunch and bacchanalia, it looks like a pale imitation of some of those films previously mentioned. McKinnon is a comedy savant and likely the best thing about the movie by far, but it's Johansson who the film relies on for selling power – strange, since she's generally not considered much of a comedic presence (SNL aside) on film. Reviews are... okay, but there's not a lot to the trailers that point to brilliance, and I think this will fall on the lower side of recent female led comedies, with about $19 million this weekend.

Killed at the age of 25, rapper Tupac Shakur remains a legendary figure in the world of music. All Eyez On Me attempts to tell the story of his brief but influential life in what appears to be a pretty dire biopic. Relative unknown Demetrius Shipp Jr. (an amazing look-alike) plays Shakur from his early days in New York to his rise to the top of the West Coast rap scene. While producers are likely hoping for something similar to Straight Outta Compton, this seems to be much less conventional compared to that movie, but also much less good, going surface level only into the complex life. Reviews peg it as "melodrama" and "TV movie quality," meaning that it'll attract hardcore fans only, and maybe not even them, as they'll likely know the story better than the movie. I'd expect a solid opening weekend of $14 million based on just the name recognition of its subject, but the acclaim that drove Compton to an Oscar nomination just isn't here.

In almost the same weekend as last year's The Shallows, 47 Meters Down returns to the shark attack genre. Mandy Moore and Claire Holt play sisters trapped deep underwater in a shark cage after the cable snaps, too far down for direct communication by radio signal, deep enough that nitrogen narcosis would set in if they just swam for it, and surrounded by hungry great whites. And that's basically it, as it attempts to be the Apollo 13 of shark films, just... cheaper. There's a bit of cheapness to the film's look, and with reviews not highlighting much to look forward to, I'd expect a small opening weekend of around $8 million.

Wonder Woman should have another solid weekend, its third, albeit falling to Pixar in the box office charts. A 43 per cent drop qualifies as "legs" these days for a superhero film, and this is finally something DC Films can feel good about, leading into Justice League. I'd look for about $31 million here as it makes a play at $400 million domestic.

The Mummy was something of a disaster for its remake, what with its high profile star and hopes that it would anchor a new franchise. A $31 million opening against a $125 million budget is terrible, especially given the horrible reviews for the film. A massive drop to around $14 million seems in store, and a sub $100 million domestic total.

A couple of other films attempt to hang around this weekend, though Captain Underpants should lose a lot of ground to Cars 3, dropping to about $5 million, and Pirates of the Caribbean 5 loses ground to being awful, grossing about the same.