Weekend Wrap-Up
Mummy Flops; Summer Suck-O-Meter Continues Climb
By John Hamann
June 11, 2017
BoxOfficeProphets.com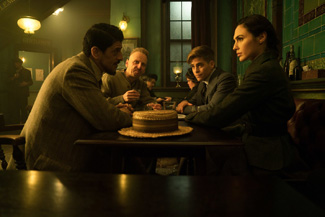 ---
Save us, Wonder Woman! All these films suck!

This summer, If your film is not a comic or superhero-based blockbuster, your expensive summer project is already in some serious trouble. That's the mark of Summer 2017.

After hopes were high that Wonder Woman and its $103.3 million domestic opening would reinvigorate a so far sad summer movie schedule, we are back to a reality that has plagued us all season long – poorly made films that audiences haven't wanted.

The three weekends between Guardians and Wonder Woman were a wasteland of misses and flops that included King Arthur ($175 million production budget, $40 million in domestic earnings), Snatched ($42 million budget, $45 million gross), Alien: Covenant ($97 million budget, $70 million gross), Diary of a Wimpy Kid Part 3 ($22 million budget, $19 million domestic), and then Memorial Day, where Pirates 5 and Baywatch – costing a combined $300 million – together opened to only a $80 million, and are headed for domestic amounts lower than that budget.

Victims stepping up for destruction this weekend include the bad idea (and expensive to make) Mummy reboot, the Tom Cruise action flick (can we really say horror film?) that struggled badly this weekend. It would appear that neither the filmmakers nor the audience understood what Universal was going for, and Tom Cruise was a terrible choice as lead. This movie needed to open well, and in the last decade, Cruise hasn't had an opener above $37 million, save for two Mission Impossible films. Other openers included the much smaller horror flick, It Comes At Night, and the recently heavily marketed dog/war flick, Megan Leavey, with Kate Mara desperately trying to find a fanbase after making some epic failures like Fantastic Four, Morgan and Transcendence, one of the Johnny Depp bombs released over the last few years.This weekend is ugly, folks, with the only bright spot belonging to last weekend's openers

Our number one film of the weekend is not The Mummy. Instead, it is the second consecutive weekend for Wonder Woman, the lone bright spot of the DC Comics/Warner Bros Universe. After eclipsing $100 million over three days last weekend, the question became whether everyone rushed out to see what Wonder Woman was all about, leaving it frontloaded, or if the stellar reviews and Cinemascore would keep it propped up at box office. On its second Friday, Wonder Woman earned $15.8 million and was off 59% from opening day, where the $11 million in Thursday preview sales are combined with its first Friday. Without the pesky preview amounts, the Friday-to-Friday drop would have been less than 50%, and gave a signal to Warner Bros. and DC Comics that they were going to be happy by the end of the weekend. Why? 2008's Iron Man fell a similar 58%, but after an opening weekend close to what Iron Man achieved ($98 million Iron Man, $103.3 million Wonder Woman), Wonder Woman had stretched its lead to $22 million, after 8 days in release.


Over the weekend, Wonder Woman continued going strong, pulling in a fantastic second weekend gross of $57.2 million. That gives the Gal Godot starmaker a drop of only 45%. When your film opens beyond $100 million, and drops less than 50% in the follow-up weekend without a holiday Monday, you certainly have something to celebrate. The aforementioned Iron Man dropped 48% in weekend two, but Iron Man 2, with a $123 million opening, fell 59%. Captain America: Winter Soldier opened to $95 million and fell 57%. Deadpool fell 57% in its second weekend, but it opened on a holiday weekend. This is a strong hold for Wonder Woman and a testament to its 92% fresh rating and A Cinemascore. The gross now for the DC Comics super-flick has reached $205 million after only ten days of release. Warner Bros. picked the right weekend to open Wonder Woman, and the studio gets lucky that The Mummy is a turd, opening the gates wide for a big run. Overseas, the tally has reached $230 million, which means the $149 million spent is going to be one of the better investments of the year so far.

The Mummy is second this weekend, and that is just about where the good news ends for the Tom Cruise flick. Thursday preview amounts of $2.7 million indicated there was no big "want to see" factor (for a reference, see the $11 million Wonder Woman earned rom previews), which, combined with the Friday gross, came in at a lackadaisical $12 million. That's ahead of Edge of Tomorrow's $10.6 million, but not by much, and when Edge opened to low numbers, analysts treated it like the sky was literally falling. Edge of Tomorrow (or Live. Die. Repeat.) was different than The Mummy, as it was a really good film with a strong marketing campaign, but its opening weekend was low at $28.8 million. That debut gave us Cruise's threshold as an opening weekend draw. His films are not apt to open beyond $40 million, but if they are any good, legs are sure to follow, like Edge of Tomorrow, Rogue Nation and Collateral. Put Cruise in a bad movie however, and you now have serious problems.

The big wild card with Cruise, though, is overseas sales. He is worldwide star, and the Chinese love him. His last five films have earned significantly more overseas - including TWO Jack Reacher films that would have been flops had the overseas dollars not bailed him out. Would the same be true for The Mummy?

The weekend total for The Mummy came in at bad $32.2 million, a score I would normally say is disastrous considering the $125 million budget. Reviews are terrible at 17% fresh, but worse at 8% when looking at the "top critics" listed at the site. The Cinemascore is also terrible, as a summer blockbuster is supposed to score much better than the B- that The Mummy earned. As I said earlier, if Universal wanted to make an opening weekend play with the big comic book boys, Tom Cruise was the wrong choice. A good example is War of the Worlds – a Steven Spielberg remake of a well known classic, with big effects that were included in the marketing, and decent reviews (75% fresh). It opened to $64 million, lower than films like World War Z ($66 million) and The Day After Tomorrow ($68 million). Cruise splits the audience like Trump does – love him or hate him, without a lot of middle ground, until something really stupid happens (like The Mummy) and then we all just pile on.

As I write this, Variety's Owen Gleiberman has posted an article titled "Tom Cruise: A Star in Slow Motion Career Meltdown." First, despite all my consternation above, and thanks to overseas audiences' connection with Tom Cruise, The Mummy is going to be okay financially at the end of the day. It is likely not going to launch a franchise, but as finances go it might be okay. It earned $141 million overseas this weekend, a strong number. Universal will pull in $300 million overseas and another $75 million on the domestic side, potentially leaving the studio with a push theatrically.

Combined, the two Jack Reacher films made Paramount money at some point, and Rogue Nation made money theatrically. Then, for me personally, Live Die Repeat is one of the best films ever made. It would be a desert island movie for me, one I can watch over and over. Yes, regular readers will know I have a huge crush on Emily Blunt, but Edge of Tomorrow doesn't work without someone like Tom Cruise, as the warts and all movie star gets his comeuppance day after day after day. Oddly enough, that was likely the last Tom Cruise movie to lose money, but is the film that made me see Rogue Nation in theaters and the Jack Reacher films on demand. In 20 years, people will look back on Edge of Tomorrow and call it one of the best films of the first two decades of this millennia. To me, that is not the sign of a star in a "slow motion career meltdown." I hope the Tom Cruise/Doug Liman mashup works again soon, in American Made, due out in September.

Captain Underpants is third, as last weekend's smaller-but-still-successful "other" opener, tries to find some traction in weekend two. The animated Fox release earned $12.3 million and falls 48% compared to opening weekend – which demonstrates the awesome hold by Wonder Woman. The DC Comics film opened with about $78 million more than the good Captain over opening weekend, but in terms of a percentage hold, they are neck and neck in weekend 2. The bigger they are, the harder they fall mantra is true, which again shows the resolve of the wondrous woman. Captain Underpants, a DreamWorks Animation release distributed by Fox, cost a pittance compared to other DWA titles, coming in at $36 million compared to The Croods at $135 million. Captain Underpants has a domestic total at $44.6 million, but I still think that this dog can bark, and it can eke out a win if the kids stay interested.

The real star in career slow motion meltdown is Johnny Depp, as Pirate of the Caribbean: Dead Men Tell No Tales, as it earns only $10.7 million and falls 52%. The good news for Pirates 5 is that the hold this weekend is better than the embarrassing 65% drop it took last weekend. The bad news is that the domestic gross has only risen to $135.8 million against a budget of $230 million. That budget put this one in an early position to fail, and like Tom Cruise, this is working overseas, as it almost crosses the $400 million mark overseas this weekend.

Guardians of the Galaxy Vol. 2 earned another $6.2 million and fell 37%. The domestic total for the Marvel release has now hit $366.4 million and overseas has moved beyond $460 million.

The buzzy film It Comes at Night failed to live up to expectations this weekend, as some tracking firms had the horror flick opening in the double digits. It wasn't to be, as previews came in at $700,000 and the combined Thursday/Friday was reported at $2.5 million, lower than where expectations had it. The weekend came in at $6 million from 2,533 screens, which isn't a bad result for a film that cost $5 million to make. Joel Edgerton shows up again in one of these out of nowhere, well-reviewed horror flicks, as It Comes at Night is 86% fresh, and 2015's The Gift, also starring Edgerton, was 93% fresh. The GIft also cost $5 million to make, but It Comes At Night will likely not match the $43.8 million earned by The Gift.

Paramount's dead man walking, Baywatch, is seventh. The rare Dwayne Johnson miss earned another $4.6 million and declined 48%. The domestic total is at $51.1 million, and it has crossed the $35 million mark overseas.

Bleecker Street's new release Megan Leavey, about a soldier and her dog, is eighth. Out to 1,956 venues, this small Kate Mara counter-programmer picked up only $3.8 million in its debut. The ads seem to be everywhere, so armed with an A Cinemascore, and decent reviews (79% fresh) so an expansion could be coming.

Alien Covenant is ninth. The Ridley Scott flick earned $1.8 million this weekend, off 56% from the previous frame. The $97 million film has earned $71.1 million stateside. Everything, Everything is tenth. The teen drama earned another $1.6 million, off 51% compared to last weekend. Domestically, it has earned $31.7 million, against a $10 million budget.

Overall this weekend, the top 12 films earned $138.1 million, again a sluggish total for mid-June. A year ago, the top 12 was led by The Conjuring 2 at $40 million, but Warcraft and Now You See Me 2 also opened above $20 million, giving the top 12 $143.6 million. Next weekend, four more titles invade: 47 Meters Down, a horror/thriller movie with sharks opens, as does All Eyez On Me, a drama from Lionsgate about Tupac. The big hitters are Cars 3 (why Pixar, why?) and Rough Night, a comedy in the vein of Bridesmaids. These four new releases will be facing off against last year's box office for Finding Dory, which opened on the same weekend to $135 million.