May 2017 Box Office Recap
By Steven Slater
June 6, 2017
BoxOfficeProphets.com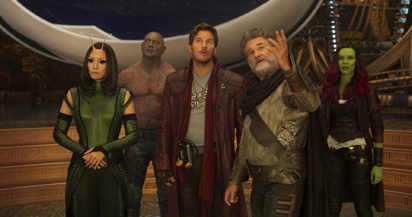 ---
The month with the shortest name has typically been synonymous with the biggest movies ever since Star Wars opened on May 25th, 1977. May also has some of the biggest box office totals, and often the opening weekend record holder has debuted in May. On the one hand, this streak technically continued with a huge movie coming out again this month. On the other hand, everything else sucked. By itself, the number one movie made almost half of the money earned in theaters this month. Its opening weekend is almost equal to the combined opening weekends of the rest of the top ten. Maybe it's Netflix. Maybe it's the quality of the films. Maybe it's the repetitive nature of most blockbusters these days. But the bottom line is the box office did not do very well in May, with one exception.

1) Guardians of the Galaxy: Vol. 2

Opening Weekend: $146.5 million
May Total: $344.3 million

The number one movie of (insert month) is (insert title) released by Disney. Copy, paste. Copy, paste. This month it is Guardians of the Galaxy, Vol. 2. Believe it or not, this was just the third movie released by Disney this year, and the fourth to really chart for 2017. This has easily put the Mouse House above all other studios, while having the fewest releases. In other words, their batting average is ridiculously high. Guardians was easily the dominant release of a lackluster month. What is most surprising about this is how quickly Guardians went from an obscure property to one of the biggest titles in the MCU, even without the benefit of crossing over with other Marvel properties (yet). Not only that, but it received reviews almost as good as the first film, so it continues Marvel's eerily consistent trend with regards to box office and critical reception. Maybe they should make an Oscar for Best Franchise Film to keep the industry relevant.

Disney has had an unbelievable track record that simply becomes more and more unbelievable as time goes on. The first Guardians movie earned $773 million worldwide, which means Vol. 2 will definitely reach the billion dollar mark (it's already at $800 million), becoming the second Disney property this year to do so, and making half of all movies that have crossed that line Disney-released titles. Considering they just opened the Avatar theme park, I think they are the Standard Oil of movies at this point.


2) Pirates of the Caribbean: Dead Men Tell No Tales

Opening Weekend: $63 million
May Total: $89.6 million

Follow me down the rabbit hole to second place...let's see, it's around here somewhere, aha! There it is. Let me dust it off. You probably already forgot it was here. Pirates of the Caribbean: Dead Men Tell No Tales (aka Vol. 5) is not too surprisingly the second-biggest film of the month, even though it just came out over Memorial Day weekend, even though it had a disappointing opening weekend, and even though it had the worst reviews of any Pirates film so far...by 1%.

I suppose one could not have expected Disney to release yet another $100 million opener, although this definitely continues their overall winning streak, as there is an outside chance of this hitting $1 billion at the global box office. Pirates opened to $63 million over the holiday weekend, which is way off from the series' high of $135 million for Dead Man's Chest 11 years ago (once the all-time opening weekend champ). In May it has earned $89.6 million, and might struggle to reach $200 million domestic. Look, I love the first movie, but Depp and Co. are burning through the franchise's goodwill faster than a White House communications team. I say either end the series, or, in 2010s fashion, reboot it with another actor. We have exhausted 1980s properties (what about E.T.!?), might as well move on to the 90s and 2000s.

3) Alien: Covenant

Opening Weekend: $36.2 M
May Total: $62.5 M

Third is finally not a Disney movie. Wait...no, definitely not from them. I triple checked, there are still other studios in existence, for now. Third is Alien: Covenant (aka Vol. 2, or maybe 6, or possibly 8), which opened to $36.2 million and has accrued $62.5 million for the month. This is down from Prometheus, which is actually the only film from the broader "Alien" franchise to break $100 million at the domestic box office, and probably will remain as such. Ridley Scott seems to be riding off into the sunset, hoping to bookend his career with two seminal properties. We shall see how Blade Runner fares in the hands of a different director, although Denis Villeneuve's record so far is stellar. Speaking of franchise goodwill, this is yet another movie that seems to be of the mindset that if it ain't broke, don't fix it. The problem is that after a while I think people want to see something new. But then again, the top three movies this month are sequels, and the next seven probably are, too. Next up, Alien: Covfefe.

4) Snatched

Opening Weekend: $19.5 million
May Total: $42.3 million

I think that all things considered, fourth place is pretty respectable for Snatched, an R-rated comedy that brought Goldie Hawn out of retirement. Although it had terrible reviews, is has earned its budget back on the domestic front and might squeak past $50 million by the time its run ends. When you look at the titles further down this list that Snatched beat for both opening and monthly totals, it becomes even more impressive, even in a lackluster month. Amy Schumer will always have her haters, but this will surely lead to more female-driven comedies, as they have been a winning formula for a few years now.

5) King Arthur: Legend of the Sword

Opening Weekend: $15.4 million
May Total: $35.8 million

The second franchise this month from which Keira Knightley has departed is fifth for the month of May. Okay, maybe it's a stretch to call King Arthur a franchise, since the movie from 2005 has no relation to this one, but still, Knightley's making good choices! Wait, what!? She was in the last Pirates film? Okay, forget the whole Keira Knightley thing. Anyway, Heath Ledger stand-in Charlie Hunnam and Guy Ritchie try their thing again, and the Lady of the Lake should have just snatched the sword back before the whole thing got started. This is a huge flop for Warner Bros., although they will obviously wind up doing well with Wonder Woman. Perhaps WB should learn a lesson or two, as they do seem to favor working with a certain set of directors, but I don't think they should give them carte blanche. Christopher Nolan and Zack Snyder come to mind as opposing examples, as one director is obviously working immensely, while the other should be dropped from big productions. Maybe a woman can direct the next King Arthur adaptation.

6) Baywatch

Opening Weekend: $18.5 million
May Total: $31.9 million

I. I just. I can't even. No. I just can't even. Dwayne, what were you thinking? Come on! This is totally a movie that should have starred Leslie Nielsen back in the day. Maybe they can make Baywatch 2: Watch Harder with Jon Stewart or something. I mean, the whole thing is obviously a joke, I can't...no. No. Look, I love King of Kong: Fistful of Quarters, but Seth Gordon, and Zac...why? Just make a 90 minute movie with boobs, that's it, call it a day. Don't even pretend to have a story. Maybe I'm just really old (at heart), but when Game of Thrones seems to have more comedy than movies within the genre...let's just move on to number seven.

7) Fate of the Furious

May Total: $30 million

The first holdover! Given how atrocious the box office in May has been, it's a bit surprising that more April films were not present in multiplexes. Seventh goes to the eighth Fast and Furious movie, so I guess Dwayne Johnson can feel good about something. It added a bit under $30 million for the month, bringing the domestic total up to $223 million. However, this one is all about the global presence, as it has hauled a massive $1 billion from international screens. F8 is only the sixth movie ever to do that, and it is the second in a row in the franchise to cross that threshold. Twenty years after Titanic first broke the mold, only five others have been as successful with international audiences, which is pretty stunning given how much growth there has been with worldwide box office.

8) Everything, Everything

Opening Weekend: $ 11.7 million
May Total: $24.5 million

Every month has that title that is oddly generic and completely forgotten within a week. Luckily for Warner Bros., this one did not cost $175 million, so it will actually be a success for the studio. The latest film targeting the demographic of teenagers with horrible health problems who fall in love, Everything, Everything, which I had had to look up that the name was correct, has earned a decent amount and could do well on home video and streaming. This is like the dystopian teenage sci-fi stuff, but without metaphors and in the present, right? I guess life really sucks for teenagers in movies.

9) The Boss Baby

May Total: $21.3 million

We ran out of May titles at this point. Technically, ten movies were released in theaters in May, but if a projector runs in an empty theater, does a movie make a sound? Ninth for the month is Boss Baby, which has honestly done a lot better than I expected after opening on the final day of March. B.B. has earned over $170 million at the domestic box office and almost half a billion worldwide. A sequel has already been put into the works for 2021, which means it will probably come out before Avatar 2. I still cannot understand why DreamWorks Animation's films are so expensive compared to other studios like Illumination, but at least this is one of their bigger hits in the past few years (their top four of all time are still the four Shrek films). They also have Captain Underpants hitting screens now, so DreamWorks may have a decent year.

10) Beauty and the Beast

May Total: $20.8 million

I knew there was another Disney movie around here somewhere! The biggest movie in North America this year is a throwback fantasy for families and their children, proving a winning formula that will continue to bring success to Disney for years to come. Now having amassed a gargantuan $501 million domestic and $1.234 billion worldwide, there is really nothing left for this film to prove. It is mere days from beating Frozen's worldwide total, although Fate of the Furious will be passing it at the same time.

To complete the list of the top ten films released in May, you need a pair of binoculars. Diary of a Wimpy Kid: The Long Haul is probably one you heard of, but how about Lowriders and The Wall? No, not the Matt Damon movie, the one directed by Doug Liman. That's right, the number ten opening weekend for May was under a million dollars. To sell how awful the month was beyond Guardians of the Galaxy, the combined top ten opening weekends was $320 million, and the top 20 films earned about $785 million.

As I stated at the beginning, there are many factors bringing down attendance and box office in theaters. However, I think Disney realized that people were still going to come out to the theater, just not as often. The times they would come out, it would take more than just the promise of a good movie. People needed reassurance they were seeing a title they knew they would enjoy ahead of time. Beauty and the Beast is a perfect example of a film that causes people to feel a good emotion just by hearing about it. Disney is so successful these days because they have all the titles that sell themselves. Universal is not far behind in box office, as they have titles like Minions and Fast and Furious with similar marque value. But everyone else is grasping at straws, like King Arthur, Baywatch, or Alien. If we start associating those titles with bad ideas or emotions, the franchise is dead. Pirates is kicking, but not for long. Given that it is a Disney title, however, odds are good that they will probably right that sinking ship.

So can someone please explain the success of Transformers?