Weekend Wrap-Up
Memorial Day Weekend Tanks at the Box Office.... Again
By John Hamann
May 28, 2017
BoxOfficeProphets.com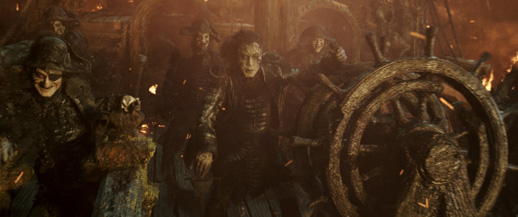 ---
How many times does Memorial Day have to tank to keep the blockbusters away?

Yes, doom comes to the Memorial Day box office more times than Jason Voorhees goes to Camp Crystal Lake. It happened again this weekend, with expensive openers Pirates of the Caribbean: Dead Men Tell No Tales and Baywatch not coming close to achieving their collective promise, and once again the summer will have to catch up following Memorial Day failure. It wasn't just the openers. Guardians 2 saw a rough patch this weekend, and Alien: Covenant got nuked from space over its comparable Fridays. The box office did okay over Memorial Day 2015, but that weekend openers Tomorrowland and Poltergeist got bailed out by holdovers Mad Max: Fury Road and Pitch Perfect. The last great Memorial Day weekend was when Furious 6 dominated, as its $97 million opening propelled the top 12 to $249 million over three days.

It was another weekend where the big action blockbuster was bound to win the weekend, but the question again was could it dump memories of a poor performing sequel and treat the audience to what amounts to a greatest hits album. That film is Pirates of the Caribbean: Dead Men Tell No Tales, a movie that was tarred and feathered by critics and audiences. After the last chapter opened to $90.2 million, had a domestic finish of $241 million and a global take of over a billion dollars, the project somehow still smacked of failure. The problem was, Pirates 4 cost $250 million to make, which would have severely cut into Disney's profits. Still, they made out just fine. The latest Pirates cost $230 million, only $20 million less than the last, which came out six long years ago. So, with that budget and Johnny Depp's stream of crap titles since that release, there was a ton of risk for Pirates 5 leading up to the opening.

Dead Men Tell No Tales got started on Thursday night, with a a not-bad $5.5 million from previews, beating out the full opening day of Baywatch (plus its Wednesday previews) by $1 million. I have to think that Paramount's release strategy was to combine Baywatch's Thursday for the win over Pirates' previews, as they hoped to change the narrative heading into the weekend. It was a good try, but they fell short. That put Pirates into the driver's seat for the weekend, and the Friday combined with Thursday previews came in at $23.4 million, below where Disney had hoped, and the lowest since the original Pirates opened in 2003. We have seen domestic debuts suffer while international grosses grow, and in this case, North American audiences didn't want to see the same thing for a fifth time. People have also grown tired of Johnny Depp. Thirteen years is a long road for a franchise like this, as the kids aren't buying in like they used to.

The weekend total for Dead Men Tell No Tales came in at $62.2 million, the lowest since the original's $46.6 million (but it earned $70 million plus over its first five days, having opened on a Wednesday). The difference is that Part 5 opened on 1,000 more screens (4,276) than the original 3,269). The opening is the same ballpark as the franchise withering X-Men: Apocalypse, which seemed lost against a group of much better X-Men films. The fourth film aside, Pirates 5 is the same, lost and wandering, only looking to sell lunch boxes and sleeping bags and prop up the Disney bottom line. It is odd that the Mouse House can have success both critically and economically with Marvel, Star Wars, and Disney Animation releases but have struck rock bottom with the last two releases at least on a critical level (which hurts Disney at home), while the financial side is crumbling.

Audiences that attend still like what they are seeing – Pirates 5's A- Cinemascore beat the score of On Stranger Tides, which earned a B+. This is why the legs continue to maintain at around a 3.0, but the lower the opening sinks, the harder it is to make it up. Dead Men Tell No Tales will likely not earn back its production budget ($230 million) stateside. But on the other hand, the overseas business remains stellar. Pirates 5 earned an excellent $208 million away from North America, as it looks to build on an international gross that eclipsed $800 million the last time around. Should it see that kind of return again, this will be another Disney release that earns money theatrically, despite what will be another narrative about pain and disappointment for the lead Johnny Depp.

In even worse news for Baywatch, Guardians of the Galaxy Vol. 2 takes the second spot this weekend over three days, leaving the Paramount TV Retread 0/2 in terms of planned surprises. Again, if Baywatch had opened ahead of Guardians 2, it would have been news. Again, back to Disney, Guardians 2 didn't hold as well as it wanted to in weekend four, as it earned $19.9 million and fell 43%, whereas the original earned $17.2 million over the same weekend, dropping 31%. The original had earned $251 million after four weekends domestically, while the sequel has earned $333.2 million over the same time period. The original earned $441 million overseas, which was really its soft spot heading into franchise-dom, but the sequel has lit It up away from home, as this weekend it has reached $450 million already, leaving the first film's overseas score in the dirt. Is $1 billion in the cards for Guardians 2? It certainly has a shot, and we will know more on that by the end of next weekend.

That puts Baywatch into third, leaving one of Paramount's great hopes in the dirt through Memorial Day Weekend. The R-rated comedy that cost $69 million to make had a first Friday (it opened to $4.6 million on Thursday, combined with Wednesday previews) of $5.7 million. All of a sudden, it was looking to gross half of what the original 21 Jump Street opened to in 2012. With that production cost, Baywatch is in trouble already domestically, and will have to hope this hybrid finds an audience overseas, which in my mind is doubtful, given that the first 21 Jump Street film earned half of what it did domestically from international venues.

Baywatch ends a run of big hits for Dwayne "The Rock" Johnson, which featured hits like two Fast & Furious films, the comedy Central Intelligence, the disaster pic San Andreas, and Disney's Moana. For Paramount, this is their fifth domestic disappointment of the year, as xXx 3 earned only $45 million stateside, Ghost in the Shell earned a sad $41 million, Monster Trucks earned $33 million, and the Rings reboot failed to reach $28 million. Paramount is in a state of disarray right now, with no one quite sure how to market Baywatch, despite audiences responding to 21 and 22 Jump Street marketing en masse. I think this is a case where the talent will be forgiven for this 19% fresh debacle, but the studio will be in the crosshairs come Monday morning. Its only saving grace is a B+ Cinemascore, which improves on the original Jump Street score (B).

Alien: Covenant gets brutalized in its second frame, with the weekend-to-weekend percentage drop bringing memories of a chest-hugger ready to find the free air again. This version of Alien earned $10.5 million in its second weekend and declined a truly nasty 71%. That's painful for a film that cost $97 million to make, has a domestic gross to date of $57.3 million, and an overseas total of $86 million. The Fox release, which got off to a great start last weekend, is suddenly flailing.

Everything, Everything, last weekend's opener about sad times for teens falls to fifth after an $11.7 million opening last weekend. The small WB release earned only $6.2 million in its second time around, as it dropped 47%. The key here is that the teen weeper cost only $10 million to make, and it will likely make money for the studio in the long run.

Diary of a Wimpy Kid: The Long Run is sixth, and it appears to be flailing. It earned $4.4 million over three days and declined 38%. This one cost $22 million to make, and is locked in as the loser of the franchise, as the last one earned a surprising $49 million, a number the fourth film will never see.

The Amy Schumer/Goldie Hawn comedy Snatched continued its sharp descent out of relativity this weekend. Snatched opened to a low $19.5 million, fell 60% in weekend two, and in its third frame falls another 50% to $3.9 million. Snatched has earned $40.2 million stateside, and has another $8 million overseas, but will nowhere near enough to recoup its $42 million production budget.

King Arthur: Legend of the Sword is eighth, and is also being shown the door quickly. The Guy Ritchie bomb earned $3.2 million, adding to its $33.9 million total. Overseas, it has picked up $85 million, but even with global earnings of over $100 million, it won't come close to recouping its $175 million budget.

The Boss Baby is still hanging around after nine weeks after it debuted. The DreamWorks Animation release picked up $1.7 million this weekend, falling 40% and bringing its cume up to $169 million.The overseas take has crossed the $300 million mark – good thing it did, considering its $125 million production budget.

Beauty and the Beast is tenth, and earned only $1.5 million, but it crossed a huge milestone in the process. The Disney release cracked the $500 million domestic mark this weekend, becoming only the eighth film to reach that mark. It will likely remain the eighth biggest domestic grosser of all-time behind Rogue One's $532.2 million and The Dark Knight's $534.9 million. The overseas total has crossed $730 million, giving it a global total of $1.22 billion and tenth place on the worldwide chart.

The Fate of the Furious finishes outside of the top ten, but also hits a big global mark this weekend. It crossed the billion dollar mark overseas, adding to its $222 million domestic total. It sits behind Beauty and the Beast in 11th on the all time global hits list of all time.

Overall this weekend, the top 12 films earned $134.1 million over the three-day portion of Memorial Day weekend, which is pretty rough compared to last year's $158.8 million, when X-Men Apocalypse floundered. Next weekend brings what should be a good summer player in Wonder Woman, and an underdog in Captain Underpants: The First Exciting Movie.