Weekend Forecast for May 26-28, 2017
By Reagen Sulewski
May 26, 2017
BoxOfficeProphets.com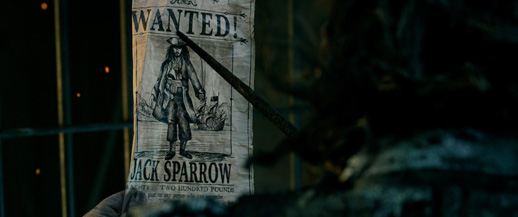 ---
Hollywood's trip down memory lane turns toxic this weekend, as a sequel and a TV adaptation arrive for the Memorial Day frame, each with some of the worst reviews for a supposed blockbuster this year. Is this the point where the whole "no original ideas, ever" strategy finally starts to eat itself?

Johnny Depp is far from the only box office star to return to past glories in an attempt to have a hit at any cost; he is simply the most recent one. So, here we are, 14 years after the first Pirates of the Caribbean, which he willed to success through an inspired, mincing performance that justifiably earned him an Oscar nomination, one of the rare comedic ones to garner one in the Academy's history. Four more times (and counting) down that road though, and it's getting a bit stale and desperate, especially with this series' notorious penchant for bloat.

In Dead Men Tell No Tales, we have Depp's Captain Jack Sparrow once again on the run from ghastly terrors from the deep who he once crossed and sent to their doom (is there anyone in the Caribbean he hasn't pissed off?) and on the hunt for a Thing that's a legendary lost treasure, while two young underwear models have a tangential adventure right beside him. This time, filling in for the role of the "Ghoul" is Javier Bardem, who answers the question long asked, "what if his character from Skyfall were a mouldering CGI pirate?", while the Thing is the trident of Poseidon, which seems far out there even for this series. If the pile of Atzec gold from Black Pearl was this franchise's Ark of the Covenant, this is its Crystal Skull.

Brendon Thwaites and Kaya Scoledario (~whiskey-in-the-jar-o~) play the human Macguffins that send everybody off in the direction of treasure with several elaborate set pieces along the way. This is a series that has never once thought "you know, maybe we should pull back from that, though it has mercifully pulled back from the ridiculous excess of the two-and-a-half hours plus of At World's End. It may be too late, though, as it may have just worn out its welcome. On Stranger Tides already manifested this to some extent, with a significant drop off in opening weekend and domestic box office total, though it was floated up by the ever increasing foreign box office totals, cracking the billion dollar mark.

Things have only gotten more tilted towards the international end of the spectrum since then, though everyone does have their limits. Another of Depp's attempts to go back home again at this time last year was a massive failure, with Alice Through The Looking Glass capturing barely a quarter of Alice in Wonderland's totals. Of course, that was a film that we all kind of decided we didn't actually like in the first place. It's a little difficult to imagine for Pirates given that it's an action series, as they have a natural buffer in international box office. However, with terrible reviews and a "past sell-by" date look to this franchise, we're looking at an opening weekend of "just" $52 million, or $66 million over the Memorial Day Weekend.

An unusual Thursday opening complicates things for Baywatch, which is clearly attempting some sort of five-day strategy to be declared the box office champ. A tongue-in-cheek adaptation of the '90s TV series known best for slow motion running and familiarizing Pamela Anderson, Baywatch seems to be aping the 21 Jump Street model by being all self-aware. Dwayne Johnson and Zac Efron star respectively as the star lifeguard of the beach and the hot shot new (and slightly dim) recruit, clashing with each other's styles until they find themselves in the middle of a criminal plot.

That lifeguards aren't exactly police isn't something that the film shies away from, and the ridiculousness of the film's premise is part of the appeal. We are talking about a movie based on a show whose main audience was horny man-children, after all. And so the film also relies on boobs and boobs-adjacent humor to sell itself, bringing on Alexandra Daddario and Kelly Rohrbach as female eye-candy, and constructing a weird plot about a real estate developer (Priyanka Chopra). What's missing here is the talent behind the screen, and Phil Miller and Christopher Lord were the real reasons behind why 21 Jump Street worked beyond all reason. One need look no further than this year's CHiPS for an example of how this tone can turn horribly, horribly wrong. Like that film, it adds in a bunch of filler dick jokes as a substitute for cleverness, playing a "kidding not kidding" game with its audience.

And yet, it may succeed despite this and terrible reviews. Johnson is on top of his game right now, while Efron has shown a talent at playing the lovable doofus (though two Neighbors films ended up being one too many). Based on previous adaptations and other work from the cast, this should manage about $31 million this weekend, or $38 million over the holiday.

Alien: Covenant snuck out a win last weekend with $36 million, but that's a figure that has to be troubling in comparison with Prometheus' start of over $50 million. Even adding the Alien name directly couldn't stop the damage from that prequel's bad reception. I'd expect a large drop off to around $14 million this weekend, or $17 million over the holiday.

Guardians of the Galaxy Vol. 2 crossed the $300 million mark last weekend and seems destined to challenge Ultron for second place among the Marvel Universe movies, though that may be a tough sell. It may just have to settle for around $425 million domestic, and become the fifth Marvel movie to cross $1 billion internationally. It should fare well over the holiday weekend, grossing $18 million over three days and $22 over four. Lastly, teen drama Everything, Everything performed decently with nearly $12 million despite a ridiculous premise, but should fall thanks to the fickle teen market, and gross about $6 million this weekend.